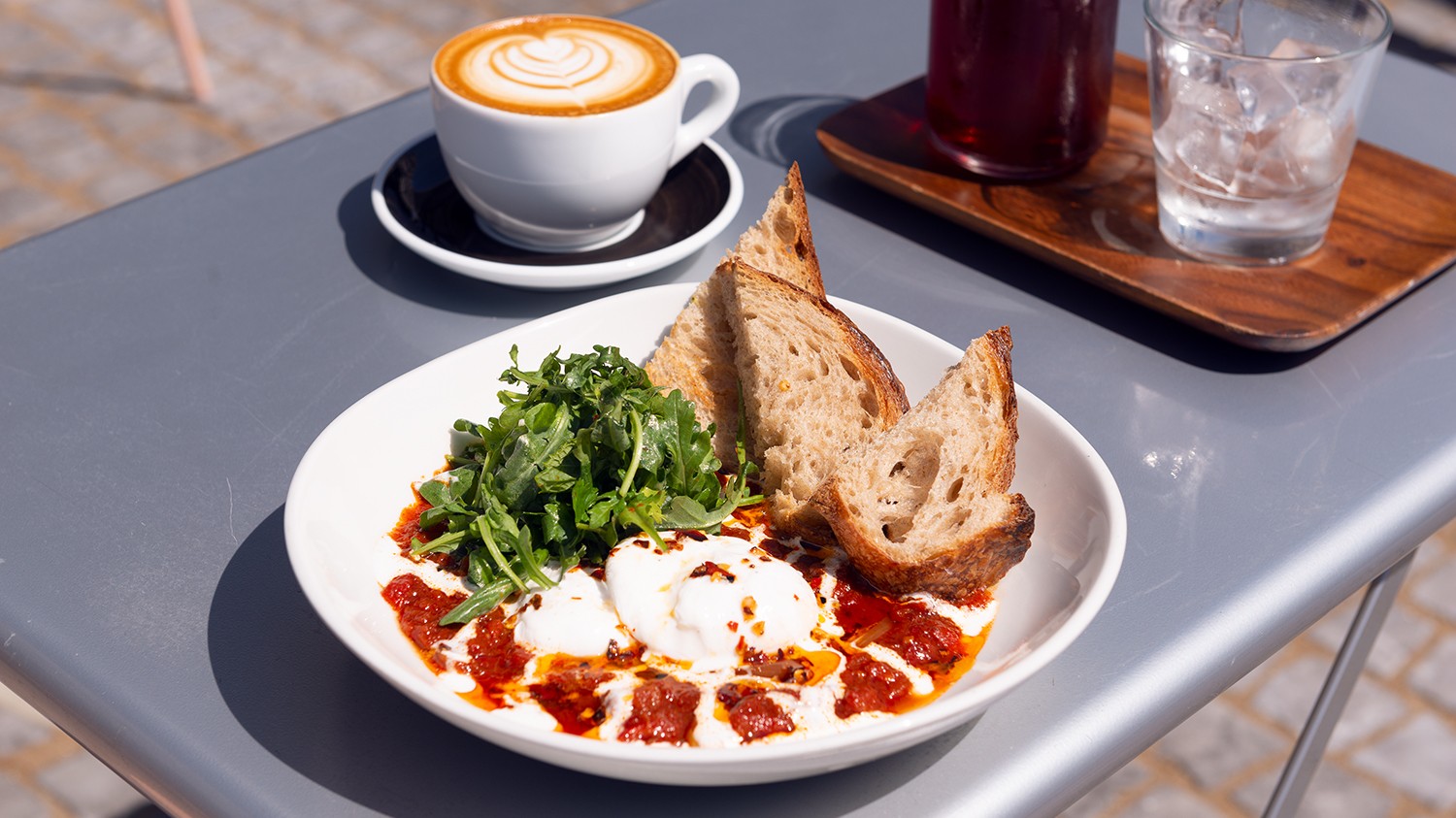 Until recently, Berkeley was largely bereft of the all-day cafe, establishments where the menu spans breakfast, lunch, and dinner; the design is Instagram-ready; and the patrons can often be found tapping away at their laptops. Now, with the arrival of Cafe Réveille, part of a small chain of cafes originating in San Francisco, East Bay diners can get a taste of the increasingly popular fast-casual restaurant model.
The genre of the all-day cafe probably owes its inception to Sqirl, Jessica Koslow's now-famous Los Angeles establishment where Cafe Réveille's chef, Juliet Orbach, worked in the past. At the all-day cafe, the menu gets heartier toward lunch. And while other Reveille locations do serve dinner, Berkeley's outpost currently closes at 3 p.m. and offers breakfast, lunch, and weekend brunch. Wi-fi is still in the works, but that doesn't stop customers from working here.
The newest addition to the evolving Fourth Street shopping complex, Cafe Réveille is filled with clichéd decor items found in modern habitats: marble tabletops, succulents, accents of millennial pink. The space has large windows and an aura of calm, punctuated by proteas and artfully fanned New York Times pages. Jazz softly pours out of the speakers in the morning. In this intentionally hip setting, you might assume the food here is secondary to the vibe. But the menu isn't an afterthought. On paper, it's a detailed array of bowls, salads, sandwiches, and desserts, spiked with Middle Eastern and Mediterranean flavors.
On the plate, the sandwiches revealed Réveille's messier side; I opted for the ones featuring the house-made focaccia, which, for its satisfying texture and flavor, merely framed the ingredients rather than containing them. The best of the bunch was the beef mi, an energized twist on the banh mi, with accurately grilled beef, matchsticks of cucumber and carrots, and a creamy crème fraiche speckled with chives. It was a well-executed, tangy-salty affair.
Second came the Levantine sandwich, made Levant-appropriate thanks to a drop of green tahini and thick layer of schoog. A condiment like no other, this spicy Yemeni concoction consists of cilantro, chili peppers, and garlic. Schoog is not used as often as it should in sandwiches; here, it gave the cozy focaccia a welcome wake-up call. The simple chicken thigh was the right pairing for the fiery green paste, and the pickled peppers added interest, but I could do without the yogurt and the crunchy red cabbage, which added wetness.
Both sandwiches left me pining for extra napkins, chin dripping with juices and spreads. Only the turmeric hummus sandwich wasn't worth the trouble, being not as bright and thought-out as its meaty companions. You wouldn't expect a place like Reveille to forgo one of the year's buzziest ingredients, but beautiful turmeric doesn't pack much flavor, and needs more than avocado and arugula to shine.
The shakshuka was far more successful. A popular Israeli breakfast dish, this rich union of eggs and tomato-based sauce has become a staple in all-day cafe menus. At Reveille, the layered, smoky sauce of red and yellow peppers, tomatoes, and onions was quite spicy, just enough to jump-start a foggy morning. While some shakshuka techniques require simmering the sunny side up eggs in the sauce, here they were poached and perched on top of the sauce, lacing it with yolk when pierced. This — as well as a heap of peppery arugula, accenting the tomatoes — was a fun twist. The accompanying yogurt came in handy, serving as a cool pause.
On the weekends, the laptop crowd and office workers clear out, leaving Réveille to couples, baby-clad families, and other stylish folk. The weekend brunch menu stores a couple of noteworthy surprises: The mushroom, potatoes, and poached eggs bowl is a good example of Réveille's mostly successful balancing act of healthy and hearty. The potatoes were perfectly roasted and then crisped, the trumpet and oyster mushrooms were fried with sage, the shavings of parmesan provided the umami accent, and the poached eggs were in the right place, at the right time.
The cardamom brûlée French toast had a lot going for it, too: The large chunks of Acme's Italian baguette, with less cardamom traces than I'd like, were served with saffron whipped cream (more yellow, and more flavor this time), fresh berries and oranges, and bits of pistachio and dried roses. Some ingredients were for show, but the saffron cream and the fruit played out nicely. The toast itself was on the dry side, but if your Saturday-morning fantasy includes an non-boring, grease- and guilt-free French toast, Réveille's would be a good place to start.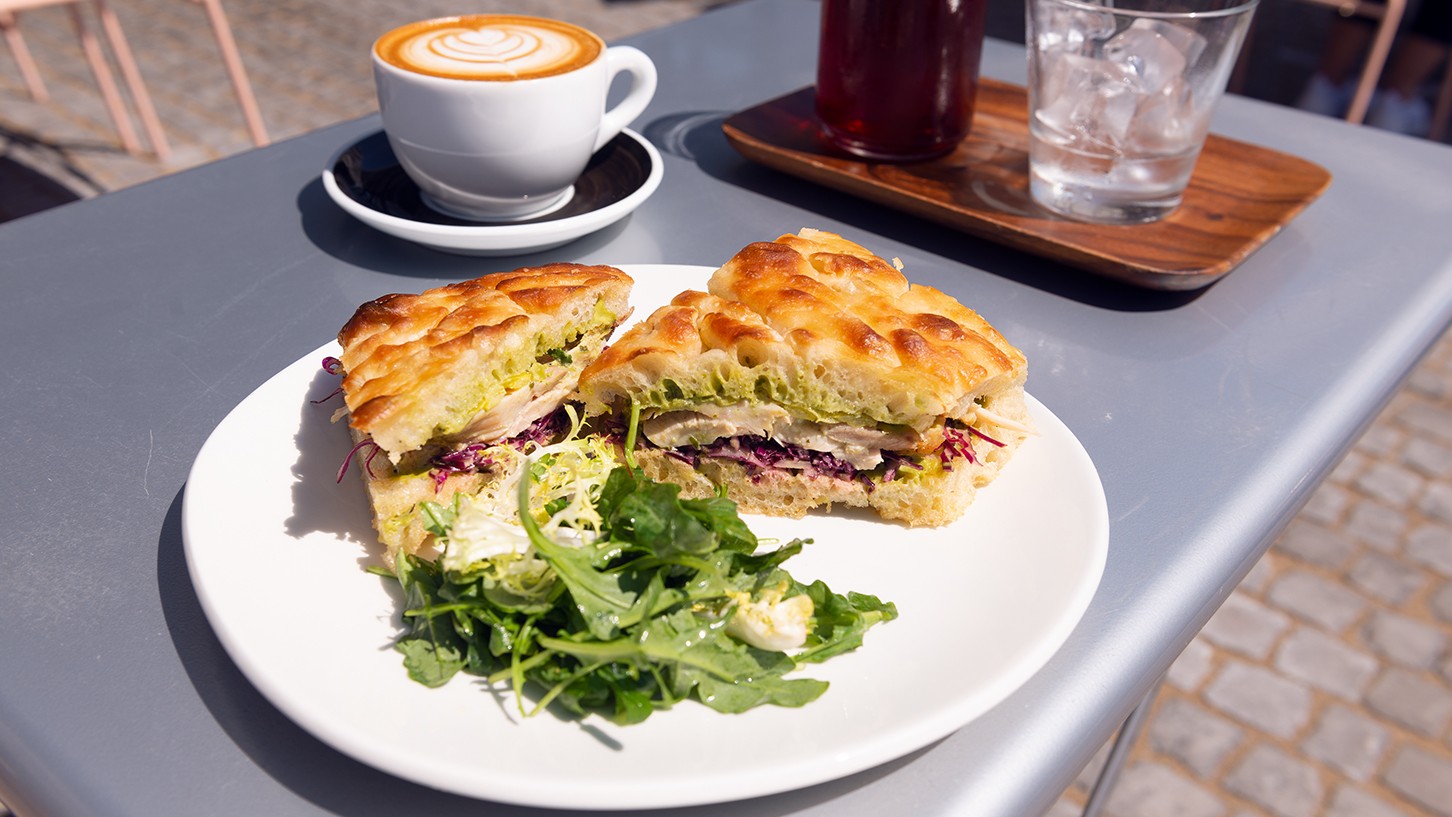 In addition to marble tables and an affinity for turmeric, a big part of the all-day cafe ethos is creating a place where people want to hang out, well, all day, time and time again. Berkeley's location doesn't necessarily promote that — how many times can one visit Madewell and CB2 on an average week? — but for the most part, Réveille's food did leave me wanting to do just that, at least in theory. I didn't mind the trendy moods, but for those who do, a messy encounter with a juicy sandwich and memorable red-hot shakshuka will easily turn them into background noise.
Cafe Reveille
760 Hearst St., Berkeley, 415-580-7260
Hours: Mon.-Fri. 7:30 a.m.-3 p.m., Sat.-Sun. 8 a.m.-3 p.m.
Cash, all major credit cards
Sample Menu
Levantine sandwich … $13
Shakshuka … $12
French toast … $13
Mushrooms and poached eggs … $14