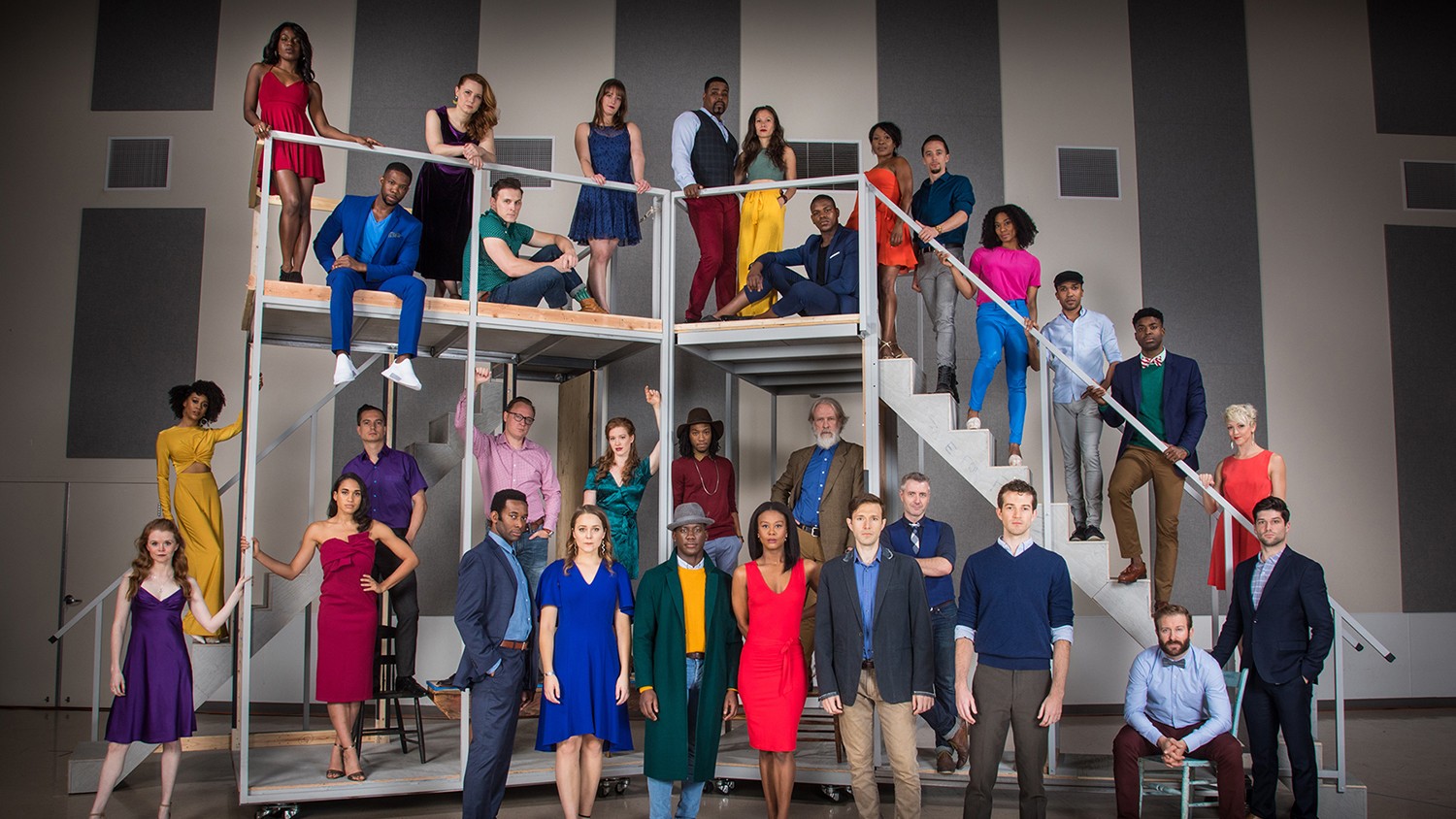 At first, when Oakland-raised playwright Marcus Gardley was approached to finish writing the book for Paradise Square — opening next week on Thursday, Dec. 27, at Berkeley Repertory Theatre — he planned to turn down the gig. Among his many projects, Gardley is adapting his Lorca-inspired drama The House That Will Not Stand into a movie, writing for television shows such as The Chi, and has just been commissioned to revisit the Richmond shipyards (which he'd previously written about in This World in a Woman's Hands in 2009) for Cal Shakes. But after listening to the music and reading the script, on the behest of producer Garth Drabinsky, he quickly realized it was a project he wanted to make a priority.
An ambitious musical, first conceptualized in the early part of the decade as Hard Times by playwright and Celtic rock musician Larry Kirwan, Paradise Square is set in a now-forgotten corner of Manhattan. Five Points, which has since been absorbed into Chinatown, was notable for its population of free Black people, who lived alongside their "famine Irish" neighbors in relative equilibrium — a proximity that, among other things, gave rise to fusion art forms such as tap dance. The musical covers the events leading up to the draft riots of 1863, an explosion of frustration over the pending Civil War draft of poor whites, which culminated in misdirected rage on the part of the Irish inhabitants of Five Points against their African-American neighbors, with fatal consequences.
A famous inhabitant of the neighborhood happened to be Stephen Foster, known for such grade school classics as "Camptown Races" and uncomfortably racist lyrics, such as those in the original "Oh! Susanna." It's through his eyes — and reconceptualized music — that much of the action of Paradise Square unfolds, set mostly in the neighborhood saloon. Run by an African-American woman, Nelly Freeman (played by Christina Sajous), the saloon provides the perfect place for the racially diverse inhabitants of Five Points to come together, fraternize, and discuss the issues of the day.
While saloons have been the preferred location of many working-class dramas, from The Time of Your Life to Sweat, Foster has decidedly dropped from favor, not least of all because of his questionable lyrics. But for Gardley, that makes the reconnection to Foster the musician all the more exciting.
"I was really moved by the music because I loved the reimagining of the Stephen Foster songs and putting them in a more modern context," he explained. "I really think that Foster believed his music would unite people, that he believed in the transformational power of art, and I think that's why his music has really stood the test of time. He really did try to capture people of different classes, and races … and the soul of America in his music."
For Kirwan, creating a framework of time and place through Foster's music has been one of the production's great challenges — and rewards. In an email, he described Foster as an "amazing melodicist, who vacuumed up the sounds and tunes he heard in the bustling immigrant culture of mid-nineteenth century America." In regards to his more offensive lyrics, Kirwan and Broadway composer Jason Howland not only rearranged his oeuvre musically to suit a modern audience but updated and rewrote the songs lyrically to do the same.
"Most of Foster's plantation songs were written while he was a young man and he seems to have repented in some form for them," Kirwan said via email. "Hopefully, Paradise Square will lead to a rational discussion of Foster and his challenging work."
Not only does this production boast the impressive combined talents of Kirwan, Howland, and Gardley, but the entire creative team is filled with heavy-hitters, from Tectonic Theater Project's Moisés Kaufman as director to Bill T. Jones as choreographer. It's Jones especially that both Gardley and Kirwan single out for mention. The brother of the Bay Area's own Rhodessa Jones, he has won Tonys for his choreography on Spring Awakening and Fela!, along with numerous other awards. His contributions to the fusion-driven Paradise Square should prove dynamic.
Gardley is unequivocal with his praise. "I feel like the choreography in this particular production is its own character and has elevated the musical in such a profound way," he said. "Be prepared to feast your eyes on some of the most incredible movement you'll ever see."

[pullquote-1]
Overall, it's been a good year for Bay Area lovers of Gardley's ineffable, poetic works, what with reprises of his acclaimed Dance of the Holy Ghosts at Ubuntu Theater Project and black odyssey at Cal Shakes, as well as this high-powered, collaborative venture. For Gardley, too, revisiting the Bay Area during production — and with his new Cal Shakes commission — has been a welcome homecoming.
"I will always identify myself as a Bay Area playwright," he said. "And I really want to write about my hometown. Stories about the Bay Area exemplify what it is to be an American, and I really want to talk about that. Because even though it's a Bay Area conversation, it's an American conversation as well." Opens Dec. 27 and runs through Feb. 17, $40-$115, Roda Theatre, 2015 Addison St., Berkeley, BerkeleyRep.org