BlogHer, a terrific media platform and blogging ecosystem dedicated to making women writers known, knowledgeable, and marketable, is back in the Bay Area for its
annual conference
 July 24-26. The conference started in San Jose ten years ago with 300 attendees; it now boasts up to 4,000. 
Highlights of the three-day writer melee include events with Arianna Huffington (of the Huffington Post empire), actress Kerry Washington (
Django Unchained, Scandal
), Grammy-nominated comedian Tig Notaro, and the hilarious Jenny Lawson (aka The Bloggess), author of
Let's Pretend This Never Happened,
 who also blogs about giant metal chickens, weird taxidermied animals, and fights with her husband about zombies. She'll be talking with BlogHer co-founder and Oakland-based Jory Des Jardins on Friday. [jump]
If the star power doesn't convince you to trek down to San Jose (or make you want to fork over the not-exactly-cheap $150-$400 ticket price), here are some phenomenal East Bay writers, bloggers, and powerhouses who are participating in the conference and are worth checking out.
Barb Dybwad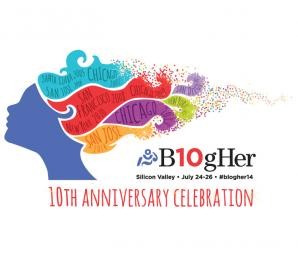 The head of business development for Engadget, Joystiq, and TUAW at AOL Tech. We're also told she has lots of great tats and piercings. She'll be moderating a panel about Crowdfunding and is a 10×10 speaker.

Brandi Riley
A woman of color blogger and senior manager of community relations at Collective Bias in Oakland. She'll be speaking at Blogging Fundamentals | Set Yourself Up for Business Success.
Cheryl Dumesnil
An LGBT poet, memoirist, and blogger at Huffington Post and VillageQ. She'll be presenting Teaching in the Writing Lab: Blog post clinic.
Elise Bauer
Curator of the popular food blog Simply Recipes that she started when trying to recover from an illness that left her unable to work. She is a 10×10 speaker.  
Grace Hwang Lynch
BlogHer's news and politics editor, she also writes a personal blog about raising mixed-race children, HapaMama. She's doing Teaching in the Writing Lab: Blog post clinic.
Riese Bernard
Founder and editor-in-chief of Autostraddle, a fantastic and independently-owned lesbian-focused site. She's one of BlogHer's Path Leaders at Pathfinder Day and is speaking at Change Yourself | How Do You Sustain an Online Community and Keep Your Own Sanity?
Write on.
Follow @annapulley on Twitter. She'll tweet you right.