Huzzah, it's Friday! We've compiled a list of the five best events that are happening this weekend, just for you:
Fuzic
Every fourth Friday, DJ Fuze — best known for being a member of seminal Oakland hip-hop group Digital Underground — takes over the sound system at
Era Art Bar
. He knows his stuff — he produced for Tupac and worked with artists like The Luniz, Goapele, and Dave Chappelle. And although Fuze's background is in hip-hop, he also spins R&B, soul, disco, and funk. At his monthly party at Era, he incorporates sounds from the Caribbean, Latin America, and Africa into his set as well. With such a diverse array of music, you won't be bored. Friday, July 25. 9 p.m., $10.
OaklandEra.com
 —
Madeleine Key


Pedalfest
Oakland's biggest bike party is back. Now entering its fourth year, Pedalfest at
Jack London Square
brings together a whole range of East Bay biking subcultures. This year, in addition to the festival's usual thirty-foot-long wooden Whiskeydrome, bicycle stunt shows, and a pedal-powered music stage, there will be a unicycle basketball game and an exhibit from the Exploratorium examining the science behind cycling. Industrial arts training center The Crucible will also host a bike build with some of its artists, and Peter Wagner will once again display his Whymcycles, a collection of handmade bicycles created from recycled materials. For sustenance and libations, hop on a bike to churn out some pedal-powered ice cream or head to the New Belgium Beer Garden. Not content to just entertain, the organizers are also bringing a theft-prevention booth to this year's festivities, at which cyclists can take a photo of their bicycle and receive a serial number that they can use to file a police report if it's ever stolen. Saturday, July 26. 11 a.m.-7 p.m., free.
PedalfestJackLondon.com
 —
Zaineb Mohammed

[jump]
Hank Wood & the Hammerheads
Walking down the street/Fuck the street/It's hard on the street
. Those are a few lines from New York punk outfit Hank Wood & the Hammerheads' Go Home, a dour and hostile debut that teeters charmingly on the verge of stupidity. Indiscernible guitar riffs, rudimentary keyboard, and inexplicable cowbell play mid-tempo punk vamps beneath the vocals, which match the music's simplicity with redundant, territorial invective. The individual parts and deranged vocals comprise feverish, sweltering songs though, and it all amounts to a puerile but very potent album. The refrain quoted above, for instance, is a bit of willfully ignorant nonsense on paper, but the song's slow-building arrangement and conviction succeeds in making listeners pissed off at the street, too — or at least sympathetic. Saturday, July 26. 7 p.m., $8.
ElisMileHigh.com
 —
Sam Lefebvre


Berkeley Kite Festival
On any given weekend at
Cesar Chavez Park
, you will likely find skilled kite fliers practicing their craft. But this weekend, expect to see far more and far greater kite-related artistry at the Berkeley Kite Festival. The festival, which started in 1986, has grown into a giant kite extravaganza, featuring teams of kite fliers, a kids zone with bouncy houses and a petting zoo, and food and arts and crafts vendors. The Berkeley Kite Wranglers will also be on hand to demonstrate their Octopile, a formation of 16 Octopi kites that are each 100 feet long and 18 feet across. On the main exhibition field, teams will perform choreographed kite flying routines set to music. For attendees who are inspired to try their hand at kite-flying, Highline Kites will have kites for sale, and there will be kite-making workshops on both Saturday and Sunday from 11 a.m.-3 p.m. In addition to the parking at the marina, there will be free valet bike parking and offsite parking at Golden Gate Fields with buses running back and forth. Saturday and Sunday, July 26 and 27. 10 a.m.-6 p.m., free.
BerkeleyKiteFestival.com
 —
Z.M.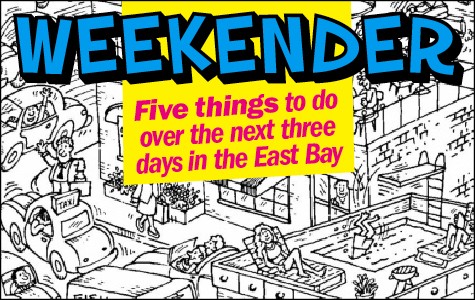 The Lone Stranger
If you are a Skrillex fan, you might be familiar with the illustrations of Chris Blackstock, who has been making posters for the EDM DJ for years. Indeed, Blackstock's drawings are like a hot summer acid trip that has been candy-coated and laid out in the sun to form a shiny shell. But Blackstock's current solo show at
Loakal Gallery
,
The Lone Stranger
, affirms that his artistic capabilities extend far beyond concert posters. The show capitalizes on Blackstock's knack for illustrating cohesive storylines and filling out the descriptive details of character and setting through a collection of stand-alone works. The exhibit's protagonist roams through a stylized desert — complete with cracked dirt and cacti — and at one point finds himself sitting atop a buffalo in a ceramic pot with a whimsically sinuous neck a la
Fear and Loathing in Las Vegas
. Beyond that though, the show also appears as a release of pent-up enthusiasm for experimenting with more tactile media. The standout works are the pieces in which Blackstock has mounted intricately laser-etched cutouts of his figures onto wooden panel backgrounds painted with a combination of acrylic and spray paint. A series of laser-etched brass plaques, a number of clay sculptures, and a mural also do their parts in completing the scene. Altogether, Blackstock's application of his illustrative style to these mixed media works form a remarkably immersive, psychedelic experience. Runs through July 30.
EBXLoakal.com
 —
Sarah Burke


Plus… Get your cheapskate on: This is how much we love you guys: Here are our searchable listings of
every single free event
happening in the East Bay this weekend.
Feed Us: Got any East Bay news, events, video, or miscellany we should know about? Holler at us at
[email protected]