In a stated effort to support independent merchants this holiday season, the City of Oakland is offering free street parking every Saturday through the end of the year. In a recent press release announcing the free meters, which began on Friday and Saturday of Thanksgiving week, the city wrote: "The free parking encourages shoppers to get out and explore the plethora of local shopping options."
But while free parking may initially sound like a pro-business move, transportation policy experts and cities across the country have repeatedly demonstrated that, in reality, free meters end up hurting businesses. That's because, when there's free parking on high-demand retail corridors, motorists and employees of area businesses hog spaces for hours at a time, resulting in low turnover and no available spaces for short-term shoppers. As a result, customers are forced to drive in circles looking for a spot, and when they can't find one, they often decide not to stop at all — and instead spend their money in a different neighborhood or suburban mall where it's easier to find parking.
Experts say the best parking strategy to boost business and encourage shopping in a busy urban center is to set meter prices based on supply and demand. In this model, known as "demand-responsive parking," cities increase fees for popular streets with high demand for parking, thereby creating steady turnover and ensuring that there are consistently one or two spots open per block. That means people who want highly coveted spots in front of restaurants and shops have to pay a bit extra — and with the right prices and time limits, they won't occupy these spaces for too long. On less-crowded peripheral streets or in city garages that tend to have high vacancy rates, cities should set lower fees to incentivize drivers to take advantage of the underutilized parking supply. If the prices match demand and if clear signage directs people to cheaper spots, motorists won't have to drive in circles anymore, which means businesses can get more customers and cities can significantly reduce greenhouse gas emissions.
Oakland officials are well aware of the benefits of this kind of progressive approach, which has proven successful in Berkeley, San Francisco, New York City, and elsewhere. As I reported in October (see "Oakland's Sweeping Plan for Parking," 10/28), Mayor Libby Schaaf is hoping to bring demand-responsive parking to business districts throughout the city, with the understanding that higher meter prices on busy streets in downtown, Temescal, Grand Lake, and other commercial districts will encourage turnover and help restaurants and shops better attract patrons.
Why, then, is the city rolling out a holiday parking plan that contradicts its own long-term goals? Matt Nichols, Schaaf's transportation and infrastructure policy director — who is spearheading Oakland's long-term parking plan and is an expert in demand-responsive pricing — did not have much of an explanation. "It could have the wrong effect," he admitted during a phone interview after the city sent out a news release claiming that the free parking would help businesses. "You could have employees parking … for free and actually making things worse for customers. That could be counterproductive for both parking and economic development."
The move is particularly surprising considering that in 2014, then-Councilmember Schaaf piloted the city's first-ever demand-responsive parking effort in Montclair Village. Nichols also successfully brought this parking strategy to Berkeley, where he formerly worked as a principal transportation planner. What's more, Nichols also previously studied with UCLA urban planning professor Donald Shoup, the preeminent expert on this pricing model and the author of The High Cost of Free Parking, a book outlining the many negative consequences that arise from the conventional — and incorrect — idea that free parking equals better business. In fact, Shoup has specifically criticized free holiday parking, writing in an article last year: "Parking holidays are well-intended, but the gift is more like a lump of coal for businesses that depend on parking turnover."
Oakland's free parking, available last Friday and on five consecutive Saturdays this season, extends to all metered spots as well as eight city-owned garages and lots in downtown, North Oakland, Grand Lake, and Montclair. The usual time limits, which range from thirty minutes to five hours, remain in place, meaning that people who want to park all day would have to move their cars. Oakland Grown — a program that supports local independent businesses (and which the Express co-sponsors) — is also promoting the free parking.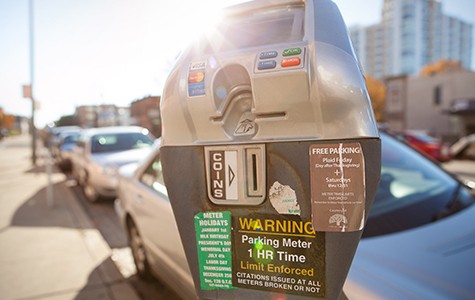 Nichols noted that Oakland has done this kind of free weekend parking in December for years. He said that because the city is in the early stages of researching and expanding demand-based pricing, officials did not get around to rethinking the holiday parking strategy this season. Next year, he said, Oakland will likely adopt a more thoughtful approach. But experts noted that if Oakland at the very least maintained its year-round, on-street parking fees — typically two dollars per hour with a two-hour time limit — it'd be much better for holiday business this year than free parking across the board.
"People think free parking will encourage a lot of business, but, in fact, it undermines people's access to that location," explained Valerie Knepper, regional parking initiative manager for the Metropolitan Transportation Commission, the Bay Area transit agency. Free parking can result in cities not only losing meter revenue but also potentially losing sales tax revenue.
Although free parking is seen as a nice holiday gesture by a city, there are other creative ways municipalities can give back without eliminating the vital role that meters play in creating turnover and thus spurring economic development. Knepper, for example, noted that if Oakland is willing to forgo meter revenue during the holidays, it could instead donate meter fees to charities. The City of Santa Cruz chose this method as an alternative to free holiday parking after merchants complained that free meters hurt business because they result in no available parking.
Transportation experts note that another downside to free parking is that Oakland is incentivizing people to drive when officials should instead be promoting alternative modes of transportation — particularly in shopping districts that are easily accessible by public transportation, walking, and bicycling. Knepper suggested that if Oakland wanted to seriously invest in supporting holiday commerce, it could sponsor special holiday shuttles, which would help promote shopping and would be more environmentally friendly.
In San Francisco, businesses have generally supported the demand-responsive parking, which the city has expanded to roughly 25 percent of all metered spots over the last several years, according to Andy Thornley, San Francisco Municipal Transportation Agency senior administrative analyst. San Francisco has no holiday parking deals. "The better management of parking had a direct benefit on the businesses," Thornley said, noting that the average time motorists spend searching for parking has decreased by 43 percent since the city instituted demand-based pricing. "Businesses … are not interested in having customers circle the block for 45 minutes. They're interested in a customer pulling over, getting her wallet out, and spending money in their shop."
Berkeley stopped offering free holiday parking a number of years ago when the city and small businesses realized it mostly made it harder for people to find a spot, recalled John Caner, CEO of the Downtown Berkeley Association. "There wasn't much of an upside to it. … In general, there was consensus that the cost outweighed the benefits."