It's a storyline that could have been poached from Rodgers and Hammerstein, but for one plot twist: Boy meets boy. Boys fall in love. That's a daring idea on its face since there's really no such thing as a pedestrian gay romance — especially between two teenagers in small-town Nebraska, where our story is set. As depicted by writer Todd Almond (based on the album by Matthew Sweet) in his new musical, Girlfriend, Nebraska seems like a particularly inhospitable place to grow up gay. The two stars Will (Ryder Bach) and Mike (Jason Hite) can't sit together for too long, lest they risk taunts from Mike's friends or other passersby. Will gets bullied for being the fey kid at school. There are no gay-straight alliances or pride parades to speak of. Their relationship seems star-crossed from the jump.
In the midst of all that hostility, Almond managed to cobble together a cute, traditional romantic comedy, inspired by ballads from Sweet's 1991 album, Girlfriend. It premieres this month at Berkeley Rep under the direction of Les Waters, who makes Will and Mikes' courtship seem alternately endearing and excruciating. Girlfriend opens on the last day of school, when Mike hands Will a personalized mix tape of sappy love songs. To Will, the gesture seems out of character. Mike is a prom king, football player, and classic hunk. Will is a sweet, gallows-humored geek with a day-glo Brontosaurus T-shirt and a sweet tooth for glam rock. The two guys seem asymmetrical. But they both love musicals.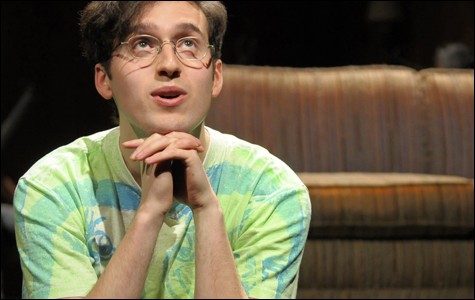 Thus begins a love story that resembles a Brat Pack coming-of-age film. For much of the play, Mike and Will sit in their separate bedrooms on opposite sides of the stage. Mike's room has a chest of drawers with a well-organized stack of trophies. He is a stay-within-the-lines kind of guy. Will has a floor mattress next to a giant boom box, and flannel shirts strewn every which way. He's a lovable slacker, not quite sure what he wants, but not locked in a prison of denial. Otherwise, the set is remarkably spare for a Berkeley Rep production. The stage walls have white clapboard siding. The band, led by local rockers Julie Wolf and Shelley Doty, plays in a wood-paneled den. Most of Mike and Will's dates take place center stage, where they sit on a couch that's supposed to represent Mike's car.
Were they a man and woman, we'd know instantly where this was going. Anyone with rudimentary knowledge of Broadway or Hollywood has seen couplings across class and race lines — it's the stuff of musicals from My Fair Lady to West Side Story. Tragedy is usually foreordained since someone has to die or screw up just to keep things interesting. But in Girlfriend, tension is inherent to the theme. Mike and Will are so awkward around each other that they spend about half the play trying to figure out if they're dating. Even after their first kiss, things seem tenuous. Mike insists on having a closet fling. He plays straight guy in front of his bros, and constantly refers to a nonexistent girlfriend. Will grudgingly acquiesces.
The two actors play this tension out very well, particularly on "dates" at the drive-in, where they watch the same sci-fi sexploitation flick over and over again. The movie is about a nun who conceals her identity by morphing into a bombshell comic book super-heroine. (How's that for symbolism?) Mike sits in classic guy posture, with an arm draped carelessly behind him. Will draws his knees together and folds his hands in his lap. These scenes run a little too long and get a little painful, particularly when Mike and Will start singing about the nun onscreen. In most musicals, songs help suspend the action. In Girlfriend, songs allow the characters to purge their insecurities.
That's especially true for Mike, who plays the dude in this relationship. He's the one who makes the first moves, drives the car, and calls most of the shots. He's also the one who tries to keep everything under wraps. Will takes the femme role. He writes the love letters, rides passenger side, and swoons over Mike's guitar compositions. He sits in the bleachers and cheers adoringly at Mike's baseball games. Neither one has enough interiority to fill out the story, and yet they never quite devolve into gay caricature. It's easy to get swept up in Girlfriend if you interpret it less as a gay romance, and more as a story about being trapped in the closet.
Girlfriend is well-written, well-acted, and meticulously detailed, in that every gesture means something. (Props to Joe Goode for turning nervous knee-rubbing into veritable choreography.) It's not fantastic. But it could be destined for Broadway since Almond mixed all the right elements: a cute storyline, a few infectious song-and-dance numbers, and a theme that's topical without being overly ambitious (meaning it's not trying to tackle as many social issues as, say, Rent). The music doesn't measure up to that of American Idiot or Passing Strange (which also premiered at Berkeley Rep), but a couple songs are terrific — among them a sad, croony love ballad to mark Mike's departure for college. By then it's pretty clear who the real girlfriend is.