Nestled in a bedazzled booth in an over-the-top, Hong Kong-style cafe in Oakland Chinatown, Jader (Justin Edwards) sipped on a fluorescent green and orange drink while explaining how he measures the success of his performances. "I've literally gotten maybe one dollar in tips ever," he said. "And I take that as a compliment."
It's not that Jader isn't good enough at what he does. It's that he's too good.
Jader, who works as the executive coordinator for the Oakland Museum of California during the day, usually performs at drag nights or queer dance parties — and there are elements to his work that fit with that context. His most recent performance, at Vinyl in Downtown Oakland, for example, involved him lip-synching to the secret track on Alanis Morissette's Jagged Little Pill while wearing "some Gillian Anderson wig that was on sale." But he also has a taste for the grotesque that sets his work apart. That same performance also involved a bulging, prosthetic pregnant stomach and ended with a loud, bloody miscarriage. To Jader's pleasure, the club's patrons were disgusted.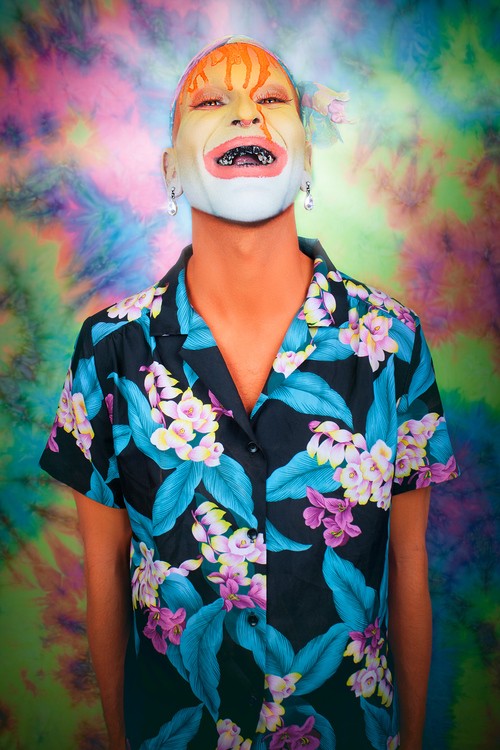 Jader's preference is to irk his audience — not to entertain. When boiled down, his work aligns with fundamental art theory from artists like Bertolt Brecht: Thought-provoking art must demand a certain level of distance from its audience in order to allow space for critical thought. Or, in other words, kicking people out of their comfort zones is necessary to challenge the status quo.
Discomfort generated by grotesque aesthetics is key for Jader's visual art practice as well, but rather than gore, he uses camp. Jader specializes in theatric portraiture that channels the romantic kitsch of Pierre et Gilles, the creepy character development of Cindy Sherman, and the pop sensibility of David LaChapelle. He revels in artificiality, often taking it to a surreal extreme — achieving the opposite of most portrait-makers by disguising the identity of his subject rather than attempting to epitomize it. He goes as far as to transform his subject's features, using special effects make-up or painting them entirely with neon paint, turning them into alien creatures.
"Being an image-maker today, I have no interest in reality at all," said Jader. "There is a photo of fucking everything that you can see in real life somewhere on the internet. … I want to make something that no one has seen before, and the only way that I imagine doing that is through artifice, through fantasy."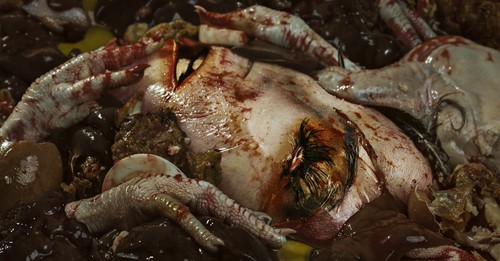 Jader's 2014 "Biomimicry" series achieves that originality by projecting into the future — to a time when people can accessorize with genetic mutations, and the trend is to mimic motifs found in nature. Exquisitely lit in front of gradient backgrounds, the subjects appear in shades of colors, such as baby pink and chartreuse, some with talon-like nails, and others with long, whisker-like eyebrows that extend past their foreheads. All of the painstaking makeup is executed by Jader himself — a talent that originated in the ritual of creating drag looks for going out to queer clubs that he has perfected over the past few years with the help of YouTube tutorials. (Although he has hired a professional special-effects make-up artist for other projects in the past.) The subjects appear to inhabit a future where conventional indicators of gender and ethnicity are eclipsed by eccentric styling, an aesthetic that challenges notions of normality and makes room for differences that would be deemed "unnatural" by the conservative set.
"I think the ability to be queer is part of evolution, absolutely, and so I definitely think of this kind of mutation-based work as a continuation of that [evolution]," said Jader. "So many other species, their gender identity isn't binary, and I think that that's something to really be celebrated."
Jader's most recent series, which is currently on view at Shadow Office (308 15th St., Oakland) through February 5, is called "Bubble Guts." It's his attempt at divorcing his portraiture from the conventional human form even further by elaborating on the idiom, "You are what you eat." The unappetizing images show dolled-up human facial features emerging from various junk foods — a Twinkie, donuts, pizza, beef stroganoff. The result is an absurdly enticing mixture of gross and glamorous.
The origin of the idea lies in a stint during which Jader started consuming massive amounts of candy. Finally, after eating candy for breakfast for a week straight, he began researching sugar addiction. That inspired "#candydiet," a series that considers the perverse allure of consuming artificial foods by playing off super sweet palettes and junk food marketing aesthetics. "Bubble Guts" is a more technically refined follow up, probing deeper into the darker side of the food industry.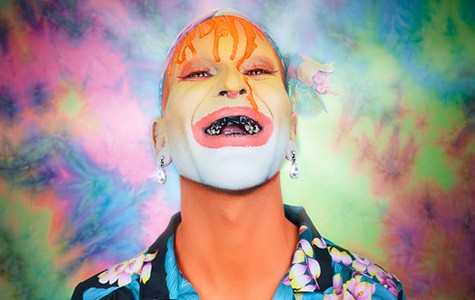 The most grotesque piece in the series so far is "Finger Lickin' Good," in which a bloody face appears on a piece of raw chicken breast in a pile of chicken guts and feet. It's Jader's favorite piece in the show, so, naturally, he made it his Facebook profile picture after the opening. But unlike his more glam portraiture, the response to the work was less than enthusiastic in terms of "likes." Luckily, Jader is only heartened by its unpopularity: "I'm acknowledging that as an unconventional metric for success."