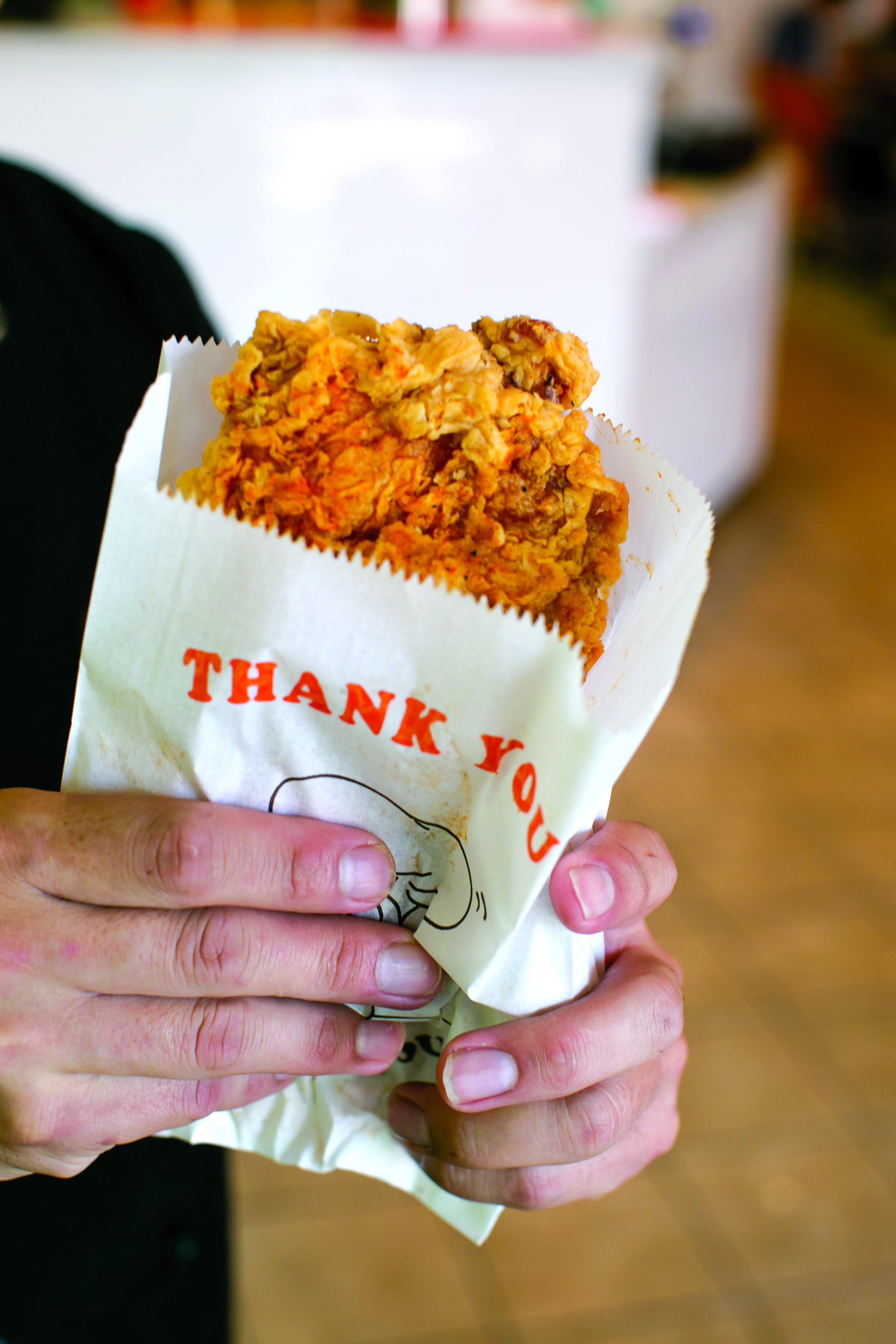 We are living in a golden age for Asian fried chicken. Discerning gastronauts are well versed in the
gochujang
-tossed, double-fried delights of Korean fried chicken, and the clean, understated flavors of Japanese
karaage
.
But what about Taiwanese fried chicken? Here in the Bay Area, people rarely speak of it. In Taipei, however, you'll see folks snacking on this popular street food at all hours — an affectionate couple bent over a paper sack of Taiwanese popcorn chicken (aka
yansu ji
, or "salted crispy chicken"), or a flock of middle school girls in their school uniforms strolling through the night market, each one munching on a fried chicken cutlet roughly the same circumference as her head.
[jump] In the traditional recipe, the chicken is marinated in a combination of garlic, soy sauce, rice wine, and — most prominently — five-spice powder, then dredged in potato starch, deep-fried, and, finally, dusted with as much chili powder as you dare. It's a distinctive taste and, for those who grew up on the stuff, a craving that's not easily sated by other variations of fried chicken.
Fortunately, Oakland's emerging Taiwanese food scene now boasts several excellent versions.
Chick and Tea: Taiwan Crunch from Bert Johnson on Vimeo.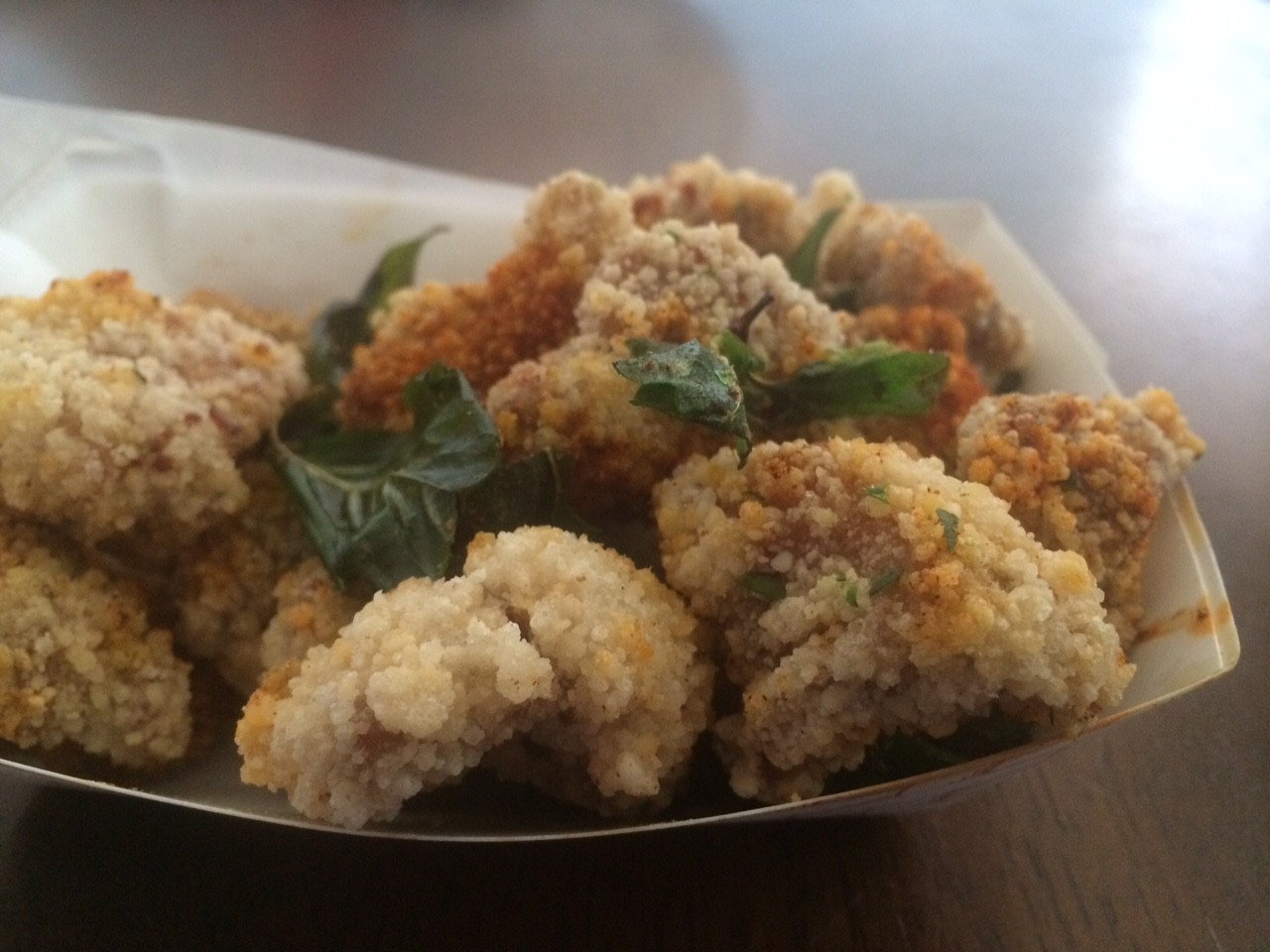 1. Mostly, what you'll find is the bite-size "popcorn" version, and for now the title of best in the city likely goes to Uptown's
Taiwan Bento
(412 22nd St., Oakland), where the boneless thigh meat for the popcorn chicken ($5.50) — available after 4 p.m. on weekdays and all day on Sundays — is battered and fried to order. The result, owner Stacy Tang said, is a less greasy final product than what you'll find at many Taiwanese street stalls where the chicken is fried in advance, then quickly refried to order. The taste is classic Taiwanese — a delicate balance between savory, spicy, and sweet — and the restaurant doesn't skimp on the fried basil, an essential garnish for
yansu ji
.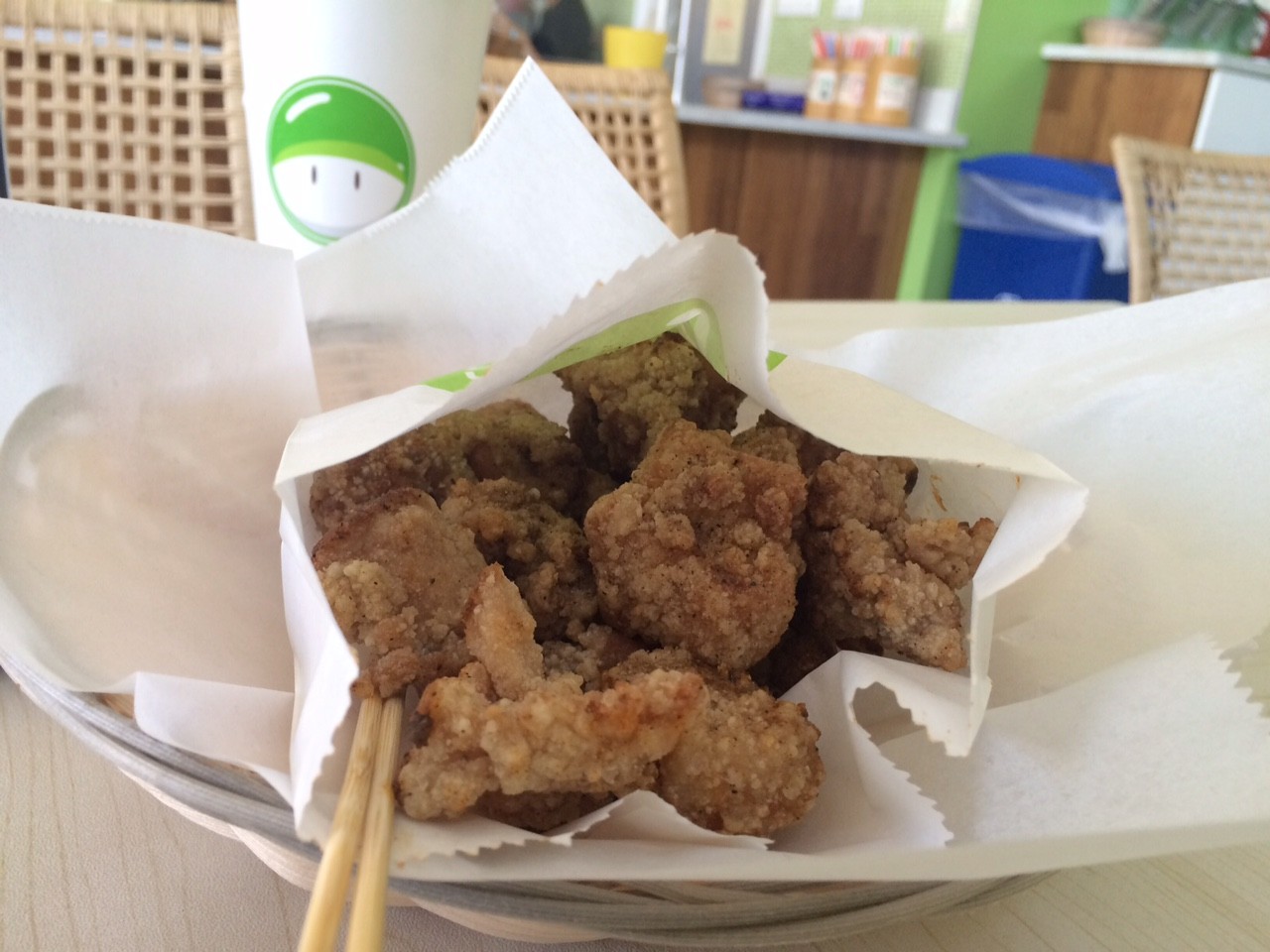 2. In the absence of a proper Taiwanese night market, the now-ubiquitous boba shops of the East Bay are the most likely purveyors of popcorn chicken and other Taiwanese fried snacks. Mr. Green Bubble (4299 Piedmont Ave., Oakland) stands apart from the crowd for two things: its
great selection of board games
(free to borrow for anyone who wants to hang out for a couple of well-caffeinated hours), and the high quality of the popcorn chicken ($4.99), which remains my local baseline standard for the dish. The boneless thigh meat comes out juicy and piping hot, and salty/spicy/crispy bits collect, deliciously, on the bottom of the bag. Mr. Green Bubble also has the heaviest hand with chili spice among the four contenders I sampled; even the level one (out of five) left my mouth tingling. My only complaint: My most recent order didn't have any basil whatsoever.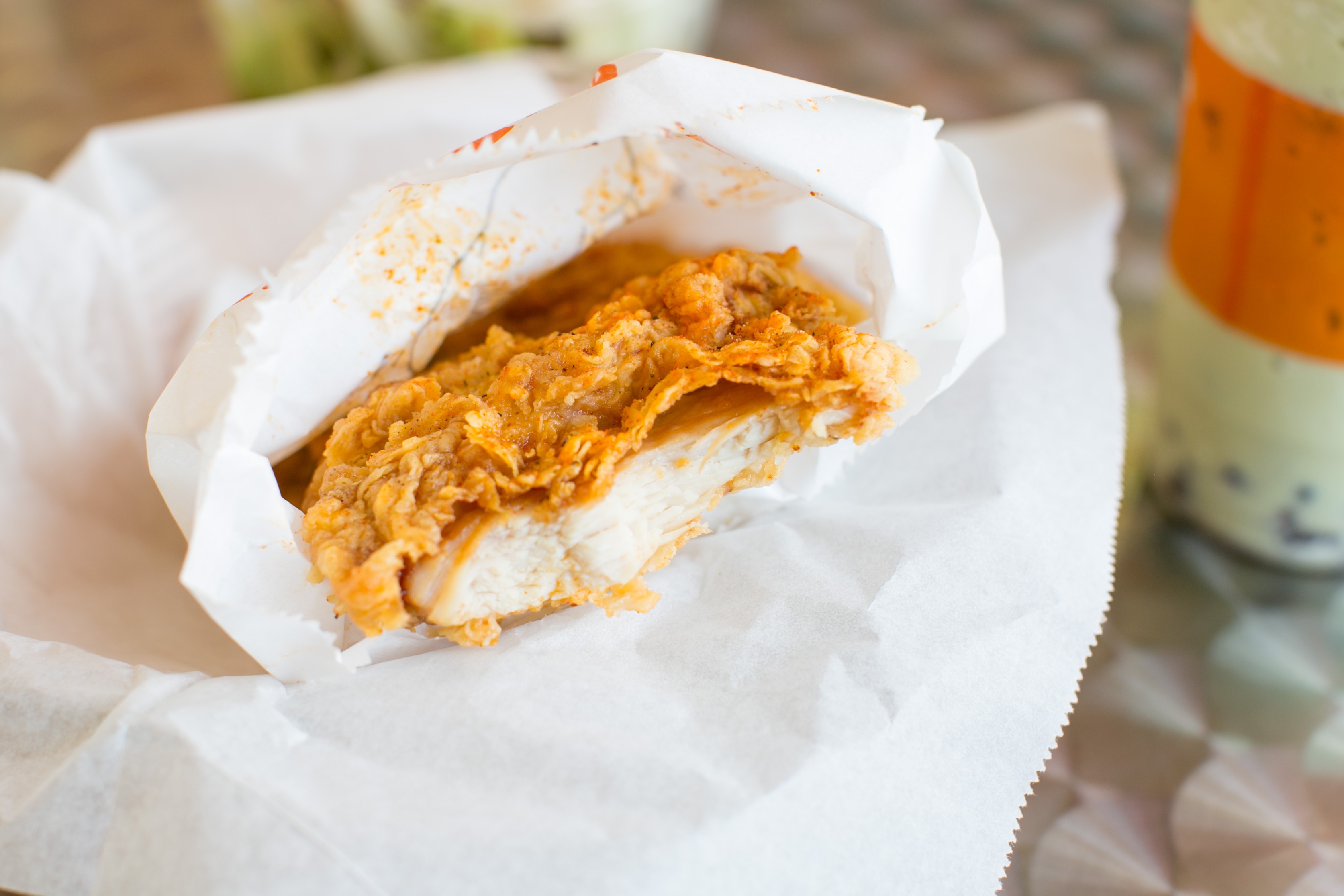 3.
Chick & Tea
(3932 Telegraph Ave., Oakland), a new boba shop in Temescal, is the only place I'm aware of in the East Bay that specializes in an equally iconic Taiwanese street snack:
da ji pai
, or whole fried chicken cutlets. According to owner Frank Cheng, a desire to do something different from every other shop was the main reason he decided to specialize in what he has dubbed the "G-Pie" ($5.99) — that and the fact that he's a self-described "meat guy." And it's true: There is something deeply satisfying about holding a giant piece of fried chicken in two hands and chowing down on it straight out of the paper bag. (Daintier eaters can ask Cheng to cut the chicken into strips before frying.) Because the chicken is thicker, it's easier for the meat in the center to stay juicy, and Cheng uses several tricks to maximize tenderness and flavor — most notably, he said he massages each piece of chicken three times a day while it's marinating.
I loved the craggy, well-spiced crust of Chick & Tea's G-Pie. Mostly, though, I loved how much it made me feel like I was in Taiwan.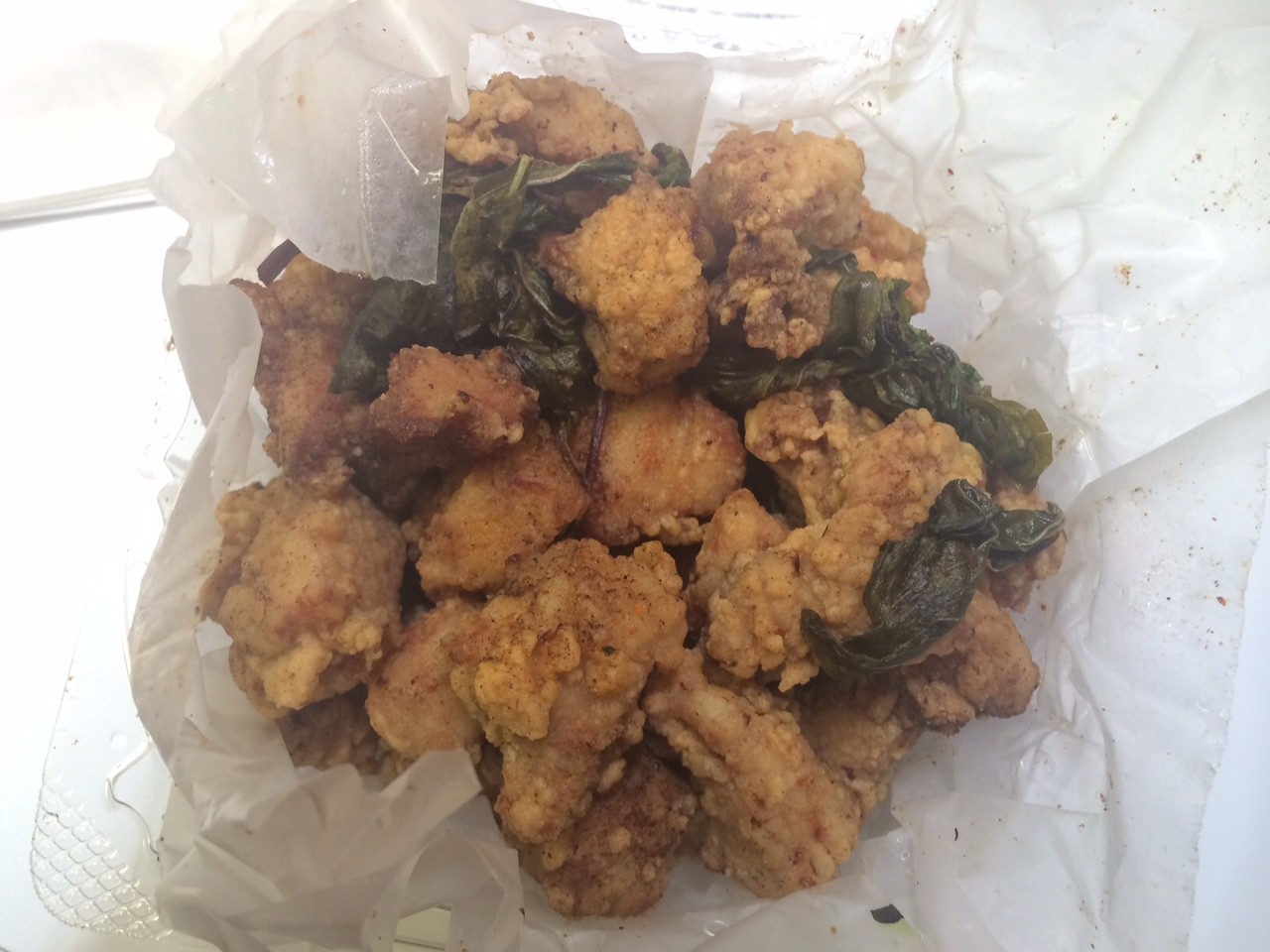 4. Popcorn chicken is one of the dozens of Taiwanese specialties you can order at Dragon Gate (300 Broadway, Oakland), a lounge-y Taiwanese restaurant and karaoke bar combination in the Jack London district. At $8 an order, this was the priciest version of the dish I encountered, and also the most disappointing. Whether it was a result of the to-go packaging (a plastic clamshell container, inside of which the chicken wound up steaming for several minutes) or some problem with the frying process, the batter had no discernible crunch. And while there were large sprigs of basil in the box, these were under-fried — wilted and tough rather than crispy. So, even though the flavor was decent, this was a bust, which is a shame because Dragon Gate is probably my
overall favorite Taiwanese restaurant in the city
. Unless they upgrade their popcorn chicken recipe, you're better off sticking to any number of stellar homestyle Taiwanese dishes — the beef noodle soup, in particular, is a knockout.