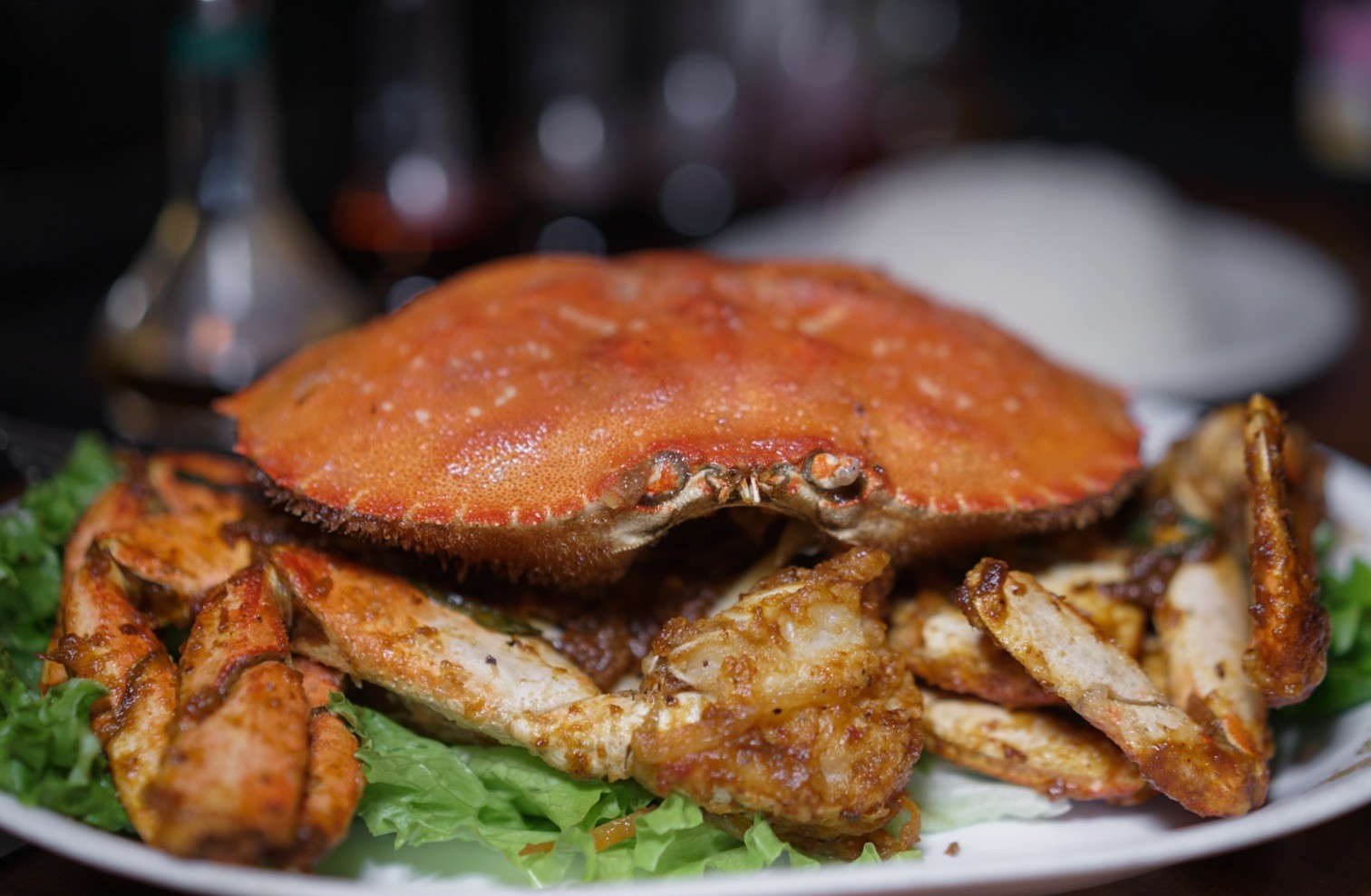 We're nearly a month into Dungeness crab season — and if you're not sure where to find crab this season, there are plenty of restaurants serving up the prized crustaceans. As you'd expect from the East Bay's diverse food scene, the types of preparations are endless, including Oaxacan mole, Vietnamese tamarind-garlic sauce, and Italian garlic and lemon. Time to get cracking!
1. On weekends, Oaxacan hotspot
Agave Uptown
(2135 Franklin St., Oakland) will be serving market-price Dungeness crab with mole sauce and seasonal vegetables. Round out the meal with Oaxacan specialties like the tlayuda: a gigantic thin, crispy tortilla topped with Oaxaca cheese, black beans, and your choice of meat or vegetables. There's also a mezcal-driven cocktail menu to complete the Oaxacan dining experience.
2.
Lake Chalet
in Oakland (1520 Lakeside Dr.) offers views of Lake Merritt, along with Dungeness crab in all shapes and forms. On the smaller side, there's a Dungeness crab tostada topped with blood orange mango salsa, habanero crema, and avocado, and a Dungeness crab bisque made with brandy, chives, and crème fraîche. If you're looking for a full meal, there's also a crab melt made with truffle cheese, a squid ink rigatoni topped with Dungeness crab and calamari, a filet mignon topped with butter-poached crab and crab-infused Béarnaise sauce, and a whole oven-roasted crab with garlic, lemon, and parsley.
3.
Benchmark Pizzeria
in Old Oakland (499 9th St.) might be best known for its wood-fired, Cal-Italian style pizza. But during Dungeness crab season, the restaurant will serve half crabs roasted in their wood-burning pizza oven, along with lemon, potatoes, and aioli, for $24. Or if you're in the mood for fresh pasta — Benchmark makes it all in-house — there's also a Dungeness crab pasta available for $18.
4. Oakland's
Tay Ho
(344 12th St.) serves up regional Vietnamese specialties you'd be hard-pressed to find elsewhere in Oakland — and through the end of the year, they'll also be serving Dungeness crab for dinner nightly. Choose from a whole crab with caramelized garlic and shallot sauce or tamarind garlic sauce, along with your choice of garlic noodles or gluten-free garlic rice for $38. Owner Denise Huynh recommends calling ahead (510-836-6388) to reserve your crab, since quantities are limited.
5. And let's not forget the bay fung tong style crab at
Bay Fung Tong
in Oakland (1916 Franklin St.), which former Express staff writer Luke Tsai named as one of his favorite meals of 2016. It's cut into pieces and fried, then topped with a heap of crunchy garlic, fermented black beans, and chilis. A variety of other preparations are also available, including a ginger-green onion sauce, fried salt and pepper crab, or golden egg crab, which is coated in a savory fried crust made from preserved duck egg yolks. Crab is sold at market price, which was $19.99 per pound at the time of writing.
6. In Berkeley,
Trattoria La Siciliana
(2993 College Ave.) will be serving up its famous Italian-style cracked crab marinated in lemon, garlic, parsley, and olive oil for $35. If that's not reason enough to head to Elmwood, then the complimentary bread dipping sauce — a magical mixture of olive oil, red pepper flakes, garlic, rosemary, and more — should be.
7. Or if pasta is more your style,
Donato & Co.
(2635 Ashby Ave., Berkeley) will be serving squid ink tagliatelle with Dungeness crab and toy box tomatoes for $26. There's also an all-Italian wine list and a full bar where you can enjoy classic Italian cocktails, like a Negroni.