When Bay Area counties imposed stay-at-home orders to limit the COVID-19 epidemic, Richmond resident Blanca Retano lost her job as a parent educator at an elementary school. Her husband, a chef, had his hours cut to nine a week. Their three kids, ages seventeen, twelve, and eight, needed an Internet connection to keep up with their schoolwork — an added expense. Retano hasn't found it stressful to be home with her family. "I'm enjoying spending more time with my kids," she said. "I'm learning a lot from them." The stress comes from "worrying about how we're going to make it."
That's why Retano, along with other East Bay tenant activists, has been campaigning for city and county measures to protect them from eviction. Advocacy from groups including the Alliance of Californians for Community Empowerment has helped create the impetus for the eviction moratoriums recently passed by many East Bay cities, as well as Alameda and Contra Costa counties.
All of these measures seek to prohibit most evictions when renters are unable to pay for pandemic-related expenses, health problems, or loss of income. Oakland and Alameda County's measures go farther, decreeing that tenants can never be evicted for back-rent debts incurred during virus-related stay-at-home orders. They will still owe the money, but it will be considered a consumer debt like a credit-card debt. The landlord, like any creditor, could go to court to try to collect the debt, but not use it as grounds for eviction.
But Retano views such measures as insufficient to the magnitude of the coming economic crisis. So she's encouraging other tenants to join her in a May 1 statewide rent strike demanding that Governor Gavin Newsom cancel rent and mortgage payments during the state of emergency. "We're taking a risk not paying our rent so Newsom will see this is a huge issue — people can't pay their rent!" Retano said. "This is how we get our message out."
Local eviction moratorium measures apply specifically to renters. Officials have hesitated to address evictions for nonpayment of mortgages, since bank regulation is primarily a state or federal function. That's one reason housing-rights activists are increasingly calling for additional state and federal protections for both renters and homeowners. "This is such a major problem, it's too large for cities to handle," said Richmond City Councilmember Eduardo Martinez.
That a proposal as radical as a rent strike has attained such momentum and visibility is a testament to the scope of the search for answers to the growing economic crisis. Concerns about a wave of evictions whenever Richmond's new rent moratorium ends prompted Martinez to propose that rents for the months of the virus lockdown be eradicated — not just postponed. After all, a 2017 survey by the financial website Bankrate.com found that nearly six in ten Americans have less than $500 in savings. "If you have $2,000 rent for four months, then you're $8,000 in debt in addition to your ongoing rent," Martinez' council colleague Melvin Willis said during an April 21 city council meeting. "That mountain of debt is insane for anybody to pay off."
Richmond City Attorney Rachel Sommovilla expressed the opinion that a measure actually eliminating rent due during the stay-at-home order would be a "legal risk." But Martinez pointed to a letter from the Law Foundation of Silicon Valley, arguing that a suspension of the right to collect rent is legal during a state of emergency. The letter was filed in support of a similar, failed proposal to the San Jose City Council.
"The injury that society has suffered [during the pandemic] is only the first stage," Martinez said. "The severity of the second stage will be determined by how well we prepare. If we don't do the proper preparation, the second stage will be worse — the continuation of the collapse of the economy. We waited too long to address the virus. I'm afraid we may wait to long to address the economic crisis."
---
An Array of Action
Details of the local measures vary, but the county measures passed April 21 generally apply unless a city has stronger protections. The measures have varying end dates: Contra Costa's is May 31; Alameda County's will end in 90 days or whenever the governor lifts the state of emergency.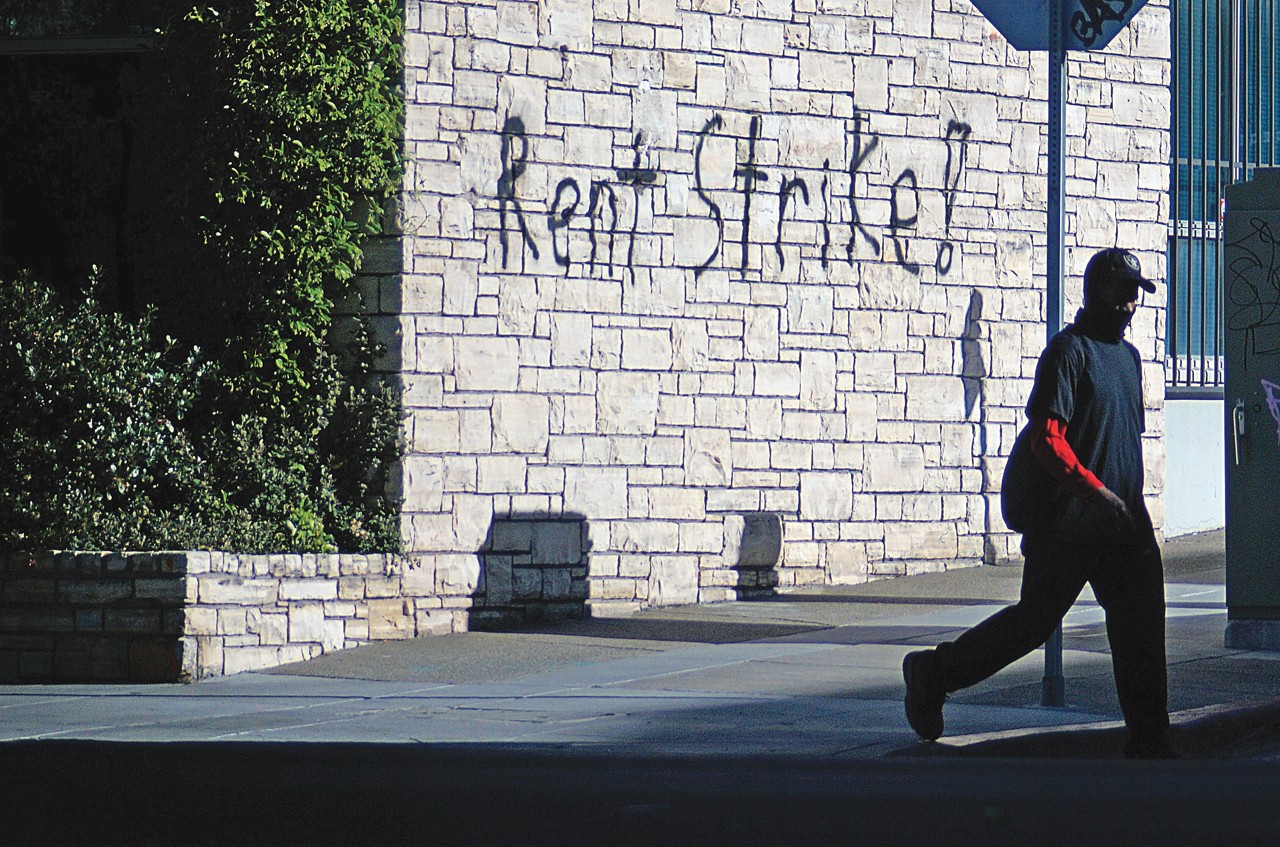 Some city ordinances, such as those in Oakland, Berkeley, and Richmond, include small businesses. Both counties ban late fees for rent due from the period covered by the ordinance and limit rent increases in rent-controlled buildings. Berkeley recently extended that protection to small businesses.
Both counties require tenants to document that they cannot pay because of the pandemic and set requirements for tenants to tell landlords they can't pay. Some tenant advocates have expressed concern that the requirement for documentation could be an unfair barrier for undocumented tenants and those with income from the informal economy. Only Oakland's measure, which was drafted by city Councilmember Nikki Fortunato Bas and is still among the area's strongest, does not require such documentation.
At recent meetings of the Contra Costa County Board of Supervisors, dozens of tenants submitted letters or spoke, remotely. Board members heard story after story from tenants and homeowners who said they had been laid off and had no money to pay rent or buy groceries — and are relying on food banks and school meal programs. An undocumented tenant pointed out that he was not eligible for federal relief programs and said the COVID-19 crisis is "forcing us into a downward spiral."
Owners of rental property also weighed in. "I depend on rental income for financial survival," a retired townhouse owner wrote. Another said that he owned a six-unit building on the street where he lives, describing his tenants as neighbors and friends. "I saved a long time to buy this building for my retirement," he wrote. "With that and Social Security I live OK." But a rent moratorium would cause "stress and hardship. My retirement income and future would be severely affected."
Representatives of property owners' organizations spoke against the measures, though not all owners opposed the eviction moratorium. One wrote asking the supervisors to "strike a balance" between the needs of landlords and tenants, suggesting that tenants be required to provide advance notice of nonpayment, to provide proof that they couldn't pay, and to make partial payments if possible.
The greatest controversies have focused on the length of the "grace period" tenants would have to pay the back rent. Contra Costa Supervisor Candace Anderson expressed concern about asking landlords to go without rent for four months — the grace period in that county's ordinance. A speaker for an organization of parents, the East County Regional Group, said 120 days would not be long enough for people to pay back such a large debt and predicted "a wave of evictions" if the grace period were not extended. Supervisor John Gioia argued persistently, but unsuccessfully, to extend the grace period to 180 days. Meanwhile, the Alameda County measure gives tenants a full year to pay back rent.
---
Property Owners Seek Protection
Homeowners with mortgages — sometimes called "bank tenants" by housing-rights activists — have a different set of risks and protections. Almost two-thirds of homeowners with outstanding loans have federally backed mortgages, according to data from the Urban Institute, and are protected by federal rules banning foreclosures until mid-May. After that, such mortgage-holders who own homes from single-family to fourplexes can apply to their loan providers for suspension of mortgage payments for up to 180 days — with possibility of renewal — if they show they can't pay because of COVID-19.
In addition, Wells Fargo, U.S. Bank, JPMorgan Chase, and Citibank have announced that they will give owners of one to four housing units a 90-day grace period for mortgage payments with no evictions and no late fees. Bank of America offered 30 days. Wells Fargo spokesperson Tom Goyda said in an email that homeowners have to request this deferral from his bank by phone or online. After the three-month deferral, he said, the bank will negotiate on a case-by-case basis with homeowners.
But these federal and bank policies don't cover all small landlords. Oakland homeowner Debra Dooling-Sherman said she rents a small storefront and a studio apartment in her home, but her mortgage is owned by an individual who will not allow her to postpone payments. "A lot of people assume that if you are a landlord you must have money," she said. "But I'm barely making it every month." Dooling-Sherman is retired, and said the rent she collects "almost covers my mortgage and car payments. … This is my retirement plan."
According to the National Multifamily Housing Council, three-quarters of U. S. rental property is owned by "mom and pop landlords" with two to four units. And individuals and small businesses own more than 90 percent of rental housing, according to the US Census Bureau.
Larger landlords with federally backed loans also have some federal protections. If they agree not to evict tenants affected by the COVID-19 crisis, they too can apply to the federal mortgage-financing companies Fannie Mae and Freddie Mac for suspension of mortgage payments for 30 days with two possible extensions. And the federal Department of Housing and Urban Development will provide financial relief to mortgage-servicing firms if they go more than four months without being able to collect mortgage payments.
"The bottom line is that if renters are struggling to afford the rent, owners will similarly struggle to not only pay all of their employees, but meet their own mortgage obligations — putting their buildings at risk of foreclosure," Jim Lapides, vice president of strategic communications for the National Multifamily Housing Council, told the financial reporting website CityLab.
Nonetheless, officials and activists are focusing most of their efforts on tenants. "It's not that landlords can't collect rent, it's that tenants can't pay" said Leah Simon-Weisberg, lawyer for the Alliance of Californians for Community Empowerment. "So what are we as a society going to do about it? Make everyone homeless?" Berkeley City Councilmember Kate Harrison said that whatever challenges landlords face, tenants are the most vulnerable. "People who own buildings have an asset tenants don't have." Oakland tenant Terra Thomas, who's lost all income from her job as a florist for weddings, said she doesn't want to hurt small landlords, but she has little sympathy for her landlord, a corporation that bought 20 buildings in Oakland after 2008. "They might lose some of their profits. But it's the tenants that will be broken by this, that will come out of this without a job, be buried under mountains of debt, be evicted."
Though some tenant advocates are indifferent to the challenges faced by property owners, others are concerned about the threat to landlords from coronavirus-related income loss. Assemblymember Phil Ting (D, SF) has introduced a bill, AB 848, that would bar foreclosures on any residential real estate and suspend the sale of tax-defaulted property until fifteen days after California's state of emergency ends. It also would make the tenant eviction moratorium statewide. Most controversial is the provision that says if a court finds that a tenant can't pay rent because of the COVID-19 crisis, it must order that the tenant not be evicted for a year — and receive a 25 percent rent decrease. This bill would cover the period from fifteen days after the end of the state of emergency until January 1, 2022.
Not surprisingly, the California Apartment Association submitted a letter calling Ting's bill one-sided, unreasonable, and unconstitutional. "AB 828 places significant financial hardship on rental housing owners and it provides no assistance to help them bear those burdens," the association wrote in a letter to Ting. "In addition to mortgage payments, property owners must pay property taxes and insurance premiums, not to mention the significant costs to manage and maintain their properties and paying employees. … AB828 offers nothing to help with those payments."
The apartment association has sponsored its own bill, SB 1410 by Senator Lena Gonzalez (D, Long Beach), which would provide state funds to cover up to 80 percent of the rent for three months for a tenant who can't pay because of the COVID-19 crisis. To qualify, a property owner would have to agree not to increase rent, charge late fees, or pursue the remaining rent owed for those three months.
Tenant advocates are divided in their opinions about the bill. Some welcome any help for tenants struggling to pay rent, but others want property owners to bear these costs — regardless of whether they are landlords or banks. "If the government pays the rent, then who's going to pay the government?" Richmond tenant activist Ricky Zepeda asked. "The people still end up paying." And Amy Schur, statewide organizer for the Alliance of Californians for Community Empowerment, said, "We should save our taxpayer money for health care and schools." Since there won't be enough assistance to go around, she said, "the better solution is to ask the big Wall Street banks to eat the cost, by forgiving the payments for certain months entirely. Small landlords should receive assistance. Renters and homeowners should receive forgiveness."
---
#CancelRent, #CancelMortgages
A national coalition of housing rights, social-justice, and labor organizations is calling for the cancellation of rents and mortgages owed for the period of the COVID-19 crisis, adopting the hashtags #CancelRent and #CancelMortgages. More than 80 organizations in California are calling on Governor Newsom to issue an executive order doing that.
In Congress, Rep. Ilhan Omar (D, Minneapolis) has introduced "The Rent and Mortgage Cancellation Act," co-sponsored by Reps. Alexandria Ocasio-Cortez, Pramila Jayapal, Ayanna Pressley, Rashida Tlaib, and others. It would require the forgiveness of rent and mortgage payments from May 1 until 30 days after the end of the federal state of emergency. It also would bar the accumulation of fines as well as any measures that might affect a person's credit rating. And it calls for a landlord and lender relief fund, which would reimburse property owners for unpaid rent so long as they meet certain fair-housing and other standards for the next five years.
On the day Omar introduced her bill, the polling organization Data for Progress released results of a survey that found that 55 percent of all voters — including 42 percent of Republicans — support a policy that would suspend mortgage payments, cancel rent payments, and not require renters to pay rent that accumulated during the pandemic. In California, the numbers are even higher. According to polling data in an April 27 report from The Justice Collaborative Institute and Data for Progress, 74 percent of likely California voters, including 65 percent of Republicans, "would support a 'suspend and forgive' rent program, under which the state, not a renter, would compensate landlords for lost rental income for as long as there remains a state of emergency in California." Additionally, 75 percent of likely California voters, including 69 percent of Republicans, "would support a 'suspend and forgive' mortgage program, under which the state, not a homeowner, would compensate a mortgage provider for missed payments" for the duration of the emergency.
Housing rights and labor organizations in the state are preparing for a statewide rent strike beginning on May Day. The rent strike is a strategy to put force behind a petition asking Gov. Newsom to sign an executive order cancelling rents and mortgages during the state of emergency. "Moratoriums are a half-measure that just kicks the can down the road, saddling people with new debt," said the Alliance of Californians for Community Empowerment in its press release announcing the rent strike.
Not surprisingly, landlord advocates view the proposal as opportunistic.
"Encouraging all tenants — including those with the ability to pay — to withhold rent is malicious," the East Bay Rental Housing Association said in a statement. "Timely rent collection is essential to paying operating costs, including maintenance, insurance, utilities, property taxes, and mortgages [and] to pay the salaries of managers, custodians, maintenance workers, and contractors such as electricians, plumbers and gardeners." In addition, thousands of "mom and pop" property owners "work in professions outside of rental services [and] are subject to the same income loss as tenants." Withholding rent "would only compound their economic pain."
Schur of ACCE said the purpose of the rent strike is not to hurt landlords, but to pressure Gov. Newsome to declare temporary relief from housing costs during the state of emergency. "Small landlords, homeowners, and tenants all need relief," she said. The demands of the strike include protections for all of them. "The rent strike is taking people's economic reality and giving it a voice," said Schur. "We're finding people who are suffering alone and engaging them into an organization that's fighting for relief."
Statewide calls with more than 100 participants coordinate "an aggressive outreach campaign with mass texts, Facebook ads, and more," encouraging tenants to sign pledges to withhold rent on May 1, Schur said. Thousands have pledged already, and she predicted there will be 10,000 by May 1.
Locally, tenant activists like Ricky Zepeda are collecting strike pledge forms from their neighbors. Zepeda, who is blind, and has some income from disability payments, lives with his wife and adult children. Both his son and son-in-law were laid off when the stay-at-home order started, and his daughter's hours were drastically reduced.
Zepeda predicts that everyone in his eight-unit building will join the rent strike. "If they barely made payment last month, they're not going to be able to pay this month," he said. "I know I ain't. I got other bills to pay."