Natasha Harden has no qualms about self-confidence. "I'm a badass, fat bitch," she said on a recent afternoon, inside her Lake Merritt vintage boutique, Halmoni (1601 2nd Ave., Oakland). The 34-year-old fashionista ended the exclamation with an effervescent laugh. Harden is, indeed, a force of nature, but of the friendliest sort. She brims with a sense of self love that's contagious rather than competitive — a quality that's too rare among women, especially in the fashion industry.
Harden opened her cozy shop in 2011 and almost immediately began to host clothing swaps called "Naked Lady Soirees." She aims to make the monthly, $15 events feel as comfortable as a slumber party. The events include wine, snacks, and sweets, and Harden curtains up the shop to ensure privacy. She asks each of the twelve to twenty attendees to bring a bag full of clothes that they want to get rid of, then everyone picks through the cumulative pile together. Although there's a dressing room available, Harden encourages attendees to strip down to their undies and try on items in front of others, asking for opinions and styling suggestions. The goal is to create a supportive, body-positive community of female-identifying people who love fashion.
Although Harden advertises the Naked Lady Soirees as being open to all body types, she soon realized that women who identify as fat, like her, weren't showing up. "If you don't specifically say it's for fatties, they may not come," said Harden, "because they don't just wanna be leaving with accessories." That's why she's starting another swap series, called Fattyland.
Fattyland swaps, the first of which will take place this Sunday, will occur every other month at venues that are more accommodating than Harden's little shop and are accessible for people who walk with a cane or use a wheelchair. Plus, they will be specifically tailored to the fatty fashion community.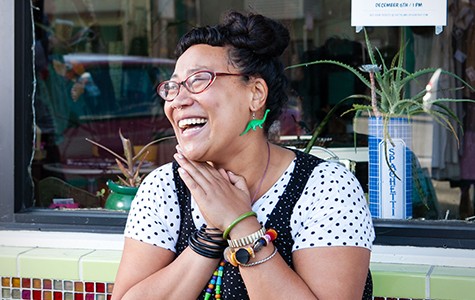 Harden describes the fat-positive community — lead locally by icons like author Virgie Tovar — as a radical subculture of the plus-size community. "I think [using] 'fat,' for me, is me being radical about my body and my politics and making people feel uncomfortable in a way," said Harden. "Because I am fat, and that's not gonna go away, and just because you like to use the word 'curvy' or 'plus-size' because you think that that's politically correct and it's not gonna hurt my feelings — that's not where I'm at."
While plus-size fashion has been becoming increasingly visible in the media this past year, many "fatties" advocate for a more radical sense of body-positivity that includes a wider range of silhouettes than are typically represented by plus-size models. "Even though plus-size is kind of off the hook right now… ," said Harden, "I think that the plus-size community doesn't show all bodies."
Fattyland is intended to be an opportunity for people who identify as fat to gather, make friends, and feel totally comfortable. Numerous plus-size and fat-positive businesses have donated items to the event, including lingerie from Hips and Curves, athletic wear from Rainbow Curves, and a free session with a body-positive life coach. Some freebies will be given away as raffle prizes, while others will be added to the swap items. Harden wanted the event to feel extra special, because fat women are often excluded from the fashion industry. "Its not only a fat event," said Harden, "but a fat event where all these other companies are saying that you're important."
The first Fattyland will take place at The Blueprint (439 International Blvd., Oakland), a new co-working space and tea house, on December 6 at 1 p.m. Harden plans to eventually put on fatty flea markets and hopes to partner with other businesses and planners to create all sorts of fat-focused events under the Fattyland moniker. With each event, Harden hopes to help break down the stigma against "fat."
"When I say that I'm fat, people are like, 'Don't say that!'" said Harden. "They're like, 'You're not fat, you're beautiful!' and I'm like, 'I know that, but I'm fat, and that's a part of me, and it's okay.'"