Huzzah it's the weekend! Celebrate the fact that we did not have to endure polar vortex by checking out these five awesome events:
Tower of Power
Tower of Power has been perfecting its unique style of groove music since 1968. Over the decades, nearly sixty different musicians have toured or recorded as part of the ten-piece soul outfit — a testament to the Oakland band's enduring legacy. Its large, funky horn section is particularly renowned, having collaborated with The Grateful Dead, Elton John, Rod Stewart, Huey Lewis and the News, Phish, and Aerosmith. Today, four original members remain, and the band's sound is as fresh as ever, in part due to new lead vocalist Ray Greene, who has a honeyed voice and a commanding presence. You can see the band this weekend at Yoshi's, where it's in the midst of a five-day stint in advance of a tour with Journey and The Steve Miller Band later this year. Many shows are already sold out, but check website for ticket availability. Friday-Sunday, Jan. 10-12. Times vary, $45. Yoshis.com — Madeleine Key
Anita Wilson
East St. Louis-born, Chicago-based singer-songwriter Anita Wilson is one of the most refreshing gospel stylists to have emerged in recent years. Formerly featured with Donald Lawrence & Co., as well as having done background vocals for such gospel stars as Hezekiah Walker, Marvin Sapp, and Vanessa Bell Armstrong, Wilson stepped out on her own in 2012 with a remarkable album titled Worship Soul. Unlike many gospel singers who holler and break syllables into seemingly endless curlicues — and there's nothing wrong with that if done right — she delivers her Christian odes with consummate grace, letting her gorgeously rounded alto pipes, perfectly placed sustains, and jazz-imbued phrasing build them to reverent peaks of passion. Her treatment of James Taylor's "Shower the People" is particularly touching. Wilson, who at times brings the late Bay Area gospel singer Danniebelle Hall to mind, will perform at
Beebe Memorial Cathedral
on a bill with Tennessee vocalist Wess Morgan. Friday, Jan. 10. 7:30 p.m., $40.
ExperienceBMC.org
—
Lee Hildebrand
[jump]
A Very Blasphemous Mass!
The First Church of the Sacred Silversexual wants to save your mortal soul this Saturday night. Let the eleven-piece David Bowie cover band lead you in worship at the altar of its musical idol during A Very Blasphemous Mass at the Oakland Metro Operahouse. After the band tells the Story of Bowie through dance, music, and drag, the debauchery will continue with Tourettes Without Regrets' special show, Religion Without Regrets, featuring a send-up of "false idols and shameless shamans." The sacred evening will close with the Hubba Hubba Revue's celebration of skin, including stripteases and a tribute to "the original Hip-Gyrator," Elvis Presley. Skip the service at your peril — it might be your last chance at spiritual redemption. Saturday, Jan. 11. 9 p.m.-1 a.m., $15. OaklandMetro.org — Zaineb Mohammed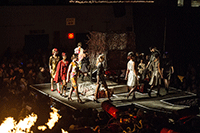 Jim Vetter Photography
Hot Couture
Hot Couture—The Fusion of Fashion and Fire
Celebrate
The Crucible's
fifteenth anniversary this weekend at their Hot Couture fashion show, featuring creations that are a blend of wearable art, haute couture, and industrial arts. Dance to music from Space Cowboys' DJ Mancub while you watch models wearing warrior couture, ensembles inspired by the Tarot Deck, and outfits embedded with 3D printed and LED imagery strut their stuff down the newly constructed runway. Audience members can also enjoy custom fire effects put on by Crucible staff and a Brazilian Carnival drum performance. If you're feeling brave, join the models for an interactive samba show, but be warned: It involves pyrotechnics. Friday and Saturday, Jan. 10-11. 7-11 p.m., $40, $100 VIP.
The Crucible.org
—
Z.M.
Cheesemaking Workshop
Learn where cheese comes from, and how to make it, at a workshop on Sunday at the Biofuel Oasis. French-trained instructors Shannon Todd and Stephanie Soleil will demonstrate how you can handmake three different types of cheese — fresh cheese, whey-based cheese, and traditional pressed cheese — in your home kitchen. Samples will be offered, and, after participating in various stages of the cheesemaking process firsthand, each student can bring home a mini-"cheese cave" packed with fresh cheese, tools, recipes, and more. Sunday, Jan. 12. 10 a.m.-1 p.m., $40 plus $15 materials fee. BiofuelOasis.com — Anneli Rufus
Plus… Get your cheapskate on: This is how much we love you guys: Here are our searchable listings of every single free event happening in the East Bay this weekend.
Feed Us: Got any East Bay news, events, video, or miscellany we should know about? Holler at us at [email protected]