It's Friday, the government shutdown is over, and the Panda Cam is back—lots to celebrate. Here are the five best things to do with yourself this weekend:
Autumn Lights Festival
Fun fact: The Gardens at Lake Merritt were just named one of California's top five gardens by VIA Magazine. See Oakland's beauty for yourself at the second annual Autumn Lights Festival, which doubles as a fundraiser for the seven-acre gardens. This weekend, the plots will be lit up with local artists' "weird and enchanting art installations," including electric fireflies, glowing waterfalls, gourd lanterns, and fire-spewing flowers. Sip on wine and beer from local vendors like Linden Street Brewery, munch on treats from food trucks like Jade Chocolates and Go Streatery, and wander throughout the grounds in your "most interesting illuminated garden attire." Friday, Oct. 18 and Saturday, Oct. 19. 6-10 p.m., $25 for adults, $12.50 for children. AutumnLightsFestival.Eventbrite.com — Zaineb Mohammed
20 Sided Records Halloween Party
No matter that Halloween is still two weeks out: The entire month of October has become fair game for themed parties, and that's a great thing, because San Francisco-based 20 Sided Records has curated an exciting lineup of local bands at
The Night Light
. Each act brings a different element of indie rock to the table, with heavy respect paid to the Nineties: Frozen Folk sounds, er, folky even as it's thrashing; Couches have a mellow, self-described "slacker" indie rock vibe à la Pavement and Built to Spill; Brasil draws from Nineties-era pop-punk without being formulaic; and Everyone Is Dirty weaves elements of grunge and psychedelia into its sweet-sounding pop-rock, with a frontwoman who's reminiscent of Liz Phair and Kim Gordon. Friday, Oct. 18. 9 p.m., $7.
TheNightLightOakland.com
—
Madeleine Key
[jump]
Living Jazz presents: Marcus Shelby
When it comes to meditations on historical events and persons, few do it as poignantly as Bay Area jazz bassist and composer Marcus Shelby. He's produced works (on his own volition and by commission) on Harriet Tubman (Harriet Tubman), the Naval disaster of 1944 (Port Chicago), and Martin Luther King Jr. (Soul of the Movement: Meditations on Dr. Martin Luther King, Jr.), among others. Now, he's been commissioned to create new material focused on the Civil Rights Movement for Living Jazz's twelfth annual Musical Tribute honoring Dr. Martin Luther King, Jr., which will be held January 19, 2014 at the Oakland Scottish Rite Center. The commission will include three parts and will feature the Oakland Children's Community Choir, the Oakland Interfaith Gospel Choir, and Shelby's own jazz orchestra. The Oakland nonprofit Living Jazz has received a challenge grant from the East Bay Community Foundation to support the new compositions, and needs to raise $6,500 to reach its match. To support the endeavor — and hear Shelby discuss his research and perform excerpts of the work-in-progress — a benefit will be held this weekend at the Piedmont Piano Company, with Faye Carol, Melanie DeMore, Joe Warner, and more. Saturday, Oct. 19. 8 p.m., $20 donation requested. PiedmontPiano.com — Kathleen Richards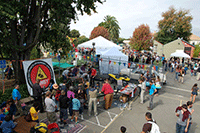 East Bay Mini Maker Faire
Celebrate all things DIY at this weekend's fourth annual East Bay Mini Maker Faire at the
Park Day School
. Local makers will show off their inventions, creativity, and resourcefulness at the "mini" festivity — an offshoot of the larger Maker Faires in New York and San Mateo — which has swelled to attract more than 5,000 people each year and more than 170 creators, performers, speakers, and food vendors. Must-sees this year include the bike Ferris wheel, the molten-bronze-pouring demonstration, and the radio-controlled flying machine demos by Pixar's Mark Harrison and Berkeley's 3D Robotics. If all that craftiness leaves you feeling inspired, there will also be workshops on topics such as how to make yarn and build your own miniature Nerdy Derby car. Sunday, Oct. 20. 10 a.m.-5 p.m., $12.50-$20.
EBMakerFaire.Wordpress.com
—
Z.M.
Taste of the Nation East Bay
Sample small bites and sumptuous drinks from top East Bay chefs and mixologists in an unforgettable setting — for a good cause. Happening on Sunday at the Claremont Hotel, Taste of the Nation East Bay is a benefit for Share Our Strength, an organization that feeds hungry children. A silent auction augments bites from A16, Gelateria Naia, Lungomare, Bison Brewing, Trumer Pilsner, Wente Vineyards, Bay Wolf, Chop Bar, FIVE, Hawker Fare, St. George Spirits, and many more, including the Claremont's in-house restaurants, Meritage and Paragon. Sunday, Oct. 20. 3-7 p.m., $85. ClaremontResort.com — Anneli Rufus
Plus… Get your cheapskate on: This is how much we love you guys: Here are our searchable listings of every single free event happening in the East Bay this weekend.
Feed Us: Got any East Bay news, events, video, or miscellany we should know about? Holler at us at [email protected]