Hey party people, it's the weekend! Time to eat, drink, and be merry. Here are five weekend-worthy activities for you to partake in.
Eat Real Festival
The fifth annual Eat Real Festival — Oakland's preeminent three-day celebration of street food, local small-batch booze, sustainable ingredient sourcing, and DIY food arts — kicks off in
Jack London Square
today. If you've attended any of Eat Real's previous incarnations, you know the drill: Admission is free; street parking tends, quite frankly, to be a bit of a madhouse; and all of the street food items (from more than fifty different vendors) will be priced at $5 or less. That said, this year's festival will boast several new features, including an overarching focus on offal — i.e., organ meats and other underused cuts (see details on the "Offal Wonderful" event
here
) — and a number of new food artisans. Friday's focus will be "Burgers, Bourbon, and Beer," and for this year's cooking demo lineup, five well-known Oakland chefs will tackle a topic that should be of interest to plenty of budget-minded attendees: how to feed a family of four using ingredients that cost $25 or less. Be sure to check out
our full guide
to the festival. Friday, Sept. 27-Sunday, Sept. 29. Free.
EatRealFest.com
—
Luke Tsai
Close & Personal
Contemporary choreographer Sheena Johnson aptly named her new creation Close & Personal. Performed by Rebel Home Dance in the MilkBar performance space at the Sunshine Biscuit Factory, this intimate installation retains very little of the fourth wall. "Don't come planning to stay in one place," Johnson said. Instead, expect to move and be moved. Inspired to explore the resonance of recent events such as the Trayvon Martin trial and the Supreme Court's recent ruling on the Voting Rights Act, Johnson and her suite of collaborators developed the site-specific dance-theater experience to illuminate the realities facing communities of color in America. Through movement, performance, visual art, vocals, music, film, and food, Johnson, Misia Denea, Chris Evans, Toni Lester, Ernest Jolly, and others will shine a very personal, yet universal, light. Saturday, Sept. 28 and Sunday, Sept. 29. 5:30 p.m., $15, $20. MilkBar.org — Claudia Bauer
[jump]
Mission Creek Oakland Presents: Horrible/Adorable
Since January, Oakland's Horrible/Adorable has been making sweet little two-minute punk songs that are the sonic equivalent of a cute kitten kneading your chest with sharp claws. Its most recent recordings, from July, have a distinct guitar jangle, good for melting creamsicles and cooling down tall-boys. As part of Mission Creek Oakland, the three women of Horrible/Adorable will be rocking out at The Starry Plough on Friday. Joining them will be Odd Owl, a sleek-sounding outfit from San Francisco with an indie-pop vibe and a beautifully voiced vocalist, and Seaside's Burnt Palms, a grungy sand-blasted band whose recently released self-titled album has the washed-out distortion of noise-pop. You can bob your head or dance in whatever style suits you. Friday, Sept. 27. 9 p.m., $5, $7. TheStarryPlough.com — Patrick Newson
Public Paranormal Investigation at the Pardee Home Museum
Halloween is about a month away, but if you're already dying to be spooked, head to the Pardee Home Museum on Saturday night for its sixth public ghost tour. Led by ghost investigator Karen Zimmerman, who authored Ghost Stories and Legends of Alameda, Berkeley, and Oakland, the tour will lead participants on a search for spirits in the Pardee home, where three generations of the same family lived and died from 1869 to 1982. Self-described psychic medium Linda Grindel will also be on hand to conduct a "spirit circle." Recommended equipment includes a camera (a misty apparition sitting in a chair has allegedly been photographed before), dowsing rods, and a pendulum with which to interact with the apparitions of the house. And for the novice ghost hunters among you, be warned that clanking jewelry, noisy shoes, and perfume can scare away the spirits. Saturday, Sept. 28. 6:45 p.m.-12 a.m., $50. PardeeHome.org — Zaineb Mohammed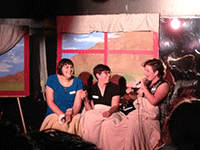 Awkward Sex Show Live Recording
Comedians Carey Callahan and Jennifer Dronsky want you to share your awkward sex stories with them. Callahan started the
Awkward Sex Show
podcast in Cleveland, Ohio in July 2012 with his sister. Described as "30 percent comedy, 30 percent the kind of therapy you get when you go to the bar with your best friend, and 40 percent telling embarrassing stories in front of strangers," the show has featured stories about topics such as the parental sex talk and a former dominatrix's experience dressing men up as women. This Sunday, Dronsky and Callahan will host their third live recording of the podcast in the Bay Area at
The Stork Club
. Each show has a theme — past ones have included pregnancy, Craigslist, and bad advice — and this week's is competition. Feel free to be liberal with your interpretation. Sunday, Sept. 29. 6 p.m., $5.
AwkwardSexShow.com
—
Z.M.
Plus… Get your cheapskate on: This is how much we love you guys: Here are our searchable listings of every single free event happening in the East Bay this weekend.
Feed Us: Got any East Bay news, events, video, or miscellany we should know about? Holler at us at [email protected]