Put on the new Icona Pop song and throw your keyboard in the air…IT'S THE WEEKEND! Here are some excellent things to do with yourself this Friday through Sunday:
"The Meaning of Life"
The Wall Gallery is arguably the least accommodating space among the galleries located around Telegraph Avenue and 25th Street. In fact, it's actually more of a hallway. But don't let its narrowness deceive you into thinking that its shows are insignificant. Through August 10, The Wall is featuring the thought-provoking work of abstract painter Adam Cardello: The Meaning of Life is a collection of five large, square paintings that depict the cycle of life. According to Cardello's artist's statement, the series was a way for him to weave a narrative out of two life-changing events — the birth of his daughter and the death of his close friend. The resulting story is a dynamic manipulation of color, pattern, and geometry into effervescent pictorial metaphor. By overlapping thin layers of paint, Cardello achieves a fogginess that adds crucial depth to his dreamy pieces, drawing the viewer in. Actually, a space of transition like a hallway may be the perfect place to view The Meaning of Life because it relates the same message as the work: We're all just passing through. TheWallGallery.Blogspot.com — Alex Bigman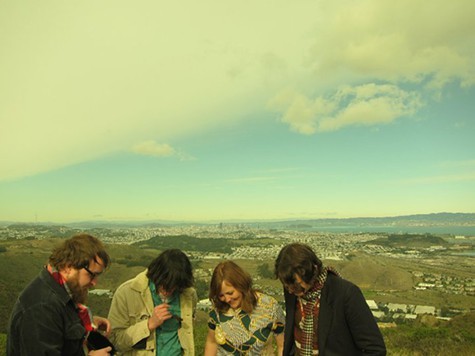 The Mantles
Bay Area quartet The Mantles have just returned from an extensive national tour promoting their recently released second album
Long Enough to Leave
, which
Express
music critic Sam Lefebvre said contained some of their best songs to date. The band's jangle-pop-meets-garage-rock sound is especially electric in a live setting with frontman Michael Olivares' warbling vocals backed by tons of reverb and distortion. While some of The Mantles' music feels simple and minimal on their records, the band plays everything louder and faster live, edging into noisier, more psychedelic territory. The Mantles took a six-year break between their debut album and
Long Enough to Leave
, so be sure to catch the band at
The Uptown
when you have the chance. With Skygreen Leopards, New Faultlines, and Cruel Summer. Fri., Aug. 2, 9 p.m., free.
UptownNightclub.com
—
Whitney Phaneuf