It's the 292nd day of the year, and what better way to celebrate than by looking at these pictures of sad croissants while starting to make your weekend plans?
Oriental BBQ Chicken Town
Though OB Town (as regulars call this popular Korean pub) looks a bit like a tiki bar inside — picnic tables, paper lanterns, an indoor "roof" — you'll find nary a Mai Tai on the menu. Instead, comically oversize plastic bottles of Korean beer and fruity soju cocktails are the drinks of choice. As for food, it's no surprise that chicken is the star — thirteen different versions, including several takes on the über-crisp double-fried chicken that Koreans are famous for. For maximal crunch, order the standard batter-fried chicken; for a saucier experience, go for the deliciously goopy soy-and-garlic marinated Gan Jang. Other crowd-pleasers include extremely garlicky garlic fries and ramen dduk bok ki, a street dish that consists of rice cake sticks, instant ramen, tofu triangles, and a hard-boiled egg — all swimming in a bright-red sweet-and-spicy sauce. — Luke Tsai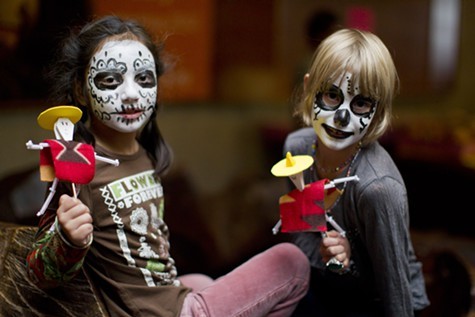 18th Annual Community Celebration for the Days of the Dead
When a loved one passes away, the loss can make us feel disoriented and helplesss — which is why the Mexican holiday of Día de los Muertos (Day of the Dead) can be so cathartic. Every year on and around November 1, family and friends gather to make colorful altars that pay homage to the dearly departed, incorporating the person's favorite foods, some of their possessions, and traditional items such as sugar skulls, Catrina figures, and marigold flowers. Day of the Dead celebrations happen throughout the Bay Area, but one of the best is at the
Oakland Museum of California
. On Sunday, Oct. 21, a family-friendly event in the museum's gardens features craft activities, food, dance, and music, plus access to the Days of the Dead exhibit, in which local unsung heroes are honored with altars and installations. Noon-4:30 p.m. Free with museum admission ($12 for adults, $6 for kids and seniors, free for kids under eight). 510-318-8400 or
MuseumCA.org
included with Museum admission —
Kathleen Richards
Moveable Type Truck
Two years ago, Kyle Durrie went on a cross-country tour with her boyfriend's band, and, inspired by the experience, decided to replicate it on her own terms. Yet as the proprietor of the letterpress printing business Power and Light Press, based in Portland, Oregon, she faced a decidedly more difficult task. So Durrie set up a Kickstarter campaign with the goal of transforming a 1982 Chevy step van into a mobile letterpress print shop and spreading the word about this painstaking form of printing that she loved. After meeting (and exceeding) her fundraising goal, she hit the road for nearly a year, stopping at universities, bookstores, farmers' markets, pizza parlors, and anywhere else she fancied, allowing the curious to check out her setup and try their hand at creating something of their own. Durrie has since decided to move to New Mexico, but before she does, her van (dubbed Moveable Type) will complete one final tour of the West Coast. On Sunday, Oct. 21, she'll stop at Marion and Rose's Workshop, where folks will be able to tour the van, hear stories about the road, and make a special Oakland-themed print they can take home. Noon-3 p.m., free. 510-214-6794 or MarionandRose.com — K.R.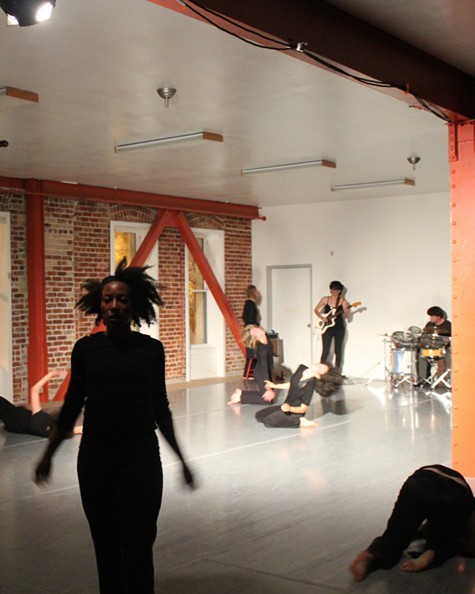 Dance Elixir
Unlike a painting or a poem, after a dance is completed, it no longer exists. Vexed by her art's ephemeral nature, and unwilling to accept it at face value, Oakland choreographer Leyya Tawil makes demolition part of her creative process in Destroy//, to be performed by her company, Dance Elixir, on Sunday, Oct. 21, at
Temescal Arts Center
. As an artist, Tawil is on a quest to decipher the meaning of her work and the world, and Destroy// channels her drive through fierce, untethered movement, pounding live music by Tiberius (the drum/organ duo of Dominic Cramp and Mike Guarino) and guitarist Ava Mendoza, and a ritual intensity that has alternately silenced and roused audiences at previous performances in San Francisco and New Orleans. Along with Tawil, the ensemble includes Erin Mei-Ling Stuart, Sriba Kwadjovie, Deborah Karp, Karla Quintero, Jana Zahler, Arielle Olson, and Patsy Morris. 7:30 p.m., $10. 510-918-2057 or
DanceElixirLive.org
—
Claudia Bauer
Tai Chi Zero
Attractively mounted, lavishly costumed Hong Kong kung-fu adventure follows the difficulties of Lu Chan — aka "The Freak" because of the "horn of flesh" growing out of his head, which gives him power — when he returns to his native village to learn Chen-style Tai Chi. Complicating matters are such newfangled Western imports as coffee and electricity, as well as a monstrous railroad threatening the community. HK director Stephen Fung Tak-Lun lavishes much care on the scenario (screenplay by Cheng Hsiao-Tse and Zhang Jialu, from Chen Kuo-Fu's original story), but the nonstop CGI could be a drawback for purists. Starring Jayden Yuan as Lu Chan and Angelababy as Chen Yuniang, with veterans Tony Leung Ka Fai, Bruce Leung Siu-Lung, and Shu Qi in diligent support. (94 min.) — Kelly Vance
Wanna get away? Escape to Big Sur on Saturday night for a special screening of "Samsara" under the stars at the Henry Miller Memorial Library redwood grove.