Huzzah for first Friday! Watch this video of 
Emma Stone lip syncing to All I Do Is Win by DJ Khaled
 and then read on for the five best ways to spend your time this weekend:
Where It's At! Northern Soul and Funk Dance Party
In the early 1970s, an obsession with obscure American R&B records released the decade prior swept Northern England. The movement was dubbed "Northern Soul," and forty years later, it still has momentum in the Bay Area. MissT, aka Tracy Parker of the Oakland record store VAMP, founded the "Where It's At!" party five years ago at Mad Dog in the Fog in the Lower Haight. Six months ago, she resurrected it with fellow DJ Fernando Carpenter at 
Legionnaire Saloon
. In an email, Parker said the party "has been known to inspire soul trains, breakdance battles, and conga lines that weave in and out of fellow dancers and bar goers." The Lower Bottoms Funk & Soul crew will join Parker and Carpenter behind the decks. Saturday, May 3. 9 p.m., free. 
LegionnaireSaloon.com
—
Madeleine Key


Hip-Hop in the Park
This weekend, for the eighteenth year in a row, UC Berkeley students will host a free hip-hop concert in 
People's Park
 — and this year's lineup is particular strong. Headliners Souls of Mischief pioneered a laid-back, stoned West Coast sound more than twenty years ago and will soon release their sixth album, There Is Only Now, a sample-free collaboration with Los Angeles beatmaker Adrian Younge. Also on the lineup: Oakland jazz-classical-hip-hop artist Kev Choice; former Conscious Daughters emcee Carla "CMG" Green; Santa Cruz-based experimental hip-hop group Boostive; and female emcee MADlines, whose sultry neo-soul vibe and bouncy, reggae-infused beats are easy to groove to. The event will showcase the four fundamental elements of hip-hop — DJing, breakdancing, emceeing, and graffiti — and, of course, food trucks. Saturday, May 3. Noon, free. 
StudentsforHipHop.com
 —
M.K.

[jump]
Dave Eggers and Malcolm Margolin
Perhaps the only Bay Area literary personality properly suited to go head to head in conversation with Malcolm Margolin — author of eight books and numerous articles, founder of
Bay Nature
magazine and Heyday Books, and recipient of a metric ton of local and national awards — is the equally prolific Dave Eggers, who runs both media (McSweeney's) and nonprofit (826 Valencia) empires and just last week announced the publication of his second novel in ten months. It's an auspicious start to Pegasus Books' Pegapalooza — a weeklong celebration of the books and the people who make them at 
Pegasus Books Downtown
 — and an indication of just how fecund the local lit community is. Saturday, May 3. 7:30 p.m., free. 
PegasusBookstore.com
 —
Ellen Cushing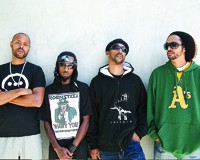 Jam-Making Workshop
Stone-fruit season doesn't last all year — but jars of sweet, sticky jam do. Learn how to make your own fresh-fruit, low-sugar preserves at a workshop presented by the folks from Happy Girl Kitchen at the 
Big Blue Victorian
 on Saturday. The course begins with an hour-long introductory talk covering canning basics, PH scale, and food safety, then moves into a three-hour hands-on experience packed with techniques for making wholesome, attractive, flavorful jams using seasonal fruit. Saturday, May 3. 11 a.m., $135. 
HappyGirlKitchen.com
 —
Anneli Rufus
Rescued Dog Pageant
Dog shows elicit squeals from some and rolled eyes from others, but for the employees of the 
Missouri Lounge
, the Westminster Kennel Club spawned a dog pageant of the bar's own. The idea started out as a joke but gained momentum as a legitimate concept when the employees decided to highlight rescued dogs. On Sunday, about ten canines (all owned by the bar's staff) will compete in the Rescued Dog Pageant, which will double as a benefit for Berkeley Humane. Hosted by Paul Pot, the emcee of the bar's weekly open mic night, the event will include a "runway" show, a talent contest, and an awards ceremony, with longtime Missouri Lounge customers serving as judges. Expect to see dogs in costume and some unusual tricks — one dog's talent is sitting on people's faces. Attendees can also enter a raffle to win prizes from local businesses. For those who end up feeling inspired by all the cuteness, there will be rescue dogs up for adoption from Berkeley Humane. Sunday, May 4. 12:30 p.m., free. 
Missouri-Lounge.com
 —
Zaineb Mohammed

Plus… Get your cheapskate on: This is how much we love you guys: Here are our searchable listings of 
every single free event
 happening in the East Bay this weekend.
Feed Us: Got any East Bay news, events, video, or miscellany we should know about? Holler at us at
[email protected]