It's finally Friday! Check out these photos of
celebrities that look like mattresses
and then read our list of the five best events happening this weekend:
Tankcrimes Brainsqueeze II
The best record labels are the ones that establish their reputation as brands, such that fans will buy all of their releases just because they've put their name on it. So it goes with Tankcrimes, an Oakland-based label run by Scotty Heath that's been carrying the torch for underground punk and metal since its founding in 2002. Run of out Heath's garage, Tankcrimes has put out some sixty releases, including ones by local bands Ghoul and Impaled as well as Richmond, Virginia's Cannabis Corpse and Municipal Waste. For only the second time, the label will throw a three-day showcase, beginning on Friday at the 
Oakland Metro
 with Ghoul, Cannabis Corpse, Final Conflict, Iron Reagan, BAT, and Fucktard, continuing on Saturday (also at the Metro) with Municipal Waste, Negative Approach, Fucked Up, Impaled, The Shrine, Kicker, and Conquest for Death, and ending on Sunday at 
Eli's Mile High Club
, with Brainoil, Deny the Cross, Connoisseur, and "wild and unpredictable guests," according to a press release. That final show will also include a barbecue and an art show featuring the work of Tankcrimes album art illustrator Andrei Bouzikov. Heath said he's most looking forward to Final Conflict's Friday set because the SoCal hardcore band will perform its classic
Ashes to Ashes
album — which Tankcrimes just reissued in remastered form — from beginning to end. For those who find joy in music that's a metaphorical kick to the head, Brainsqueeze is not to be missed. Friday-Sunday, Apr. 18-20. Fri. 7 p.m., $24. Sat. 7 p.m., $26. Sun. 4 p.m., $4.20. 
OaklandMetro.org
 —
Kathleen Richards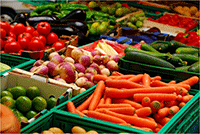 CubaCaribe Festival
Savor the culture of the Caribbean diaspora during the tenth annual CubaCaribe Festival, which will be held this weekend at 
Laney College Theater
. Led by award-winning choreographer Ramón Ramos Alayo, a Cuban native now living in San Francisco, the festival presents both modern and folkloric arts, music, and dance. To that end, three Bay Area dance companies will perform works that merge traditional arts with a contemporary sensibility. Representing Cuba are Alayo's own critically acclaimed company, which delves into the theme of water as a source of life, destruction, and transformation, and Arenas Dance Company, led by Susana Arenas Pedroso; Aguas de Bahia specializes in Afro-Brazilian choreography, led by artistic director Tania Santiago, who hails from Bahia. If watching them makes you feel like dancing, don't miss the festival's closing evening and Cuban dance party, on Sunday, April 27 at 
Casa de Cultura
. Thursday-Saturday, Apr. 17-19. 8 p.m., $25-$27. 
CubaCaribe.org
 —
Claudia Bauer
[jump]
UnderCover Presents: Paul Simon's Graceland
Released in 1986, Paul Simon's
Graceland
fused together elements of American blues, folk, rock, and pop with African instrumentation and singing, including
isicathamiya
, a form of a cappella. The album was inspired by the works of South African musicians and was mostly recorded in South Africa with local musicians such as Ladysmith Black Mambazo. It's an ideal album for UnderCover Presents, a series that invites local musicians to recreate impactful albums by performing their own interpretations of the songs. The acts that will cover
Graceland's
classic tracks at 
Freight and Salvage
 this weekend include Fanfare Zambaleta, John Vanderslice, Fely Tchaco, Diana Gameros, DRMS, Bill Baird, Afrofunk Experience, Pacific Boychoir, Guy Fox, Trio Zincalo, and Midtown. Saturday, Apr. 19 and Sunday, Apr. 20. 8 p.m., $26, $31. 
The Freight.org
 —
Madeleine Key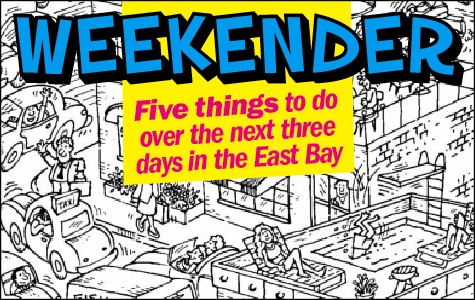 Berkeley Vegan Earth Day
What's Earth Day without the grass-fed hamburgers? It's Berkeley Vegan Earth Day, which will be celebrated on Saturday at 
Ed Roberts Campus
. The festivities will include cooking demonstrations, vegan food, a screening of the documentary Live and Let Live, and talks covering many aspects of the plant-based lifestyle. Speakers include urban gardener Keegan Kuhn, vegan chef Lisa Books-Williams, World Peace Diet author Will Tuttle, and many more. Saturday, Apr. 19. 10 a.m., $15, $20. 
BerkeleyVeganEarthDay.com
 —
Anneli Rufus
Tilden Nature Area BioBlitz
Bioblitzes — in which scientists and volunteers survey flora and fauna in a particular area over a short period of time, usually 24 hours — are a growing trend in biological research: The February blitz at Lake Merritt drew more than 150 people, and now Tilden Nature Area is hosting one in celebration of Earth Day. The blitz will consist of four expeditions: one for bird watching, two general observation outings, and one nocturnal observation. Groups will set out from the 
Environmental Education Center
 and take photos (using their smartphones or cameras) of all wildlife they see. Participants will then head to an identification station where they can use field guides to determine which specimens they photographed and upload their photos to the website iNaturalist. The goal is to document the biodiversity of the park, which has not been comprehensively surveyed since the 1980s. In addition to fungi, wildflowers, and insects, participants may glimpse crustaceans, owls, and perhaps a never-seen-before species. Sunday, Apr. 20. 7 a.m.-9 p.m., free. 
NerdsforNature.org/tildenblitz
—
Zaineb Mohammed

Plus… Get your cheapskate on: This is how much we love you guys: Here are our searchable listings of 
every single free event
 happening in the East Bay this weekend.
Feed Us: Got any East Bay news, events, video, or miscellany we should know about? Holler at us at
[email protected]