It's Friday and we've got your weekend all planned out and ready for you:
National Dance Week
The Bay Area offers the grandest smorgasbord of dance outside of New York City, and National Dance Week is your opportunity to sample what's on offer — for free. The 33rd annual festival includes an array of events and dance styles. Among the highlights: classes on Tahitian dancing at the 
Mahea Uchiyama Center
 and Congolese dancing with Cultural Arts of GOLD at 
Malonga Casquelourd Arts Center
 on Sunday, and Afro-Cuban folkloric dancing with Dimensions Dance Theater (also at Malonga Casquelourd Arts Center) on Wednesday. If you'd rather watch, pack a lunch and take in Thursday's 20 Points of View — an all-day presentation of works in progress by Randee Paufve, The Thick Rich Ones, Jessi Barber, Andrea Mock, Colin Epstein, and sixteen other inventive choreographers — at 
Luna Dance Institute
. Visit the website for more information. Friday through Sunday. Apr. 25-May 4. Various locations throughout the Bay Area, free. 
BayAreaNDW.org
 —
Claudia Bauer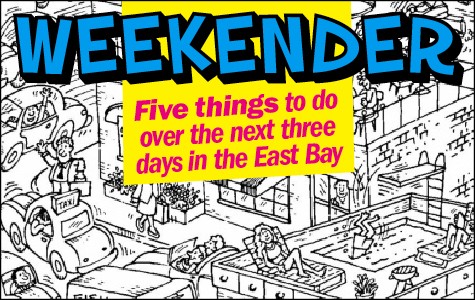 The National
Everything about The National is over-the-top. The band's compositions are heartbreakingly sad, and its lyrics are intensely personal. Live, frontman Matt Berninger stumbles across the stage wrecked with emotion, downs whiskey, and writhes on the ground, his husky, baritone voice brooding and aching. Such emotions will be on full display at the 
Greek Theatre
 this weekend. Alaskan psych-rock band Portugal. The Man will open the show. Saturday and Sunday, Apr. 26-27. 7 p.m., $49.50. (Saturday's show is sold out, but check Criagslist.) 
APEConcerts.com
 —
Madeleine Key

[jump]
SwapFest 2014
Last year, curators at Temescal Art Center, Subterranean Arthouse, and The MilkBar got together to discuss how their small, interdisciplinary arts venues could broaden their reach and expand their audiences. The result of this brainstorming session was SwapFest, a three-day event during which each space's event programmers take over another venue for a single night. After the first iteration drew a crowd of nearly one hundred people, the organizers decided to make it an annual affair. For SwapFest 2014, Subterranean Arthouse's founders will curate a program at 
The MilkBar
 on Thursday; Temescal Art Center will take over 
Subterranean Arthouse
 on Friday; and MilkBar curators will commandeer 
Temescal Art Center
 on Saturday. Represented media will include dance, music, painting, and film, as well as a pop-up U-Haul installation outside the venues that will be curated by one of the participating organizations. Thursday-Saturday, Apr. 24-26. 8 p.m., $10. 
Milkbar.org/Swapfest.html
 —
Zaineb Mohammed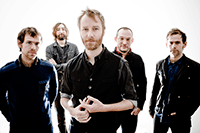 4th Annual Coffee Ride
It's hard to think of two things the Bay Area loves more than coffee and biking, so it's not surprising that someone — or, in this case, some people — decided to combine the two. The Coffee Ride began three years ago in San Francisco when Oakland residents Jenny Oh Hatfield and Pamela Palma led a crowd of about fifty bikers on a tour of some of their favorite cafes. For their second ride, in 2012, they took the tour to the East Bay, and thereafter decided to alternate between the two sides of the bay. The fourth tour will begin at 
Bicycle Coffee
, and then heads to 
Vines Cafe and Gallery
, 
Blue Bottle Coffee
, 
The CRO Cafe
, and 
Alchemy Collective Cafe
. Each stop will be about fifteen minutes long, and the thirty-mile ride will take about five hours total. The tour also serves as a fundraiser for Bike East Bay (formerly known as the East Bay Bicycle Coalition); executive director Renee Rivera will give a short talk on the organization before the ride begins. By the end of the tour, you should be caffeinated enough to do another thirty miles. Sunday, Apr. 27. 10 a.m.-3 p.m., donations suggested. 
BikeEastBay.org
 —
Z.M.
Planet Snowvio
In one scene in Jay Critchley's new experimental theater production,
Planet Snowvio
, Edward Snowden, Mario Savio, Barack Obama, and Vladimir Putin sing a rendition of Lesley Gore's 1963 classic "You Don't Own Me." It's an oddly light-hearted moment for some very serious characters, but in his musical Critchley uses humor, song, and satire to explore the themes of surveillance, global conflict, and threats to freedom and democracy. In the play, Snowden meets Savio, who is in heaven, via Skype. The two learn about each other's backgrounds and encounter Obama and Putin, who both want to exert control over Snowden. Ultimately, Snowden and Savio decide that the only way to escape the political maneuverings of the world leaders is to find their own planet to live on — hence the play's title,
Planet Snowvio
. Woven throughout the production are classic pop songs from the 1960s and '70s, which are updated with humorously altered lyrics. In one scene, Putin and Snowden perform a duet of the Village People's "Y.M.C.A.," with Putin singing
"I leave the Kremlin behind, all those countries to steal, you can do whatever you feel"
— a reference to Russia's recent actions in Crimea and Ukraine. Music director Masis Parunyan assembled a small orchestra to play the music, which also includes Sonny & Cher's "I Got You Babe," Linda Ronstadt's "Different Drum," and Sam Cooke's "A Change Is Gonna Come." A staged reading will happen at the 
UC Berkeley Art Museum and Pacific Film Archive
 on Sunday, April 27, as part of the experimental exhibit The Possible. Sunday, Apr. 27. 2 p.m., $10; $7 for seniors, students, and youths age 13-17; free for members, UC Berkeley students and staff, and children under age 12. 
BAMPFA.Berkeley.edu
 —
Z.M.

Plus… Get your cheapskate on: This is how much we love you guys: Here are our searchable listings of 
every single free event
 happening in the East Bay this weekend.
Feed Us: Got any East Bay news, events, video, or miscellany we should know about? Holler at us at
[email protected]