Huzzah, it's Friday! Watch this video of an armadillo moonwalking to 'Billie Jean' by Michael Jackson and read on for our list of the five best things you can do with your weekend:
The 45 Sessions with The Sweater Funk DJs
If you're feeling particularly amorous this Friday, you're in luck: At Legionnaire Saloon, the 45 Sessions will host the third annual "Love Jams" edition of its monthly all-45rpm dance party with special guests the Sweater Funk DJs. The Sweater Funk DJs have held down a Sunday-night residency at The Knockout in San Francisco since 2008, where they play boogie, two-step, and modern soul. On Friday, expect to hear "classics, rarities, slow jams, dance floor burners, and everything in between, all to the tune of your romantic beating heart," according to the event's Facebook page. And, of course, resident DJs Platurn, E Da Boss, Enki, Delgado, and Mr. E will be on deck to keep things fresh. As a bonus, DJ Aware and Donovan Weaton will be hosting a sale of soul records. Friday, Feb. 21. 9 p.m., $5, $10. LegionnaireSaloon.com — Madeleine Key
Ian Carey and Ben Stolorow
The duo of Richmond trumpeter Ian Carey and Albany pianist Ben Stolorow is the most adventurous and exciting trumpet-pianist pairing since cornetist Ruby Braff and pianist-organist Dick Hyman played together a quarter century ago. But whereas Braff and Hyman's music was rooted in the pre-bop mainstream, these two East Bay musicians draw stylistically on a somewhat later era. They have a terrific new CD titled Duocracy on which their approach to melody, harmony, and rhythm suggests Thelonious Monk as they playfully explore "Cherokee," "Little White Lies," "You Took Advantage of Me," "All the Things You Are," and other popular standards, plus Gigi Gryce's "Social Call," Monk's "Four in One," and a tune of their own. On Friday, they will be marking the CD's release with a performance at The Jazzschool. Friday, Feb. 21. 8 p.m., $12, $15. Jazzschool.org — Lee Hildebrand
[jump]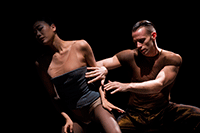 Paula Lobo
Cedar Lake Contemporary Ballet's Indigo Rose.
Cedar Lake Contemporary Ballet
Where on Earth is Cedar Lake? Technically, it's in New York City, home base for the Cedar Lake Contemporary Ballet, which Cal Performances will present this weekend at
Zellerbach Hall
. But if the company's physical place in the world is clear, where it is creatively is less so, as it is currently between artistic directors nearly a year after the departure of Benoit-Swan Pouffer. By all accounts, interim director Alexandra Damiani is taking the company in intriguing directions, expanding the roster with high-profile new dancers such as Navarra Novy-Williams and
So You Think You Can Dance
alum Billy Bell. With their emotional expressiveness and fine technique, the sixteen performers will bring depth and vigor to Jiri Kylián's
Indigo Rose
; Crystal Pite's
Ten Duets on a Theme of Rescue
; and Jo Stromgren's
Necessity, Again
, danced to a soundtrack of music by Charles Aznavour and text by Jacques Derrida. Ticketholders can enjoy a pre-performance talk at 7 p.m. on Friday, in the hall. Saturday and Sunday, Feb. 22-23. Sat. 8 p.m., Sun. 3 p.m.; $30-$68.
CalPerformances.org
—
Claudia Bauer
Great American Wine Company Launch Party
Viniculture gets patriotic with the Great American Wine Company, a line of varietals created by the folks at Rosenblum Cellars, who donate a portion of the proceeds to military charities. A Great American Wine Company launch party at Rosenblum on Saturday will feature complimentary tastings of Chardonnay, Cabernet Sauvignon, and a red blend. Scolari's Good Eats will be on hand selling its all-American food from an Airstream trailer. And all military personnel and veterans will get a 20 percent discount on any wines they buy during the party. Saturday, Feb. 22. 1 p.m., free. RosenblumCellars.com — Anneli Rufus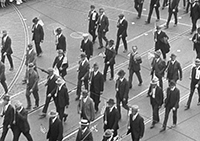 Prelinger Archives
Workers at an Oakland Labor Day Parade circa 1935.
Lost Landscapes of Oakland
Rick Prelinger has unearthed the hidden histories of San Francisco and Detroit with his popular
Lost Landscapes
series, compilations of archival footage from mostly amateur filmmakers. And on Saturday he'll bring the program to the
Oakland Museum of California
for its first East Bay installment. The compilation contains footage of such varied subjects as public transit construction, Berkeley's historic post office, and amateur dramas made in Oakland in the 1930s. Prelinger's favorite clips include workers breaking through the Caldecott Tunnel during the construction of the BART tunnel in 1967 and a giant Labor Day Parade that took place in Oakland around 1935. Some attend the series for nostalgic reasons, but Prelinger wants to focus on expanding people's historical perspectives by considering what the city really used to look like, including its racial and economic makeup. He also encourages audience discussion during the screenings and periodically asks audience members questions about what they are seeing—so prepare to participate. Saturday, Feb. 22. 3-5 p.m., $15, $10 for seniors and students, $6 for youth ages 9-17.
MuseumCA.org
—
Zaineb Mohammed
Plus… Get your cheapskate on: This is how much we love you guys: Here are our searchable listings of every single free event happening in the East Bay this weekend.
Feed Us: Got any East Bay news, events, video, or miscellany we should know about? Holler at us at [email protected].