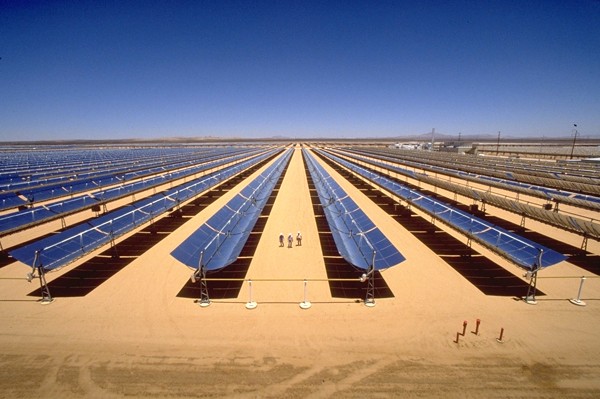 Stories you shouldn't miss for Jan. 16, 2018:
1. PG&E's bankruptcy likely
will hamstring California's battle against climate change
because the embattled utility will not be able to afford to make needed investments in clean energy, reports Sammy Roth of the
LA Times
$. State lawmakers have established a goal of 100-percent clean electricity in the state by 2045, but that will take billions of investment from utilities in renewable energy production. PG&E is facing $30 billion in potential losses from the 2018 wildfires.
2. The massive storm that's rolling into Northern California today could
dump as much as 5 feet of snow at Donner Pass and 6.5 feet at Sonora Pass in the Sierra Nevada
, reports Amy Graff of SFGate. The blizzard is expected to create whiteout conditions with wind gusts reaching 110 mph. The National Weather Service "has issued a winter storm warning for elevations between 5,500 feet and 6,500 and a blizzard warning for elevations above 7,000 feet, where conditions will be 'potentially life-threatening.'"
3. Gov. Gavin Newsom is asking
tech companies to provide $500 million in low-interest loans to housing developers
"to build housing for teachers, nurses, and other middle-class Californians," reports Liam Dillon of the
LA Times
$. "Newsom said he's had conversations over the past six months with tech companies about ponying up more money for middle-income housing and his budget plan was designed to complement what the companies chip in."
4. Kaiser Permanente announced that
"it spent $5.2 million to help acquire a 41-unit apartment complex in East Oakland
" as part of the health care giant's new "effort to keep and expand affordable housing," reports Kimberly Veklerov of the
San Francisco Chronicle
$. The Oakland company said "it also plans to house more than 500 homeless people in the city and create a $100 million loan fund to preserve affordable housing projects in places across the country" where it operates.
5. The city of Berkeley held another contentious discussion on allowing new
housing to be built on the North Berkeley BART parking lot
, reports Rachel Swan of the
San Francisco Chronicle
$. It remains to be seen exactly what will be constructed on the spot.
6. The Oakland City Council is asking BART to rename a strip of roadway underneath the Fruitvale BART station,
Oscar Grant Way
, in honor of the young man who was killed by a BART cop 10 years ago, reports Rachel Swan of the
Chronicle
.
7. The Alameda County Board of Supervisor
may ban "mutton-busting,"
in which children ride sheep similar to bull riding, at the Rowell Ranch Rodeo in Castro Valley, following outcries from animal rights activists who have called the practice cruel, reports Steven Tavares of the East Bay Citizen.
8. And
a 3.4 magnitude earthquake
, centered on the Oakland-Berkeley border, jolted many East Bay residents awake this morning at 4:42, reports Robert Salonga of the Bay Area News Group$.
$ = news stories that may require payment to read.