Stories you shouldn't miss for Sept. 26, 2018,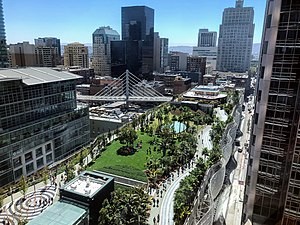 1.
A cracked steel beam
forced the shutdown of the new $2.2 billion Transbay Center in San Francisco, the
San Francisco Chronicle
reports. The closure
caused traffic gridlock
this morning. The cracked beam was discovered on the third floor of the giant transportation hub.
2. A third woman — Julie Swetnick — has come forward to accuse President Trump's Supreme Court nominee Brett Kavanaugh
of sexual misconduct
, the
LA Times
$ reports. Swetnick said in a sworn affidavit that Kavanaugh was among a group of teenage boys who got girls inebriated and then gang-raped them in the early 1980s. Swetnick says she was gang-raped, although she did not identify Kavanaugh as one of her attackers. So far, the GOP-controlled Senate Judiciary Committee has only scheduled to hear testimony from one of Kavanaugh's accusers — Christine Blasey Ford of the Bay Area.
3. The Berkeley City Council voted late last night t
o restrict the distribution of mugshots on social media
following controversy over the release of photos of political protesters, reports Alia Tadayon of the
East Bay Times
$. Under the new rules, Berkeley police will only post mugshots of suspects who pose a threat to the public.
4. Conservative activists who are trying to roll back California's gas tax increase
have introduced a new ballot measure proposal that would halt Gov. Jerry Brown's high-speed rail plan
, reports Rachel Swan of the
San Francisco Chronicle
. The activists also want to restrict the use of gas tax revenues to pay for roads — and not mass transit.
5. California air pollution regulators may increase the state subsidy for buyers of electric vehicles from
 $2,500 to $4,500
, reports John Lippert of the
LA Times
$. The proposal by the California Air Resources Board comes amid plans by the Trump administration to slash the federal rebate for electric car purchases.
6. A federal appeals court in San Francisco
handed a big win to Uber
, ruling that the ride-hailing giant's drivers will have to prove individually in arbitration that they are employees rather than contractors, the
Wall Street Journal
$ reports. Drivers had sought class-action status to prove as a group in court that they're employees.
7. And Oakland's Boot & Shoe Service on Grand Avenue
has reopened under new owners
, reports Justin Phillips of the
San Francisco Chronicle
. The upscale pizzeria was sold earlier this year by disgraced restaurateur Charlie Hallowell.
$ = news stories that may require payment to read.