Stories you shouldn't miss: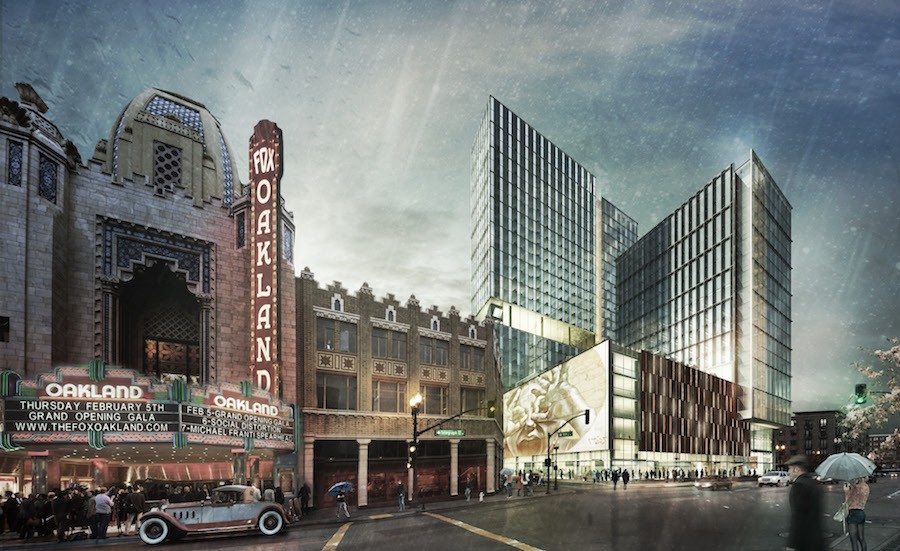 1. An Oakland City Council committee
greenlighted a plan to build a high-rise hotel and apartment tower in the city's Uptown district
, the
Chron
$ reports. The 27-story project by San Diego developers Oliver McMillan and Oakland's Strategic Urban Development Alliance includes 330 residential units, including about fifty affordable units on a city-owned lot at 19th Street and Telegraph Avenue. The project must still be approved the full city council.
2. Richmond tenants
launched a rent control initiative for the November ballot
, the
CoCo Times
$ reports. The measure would cap rent hikes in Richmond to no more than 3 percent and would mandate landlord-financed relocation assistance for evicted tenants. Richmond renters have until June to gather the needed petition signatures. The ballot measure would replace a rent control law that was passed by the city council last year, but then overturned by landlord groups.
[jump] 3. The family of a sick inmate who died in Santa Rita Jail last year
has filed a federal wrongful death lawsuit against Alameda County's private for-profit healthcare contractor — Corizon Health Inc.
, the
Chron
reports. Mario Martinez, 29, died in custody after the jail system failed to provide him with the proper medical care, despite the fact that a judge had ordered that he receive treatment for his asthma and nasal polyps.
4. A group of California district attorneys
has sued to block a prison-reform measure backed by Governor Jerry Brown
from appearing on the November ballot, the AP reports (h/t Rough & Tumble). Brown's measure would allow for earlier parole for non-violent inmates, but state prosecutors say the governor violated the law when he filed the measure.
5. Environmentalists launched
a ballot-measure campaign to prohibit fracking
in Monterey County, following successful bans of the fossil-fuel extraction method in Santa Cruz, San Benito, and Mendocino counties, the
Mercury News
$ reports.
6. Yosemite National Park
plans to only erect temporary signs, changing the names of iconic places, as it continues its legal fight against the former private concessionaire of the park
, which claims it has trademarked the names, including that of the Ahwahnee Hotel, the
Chron
$ reports.
7. The three-alarm fire that destroyed the Oakland Cambodian Buddhist Temple at 5212 E. 10th Street and gutted adjacent homes
appears to have been started by burning candles
, the
Chron
reports.
8. And real estate magnate Donald Trump trounced his opponents in the Nevada Republican presidential caucuses, and now appears to be
on his way to winning the GOP nomination
.