Stories you shouldn't miss:
1. The City of Oakland has killed a deal with its surveillance contractor because the company is connected to nuclear weapons makers in violation of city law, the Trib reports. As a result, Oakland is looking for a new contractor to build its controversial surveillance center. As the Express first reported, Science Applications International Corporation (SAIC), has a troubled background that the city failed to fully investigate before hiring the company to build the surveillance center. Then after the council approved the contract, SAIC revealed that it has connections to nuclear weapons manufacturing — which violates a 1988 law approved by Oakland voters.
[jump]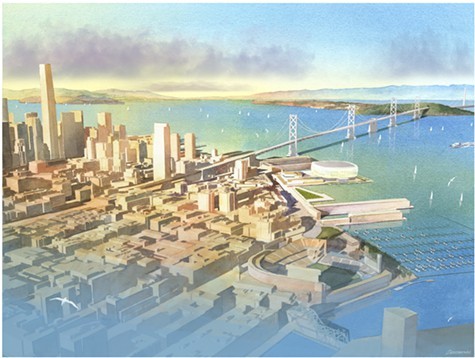 2. San Francisco voters overwhelming rejected a plan to build a large condominium project on the city's waterfront — which could spell trouble for plans by the Golden State Warriors to build a new arena nearby. The Chron reports that the "no" vote against the condo project was 62 percent. And the opposition campaign was run by some of the same people and groups who oppose the Warriors' proposal for a new home on San Francisco's waterfront.
3. State regulators have fined PG&E $8.1 million because one of the utility's subcontractors performed shoddy tests on natural gas pipelines — including lines in Oakland, the Trib reports. Since the substandard tests were discovered, PG&E has fired the contractor and re-inspected the lines. The utility's claims that the pipelines are safe.
4. California's Insurance Commissioner has ordered Blue Shield of California to rescind 80,000 health-insurance cancellation notices it sent to its customers in the state because the big insurer was trying to force people into expensive plans while falsely blaming Obamacare for its actions, the Mercury News reports. Blue Shield must now give customers an extra three months to buy new plans if their old one does not meet the coverage standards established by the Affordable Care Act.
5. And UC Berkeley grad students contend that classes on campus are too large and that there are not enough graduate assistants to handle the load, the Chron reports.