Stories you shouldn't miss: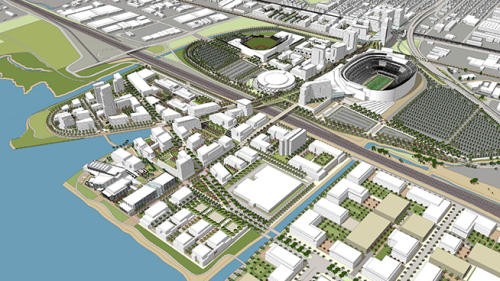 1. The Oakland City Council voted 6-1 to extend a pact with the development team of Coliseum City after the team introduced i
t's new deep-pocketed investor — Floyd Kephart
, whose company advises hedge funds, the
Trib
$ reports. The Coliseum City project would include a new stadium for the Oakland Raiders, and perhaps a new facility for the A's. However, A's co-owner Lew Wolff quickly criticized the council's move, saying the Coliseum City plan doesn't work for the A's. Wolff has expressed interest in being the developer of the project. The lone vote against the pact came from Councilmember Rebecca Kaplan, who is running for mayor against Jean Quan and has developed a close relationship with Wolff. Quan, meanwhile, is touting the new investor.
[jump] 2. The Oakland City Council voted unanimously to grant
$577,000 in legal aid to child migrants
who have fled violence-plagued Central America, the Bay Area News Group$ reports. Oakland is now the third city — after New York and San Francisco — to provide such aid. The bill was co-sponsored by Quan and Councilmembers Noel Gallo and Larry Reid.
3. Law enforcement officials
raided a Black Muslim temple in Oakland
and arrested seven people connected to a security firm that allegedly defrauded Alameda County and the Los Angeles Housing Authority, the Bay Area News Group$ reports. The company, BMT International Security, also attempted to defraud the Port of Oakland.
4. Golden Gate Bridge officials are considering whether
to charge cyclists and pedestrians a toll
for crossing the span — a proposal that has drawn fierce criticism, the
Chron
reports.
5. About
5.4 million Californians live within one mile of the state's active oil and natural gas wells
, raising concerns about widespread exposure to air and water pollution, especially if there's a fracking boom in the state, the
LA Times
$ reports, citing a new study from the National Resources Defense Council.
6. And Yosemite National Park officials are planning to raise the entrance fee to the park b
y 50 percent — from $20 per car to $30
, the
Chron
reports.