Stories you shouldn't miss:
1. Governor Jerry Brown told a group of real estate professionals in San Francisco that he
opposes a measure that would reform Proposition 13
, the
Chron
reports. The measure, sponsored by state Senator Loni Hancock of Berkeley and backed by education activists, would close a loophole in Prop 13 that allows corporations to avoid paying their fair share of property taxes. The measure would generate billions a year in tax revenues for California public schools, and a recent poll showed that 55 percent of Californians favor the idea. But Brown said the issue is too complex for him to support.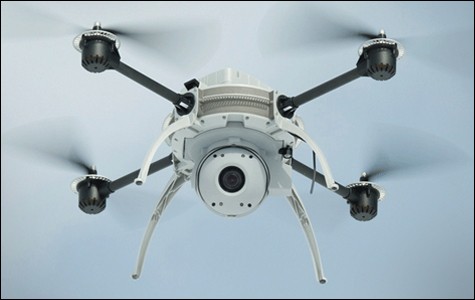 2. Just days after the governor ignored pleas from firefighters and vetoed legislation that would have banned private aerial drones from flying over wildfires, saying the bill was too "burdensome," Brown
signed a bill that makes it illegal to fly drones over celebrities' homes
, the
LA Times
$ reports. Firefighters had strongly urged the governor to sign the previous anti-drone bill, saying private drones have interfered with firefighting efforts. Wealthy celebrities have also lobbied the governor, contending that drones operated by paparazzi invade their privacy.
3. UC San Francisco officials say they
now support the Golden State Warriors' plans to move to the city and build an arena across from UCSF Medical Center
, the
Chron
reports. UCSF officials had opposed the arena plan on the grounds that it would create too much traffic near the hospital, but the Warriors agreed to limit the number of home games that coincide with San Francisco Giants' games and to spend at least $10 million on traffic mitigation measures. However, wealthy donors to UCSF still oppose the arena plan.
[jump]
4. Democratic presidential candidate Bernie Sanders
has surged in California, and is now polling at 35 percent
— up from single digits just five months ago, the
SacBee
$ reports, citing a new Field Poll. Hillary Clinton's lead over Sanders in California has shrunk to twelve percentage points.
5. Governor Brown plans to sign watered-down legislation today that is designed to combat climate change. The bill would require the state's utilities t
o increase their use of renewable power to 50 percent by 2030
, the
Mercury News
$ reports. An earlier version of the bill also sought to slash gasoline use in the state by the same amount, but oil companies successfully stripped that provision out of the legislation.
6. Pharmaceutical companies have
deposited $10 million into a campaign to oppose a measure that seeks to cap prescription drug prices in California
, the
SacBee
$ reports. The huge contribution was made even before the drug price initiative has qualified for the ballot.
7. Governor Brown signed legislation designed to
curb the overprescribing of psychiatric drugs to kids in foster care
in California, the
Mercury News
$ reports.
8. The governor also signed a bill mandating
sex ed for public school students in middle and high schools
in the state, the
Chron
reports. The legislation allows parents to opt their kids out of sex education classes, but prohibits schools from doing so.
9. And the State of Nevada has agreed to pay the City of San Francisco
$400,000 in a legal settlement related to Nevada's longtime practice of busing mentally ill patients to San Francisco and dumping them there
, the
Chron
$ reports.