Stories you shouldn't miss: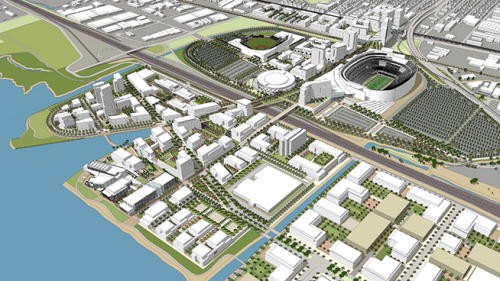 1. Coliseum City developer Floyd Kephart called on the City of Oakland and Alameda County
to spend public dollars on the massive project
, which would create new sports facilities, housing, and restaurants and retail, the Bay Area News Group$ reports. City and county officials have vowed not to use any public dollars on new sports stadiums. Kephart's call for a public subsidy would be in addition to his proposal for his development group to buy the Coliseum property for $116 million and for the city and county to use the proceeds to build parking and infrastructure. Kephart's group also wants to buy a $200 million stake in the Oakland Raiders — a proposal that the team is expected to reject.
2. The Oakland City Council voted 6-1 last night to approve a new budget that calls for
$22.5 million in raises for city employees
, the
Trib
$ reports. The approved budget, which granted much of what Mayor Libby Schaaf had requested, also calls for adding forty cops to the Oakland Police Department.
[jump]
3. Governor Jerry Brown
signed into law
a bill that requires all schoolchildren in California to be vaccinated — unless they receive a medical waiver, the Mercury News$ reports. The vaccination law is one of the strictest in the country and was prompted by a measles outbreak at Disneyland.
4. Ex-state Senator Leland Yee
is expected to plead guilty to corruption charges
and may have struck a deal with prosecutors, the
Mercury News
$ reports.
5. State Senator Jerry Hill, D-San Mateo, is calling for a change to California law
to require legal settlements involving construction defects and shoddy workmanship to be reported to the state
, the
Chron
$ reports. State regulators did not know about the $26.5 million in payments that Segue Construction — the company that built the balcony that collapsed in Berkeley, killing six people — had made because current law allows such payments to remain secret.
6. California's
kill switch law goes into effect today
, mandating that all smartphones come equipped with devices that render them inoperable when stolen, the
SacBee
$ reports. The law came in response to a nationwide cellphone robbery epidemic. In addition, as of today, millions of Californians will begin receiving paid sick days under a new law.
7. The Alameda County Civil Grand Jury says that Shawn Wilson, an aide to county Supervisor Scott Haggerty,
pressured county officials to grant favors to some of Haggerty's best campaign donors
, the Bay Area News Group$ reports. Wilson denied wrongdoing.
8. United Airlines announced that it's investing $30 million in Fulcrum Bioenergy, a Pleasanton company that
makes jet fuel from organic waste
, the AP reports (via the Mercury News$).
9. And Baywolf, a longtime fixture in Oakland's dining scene, announced that
it's closing on August 30
, SF Gate reports.