Stories you shouldn't miss:
1. The Bay Area established a record today for air pollution as the Bay Area Air Quality Management District announced the eleventh straight Spare the Air day, the Mercury News$ reports. Air pollution levels soared across the region as relentlessly dry weather kept its stranglehold on the Bay Area. Northern California also is on track to set a record for the driest calendar year since the state began keeping records in 1850. And yet another fire at a metal recycling plant in Redwood City worsened the situation.
[jump]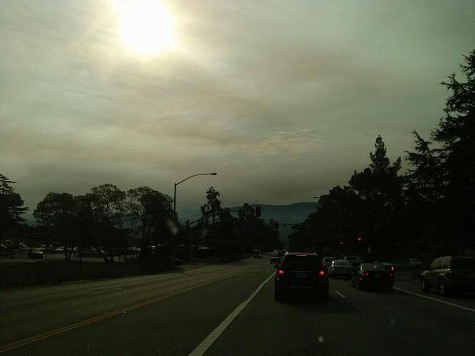 Joni Van Pelt
Smoke from the Pfeiffer fire.
2. Super-dry conditions are also fueling an unusual December wildfire in Big Sur on the Central California coast, the Mercury News$ reports. By Tuesday night, the Pfeiffer Fire had burned 769 acres and had destroyed 17 homes, including one belonging the area fire chief.
3. The US Environmental Protection Agency is threatening to fine Chevron $37,500 for each day it fails to fix 62 regulatory violations at its Richmond refinery, the Chron reports. The violations were found following the massive 2012 fire at the facility.
4. The Richmond City Council voted 4-2 to move forward with its controversial anti-foreclosure plan, but stopped short of authorizing the seizure of underwater mortgages via eminent domain and refinancing them, the CoCo Times$ reports. The council still does not have the necessary five votes to implement eminent domain because its financial partner has yet to fully indemnify the city in case of legal action.
5. Oakland police unveiled new SUV cruisers, as the department begins to replace its aging fleet of Crown Victorias, which Ford no longer makes, the Trib$ reports.
6. And the family of a thirteen-year-old girl who is now brain dead following a tonsillectomy gone wrong has convinced Children's Hospital Oakland to not take her off life support, the Trib$ reports.
$ = may require payment to read.