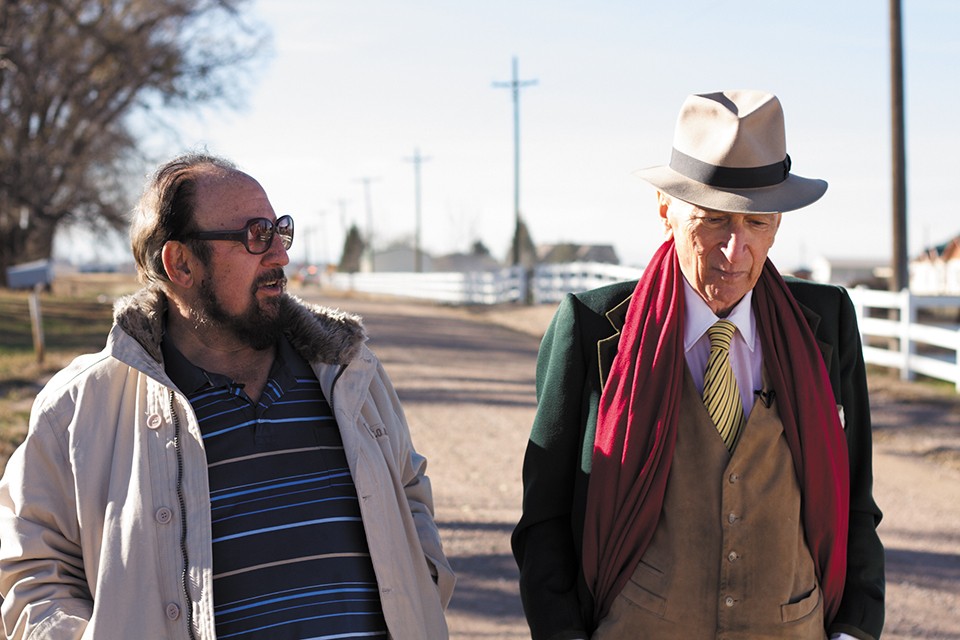 Spoiler alert: It's pretty much impossible to discuss the new Netflix documentary Voyeur without giving away the movie's big surprise. In fact, the film is built around that plot twist and what it means to the two main subjects. So please, if you want to be surprised (as I was when seeing the doc), don't read this review until after you've seen the film, which streams on Dec. 1.
Gerald Foos had a good thing going, to hear him tell it. After he bought the Manor House Motel in suburban Aurora, Colo., he personally remodeled the place to include secret peepholes in the ceiling and a hidden "attic" above where he could spy on each of the rooms without detection. His object was to observe the guests having sex, and he frequently stayed up all night watching. Foos told journalist Gay Talese that he spent 47 years peeping, but that now, in his old age, he wanted to confess to his crime.
When Foos initially approached Talese with the motel story, the celebrated reporter was immediately captivated. Window-peeping "pervs," after all, were arguably part of his stock in trade. Talese had spun off his reportage for The New York Times and Esquire into a career as an author of such bestselling books as the Mafia profile Honor Thy Father. He followed that volume with an ambitious study of sexuality in America, Thy Neighbor's Wife (1981). It was the latter book that evidently prompted Foos to contact Talese, and Talese spent years researching the mild-mannered Foos in Colorado, even down to his collections of dolls and baseball cards — but with the twisted sexual angle first and foremost. The resulting book, The Voyeur's Motel, was published in 2016.
Foos turns out to be an unreliable source. We discover this more or less as it unfolds on camera — to the mortified Talese and the filmmakers, Myles Kane and Josh Koury — with business matters already in full swing: a book deal with Grove Atlantic, an excerpt in The New Yorker, TV shows, print publicity, books in stores, et cetera. The smart New York literary celebrity got snookered by the Denver nebbish. Absolutely fascinating, and we can watch it unfolding on screen — does that make us voyeurs, as well?
The experienced Talese should have done a little checking, the way a whistle-blowing Washington Post reporter did. On camera, Talese sheepishly admits that, unlike before in his career, he's relying on a single source for the motel story. Uh-oh. Foos may be a boob, but Talese turns out to be the unwitting enabler of a boob. No one — not Talese, Grove Atlantic, nor The New Yorker — checked up on the facts. There are layers of unreliability here. Talese's attempts to cover up his mistake, also captured on camera, make the episode even more pathetic.
Voyeur is not a gratifying documentary, the kind that makes us feel happy the truth came out. Foos relied on Talese to take the bait, and Talese's publishers relied on his reputation for thorough investigation — plus the cynical knowledge that sex sells — in order to crank out another best-seller. Now, at age 85, Talese's reputation is shot. One man's self-styled confession is another man's journalistic goof. Foos and his pithy wife might have made a fine real-life sitcom ("There he goes with his peeping-tom stories again!") but the doc is ultimately not about them. It's about Talese, the cultural machinery, and our boundless appetite for titillation. We come away with questions about everyone involved. In some cases that might be understandable in a doc investigating news media responsibility, but Voyeur falls short on that score.
Voyeur
Directed by Myles Kane and Josh Koury. Opens Friday.