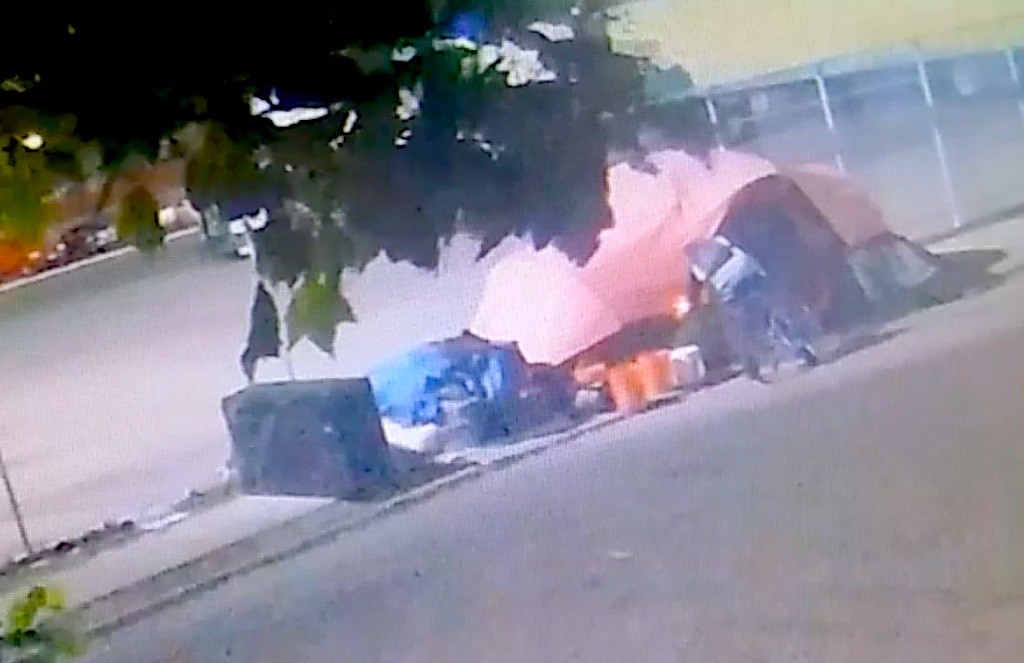 On May 15, just after midnight, a man with a bicycle approached a tent pitched on the sidewalk along Union Street in West Oakland. He leaned over for fifteen seconds and lit a corner of the tent on fire. As the flames slowly spread, the assailant fled the area. After three minutes, the blaze quickly engulfed the tent, completely destroying it.
No one was in the tent when it was burned, according to surveillance-camera video footage obtained by the
Express
.
But one of the victims of the fire, who lost nearly all of her belongings, said that she "think[s] there is somebody running around" targeting homeless camps with arson. (She asked not to be identified for fear of her safety.)
"It's not accidental," the victim said of the fire she experienced, and others that have destroyed tents and property this year. "The fires are really quick. I'm shocked no one has gotten hurt yet."
[embed-1](
The second half of this footage has been sped up. It took several minutes for the flames to spread over the entire tent.
)
She said an acquaintance who camps nearby on Peralta Street was also "firebombed" a few weeks ago.
The individual who provided the surveillance footage of the West Oakland arson attack to the
Express
said he called the Oakland Police Department multiple times, offering the video as evidence of a crime, but he hasn't heard back. (He asked the
Express
not to identify him out of concern for his his company's safety.)
The woman who lived in the destroyed tent also said she and the person who stays with her have not been contacted by the police about the arson.
OPD's media relations officers didn't return emails today seeking more information about the fires.
Other homeless residents, activists, and city officials agree that there's been a troubling uptick in reports of fire at homeless communities throughout Oakland.
"I can say that I am deeply concerned," said Assistant City Administrator Joe DeVries. "I've heard the same rumors that you've heard" of an uptick in fires. But he said he was unsure of the causes.
Shawn Moses told the
Express
that he's lived at an encampment on Northgate Avenue in Oakland for three years, and that his tent had been set on fire three times, "two while I was asleep." The most recent incident was nine or ten months ago.
Moses also said there have been several fires at the Northgate encampment, which overtakes an entire block underneath Interstate 980 and is dotted with approximately four dozen tents. The most recent fire was in April, he said, and it destroyed seven or eight tents.
"That's how people solve their problems," he said of the fires.
Recently, there was also a fire at the East 12th Street encampment, which authorities originally suspected was caused by a grill, but there have been conflicting reports. There was also a major fire that destroyed several tents at the city's pilot "safe ground"-style encampment at 35th Street and Magnolia Avenue.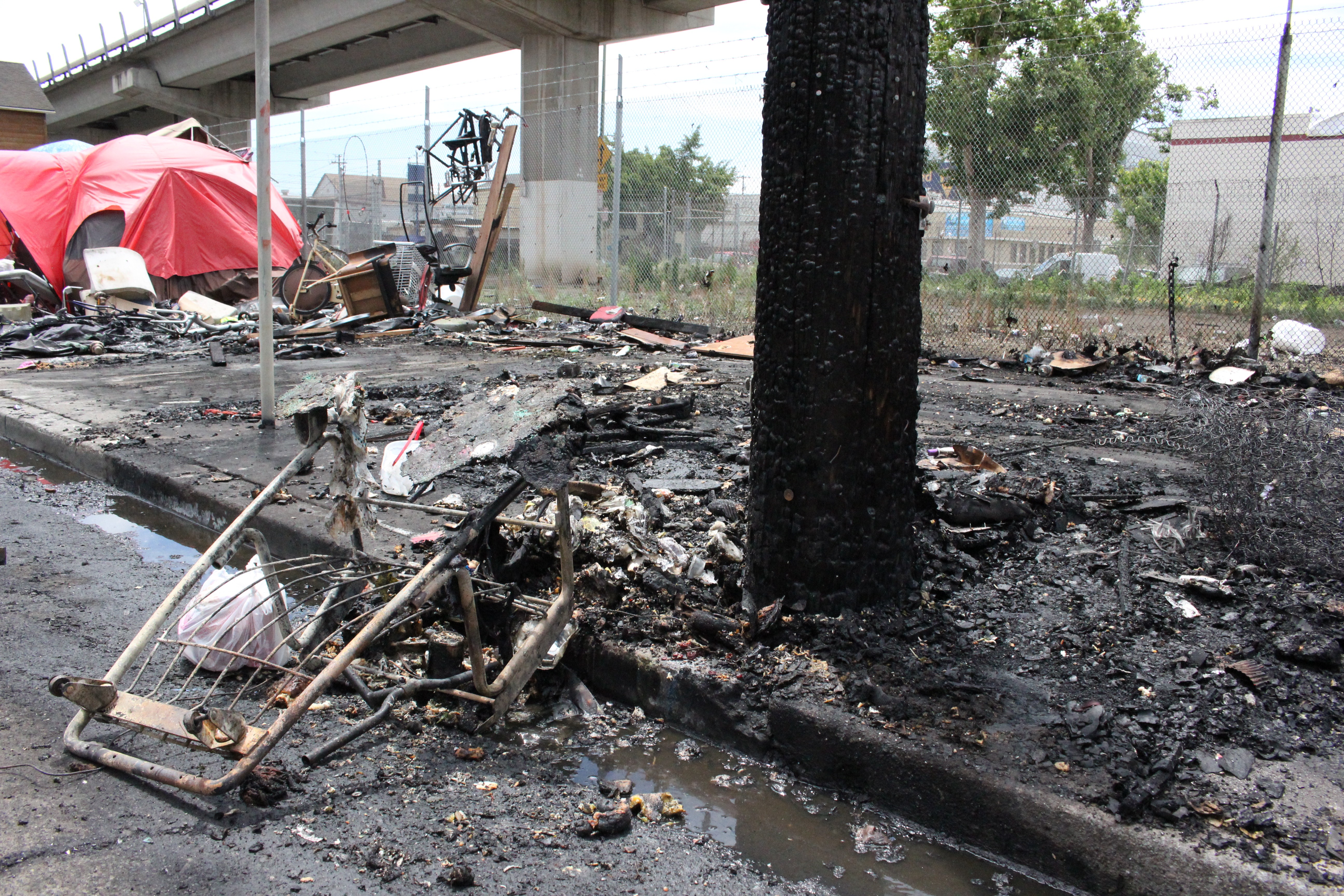 A large fire burned several tents at the large camp located at 5th and Brush streets earlier this week, as well. On Wednesday morning, several hours after the blaze, a resident of the camp, who goes by the name Spaceman, was clearing away piles of charred rubbish with a shovel and collecting scrap metal from the ruins. He said the fire, which sparked at 4:30 a.m., was purposefully started by another homeless resident, who blamed one of the campers for the theft of his cell phone.
"He'd been shouting about getting revenge," said Spaceman. "I heard a man yelling, he'd 'burn the whole block down.'"
Many worry that it's only a matter of time before the arsons end in death.
"It's becoming a pattern," said a man who goes by the name Mushroom, and who also lives at the Fifth and Brush streets camp. "This is poor-on-poor crime."
DeVries said there is a working group focusing on encampment-management strategies, and that fire and arson is part of the discussion. He also noted that it is a challenge to obtain accurate information regarding fires. For instance, at the Magnolia encampment, when firefighters arrived, "no one would talk to them," he explained. He attributed this to people's distrust of law enforcement and city workers.
"We're really concerned about it," DeVries said.
It's unclear how many homeless residents have been victimized by fire, but these attacks are not a recent phenomenon. Last December, a man allegedly fire-bombed a woman's tent on Webster Street, under the Interstate 880.
[embed-2]
The explosion and blaze was just a block away from the
Express
' offices. After the assault, a woman emerged from under the highway overpass, barely escaping the flames and smoke. She said her assailant was a "crazy ex-boyfriend," who drove up in his car and threw a "Molotov cocktail" into her tent.
Oakland police took a statement from the woman, but it's unclear if the assailant was ever caught.
Back on Union Street, the campers who were targeted by last week's arson attack said they'd like to see the city and police take the situation more seriously.
"The assumption is we're just being careless, that we accidently started these fires," said the woman, who was able to obtain a new tent, but lost all her belongings in the fire.
"It was pretty obvious it was an arson."