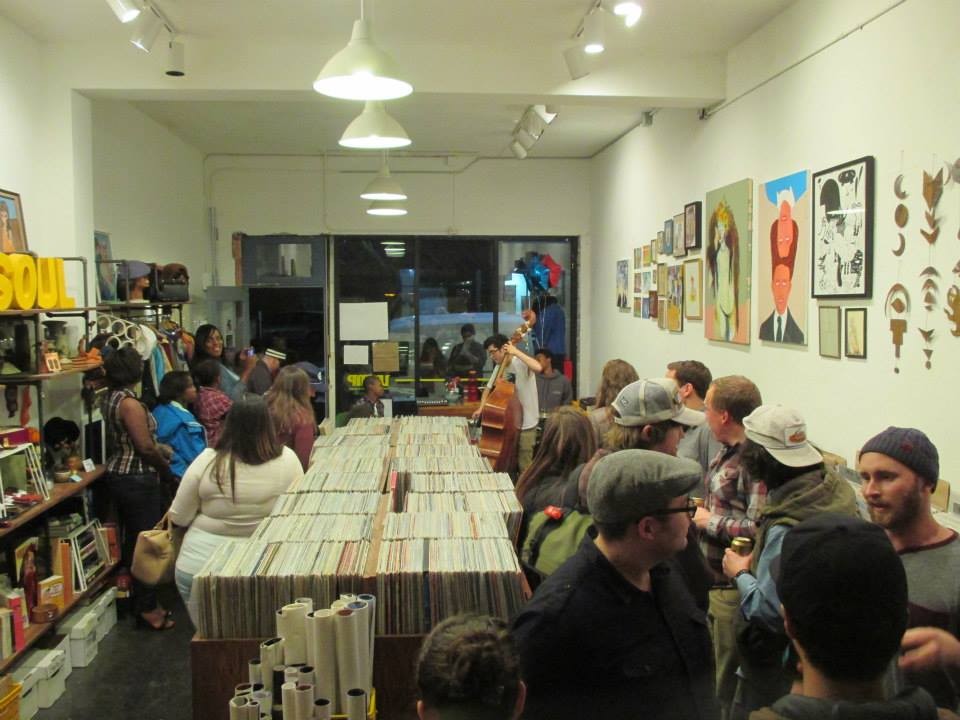 Walking through the doors of VAMP on 19th Street in downtown Oakland is like stepping into a soulful friend's carefully curated living room. Its shelves are chock full of '50s and '60s bric-a-brac, a well-loved midcentury couch serves as the perfect place to gaze at rotating local art, and you could spend a whole day digging through thousands of mostly used LPs and 45s. There's always something old and interesting on the turntables, and you're welcome to hang out as long as you'd like.
That welcoming vibe was created with care and attention by Oakland residents Tracy Parker and Fernando Carpenter, a couple of vintage-lovers and record fanatics who opened their first business together in March 2013. Specializing in soul, funk, jazz, and Latin music, VAMP has grown beyond its waxy roots into an epicenter of Oakland's musical community.
"I think about VAMP as if it were my home. If someone were coming to my house, I would want them to be comfortable and feel at ease, and that's how I approach the shop," Tracy explained to the
Express
. "I feel like it's bigger than us. Now, we're just the little architects behind the scenes, the shop is like its own animal."
VAMP (short for Vintage Art and Music for the People) is celebrating its fourth anniversary this month with various events. Since debuting along a relatively quiet lakeside corridor, the shop has grown from a record haven into an art gallery, performance space, and jumping-off point for local bands and DJs.
"To me, VAMP is more than just a record store — it's a safe space, a headquarters, an art gallery, and meeting place for just about everyone that walks through the doors," said local musician, promoter, and DJ Bobby Ganush. "Especially to those who are often marginalized and not given space due to their backgrounds, beginner status or lack of funds."
VAMP was originally conceived of at Fernando's old home east of Lake Merritt, where he sold records, art, and vintage clothes in a sort of perpetual yard sale. Tracy moved down the street, and would buy records from him to spin at her DJ night at Mad Dog In The Fog across the bay. Eventually, the two started dating and developed an idea for a hybrid record-vintage store that could also be a sort of community center.
"We did it by the seat of our pants. We didn't think that the economy isn't great, that the record business isn't great," Tracy said. "We never took out loans. We did it all out of our own pocket and our own determination."
From the get-go, VAMP's owners wanted to differentiate themselves from other local record stores by highlighting music by Black artists — from Oakland jazz musicians to Ghanaian funk and Brazilian bossa nova. "We're open-minded about music, so I'm always learning new stuff every day. I'm like a kid in my own candy store right now," Fernando said.
That open-mindedness also gave way to hosting in-store performances for experimental bands, as well as local artists on its walls. Parker estimates that VAMP has hosted hundreds of performances and art shows, all of which are free, all-ages, and open to the public. Local instrumental funk and soul band The M-Tet has played at VAMP so much that they recorded a song about the store.
The couple's warm, inclusive and community-driven attitude has spilled outside of VAMP's doors and into events at local bars and clubs. Tracy spearheads two DJ nights at The Legionnaire Saloon — a second Friday happy hour and a monthly funk and soul vinyl party called Where It's At — and Fernando spins during happy hour on the fourth Friday of the month. He recently moved another night, Can't Sit Down, from Bar 355 to The Ruby Room, and also heads the Oakland Freedom Jazz Society at Studio Grand. Two years ago, they started Not Another Record Swap, which will be held on March 12 at Lost and Found beer garden.
"They are constantly evolving their business to try to accommodate the many different interests of a new Oakland that doesn't quite know what it wants to be yet," said DJ Joseph Roseberry. "I believe they keep it invigorated with a sense of real Oakland uniqueness."
While Tracy and Fernando always hoped VAMP would take off, the level of interest and community support has been unprecedented. "I believe in the store so much, I put my heart and soul into it. I know Fernando feels the same way. Even though it's an inanimate object, there's life in there. People feel that," Tracy said.
Learn more about VAMP's anniversary events at Facebook.com/vampmusicandart.