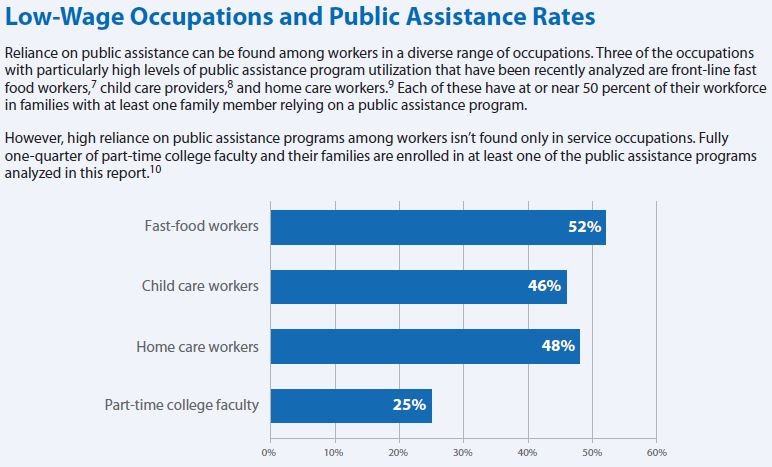 The stereotypical view about welfare is that government programs providing food and income are for the jobless poor who either can't work or won't work.
A UC Berkeley report
issued today proves otherwise. Many of those who rely on welfare do, in fact, work, but the poverty-level wages their employers pay forces workers and their families to rely on government assistance.
The Berkeley team estimated that the total annual cost of public subsidies to low-wage employers is approximately $153 billion. To put that number in context, the total proposed 2015-2016 California state budget is $165 billion. So American taxpayers are essentially running a corporate welfare program almost the size of the California state budget to take care of workers and their families who struggle with low-wage employment.
[jump] Here's some details from the report: In recent years, a full 61 percent of individuals who enrolled in Medicaid and the Children's Health Insurance Program (the two big federally funded low-income health insurance programs) were members of working families. The UC Berkeley researchers found that 36 percent of food stamp recipients and 32 percent of recipients of Temporary Aid to Needy Families, the federal government's primary cash assistance program, were also members of working families. (The report defines a working family as one in which at least one member worked at least 27 or more weeks in a year and 10 or more hours a week.)
"When companies pay too little for workers to provide for their families, workers rely on public assistance programs to meet their basic needs," said Ken Jacobs, chair of the UC Berkeley Labor Center and one of the authors of the report.
According to Jacobs and his co-authors, the state with the highest public assistance cost due to low wages is California, where taxpayers spend $3.7 billion annually to support families whose working members hold jobs at companies like
Walmart
and
Taco Bell
.
The report found that a huge percentage of workers in certain industries are forced to rely on taxpayers for basic necessities because of low pay. In fast food, 52 of workers' households rely on public assistance. For child care and home care workers, the numbers are 46 and 48 percent. According to the UC Berkeley researchers, even
part time college faculty
are forced to rely on welfare for survival, with 25 percent of adjuncts belonging to households utilizing public assistance programs.
The fact that the public is essentially subsidizing low-wage employers by paying for their employees' healthcare and food and providing them with extra income to afford increasingly unaffordable housing
isn't a new realization
. In fact, the UC Berkeley labor center has been studying the problem for years. In 2013 it focused in on
the fast food industry's public costs due to low wages
, finding, among other things, that fast food workers were resorting to $1.04 billion in food stamps a year to feed their families.
The research was funded by the Service Employees International Union (SEIU), the second largest union in the US. In recent years SEIU has poured resources into "social unionism" campaigns aimed at lifting the pay of low-wage workers, many in industries which SEIU has little immediate chance of organizing. In the Bay Area
SEIU has put resources behind fast food worker campaigns
, as well as campaigns aimed at Wall Street and inequality.