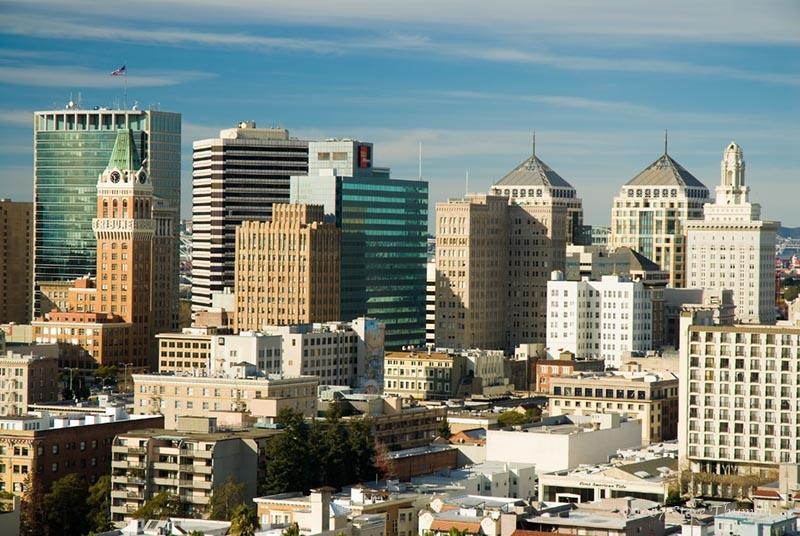 Stories you shouldn't miss for Aug. 22, 2017:
1. The value of Oakland office space
continues to soar in downtown, with two major buildings selling recently for nearly triple what they sold for just four years ago
, reports Blanca Torres of the
San Francisco Business Times
$. Institutional investor KBS Capital Advisors purchased 505 14th St. and 1300 Clay St., totaling 367,357 square feet, for a reported $154 million. Those same two buildings sold in 2013 for $65 million. Downtown Oakland's office vacancy rate for Class A offices space is now under 4 percent.
2. Alameda has once been rocked by bigotry—
this time Swastika fliers with a hate message directed at Muslims posted on Sherman Street
, reports Peter Hegarty of the
East Bay Times
$. The Island has been repeatedly hit with anti-Semitic and bigoted graffiti and vandalism in the past year. Late last week, the windows of Temple Israel on Bay Farm Island were smashed.
3. California must address
its housing crisis if it's going to meet its climate change goals
, reports Lauren Williams of the
Orange County Register
$ (h/t Rough & Tumble), citing a new study by the California Green Innovation Index released by Beacon Economics and Next 10. Transportation-related emissions have grown in the past few years despite the state's strict vehicle emissions rules because residents are increasingly having to drive long distances to work due to the lack of housing in cities.
4. Oakland-born rapper Keak Da Sneak, whose real name is Charles Williams,
is in critical condition after being shot repeatedly outside a Richmond gas station early Monday
, the
East Bay Times
$ reports. Williams, who now lives in Sacramento, was the headliner Sunday evening at Complex, a venue on 14th Street in downtown Oakland.
5. Oakland's Feather River Camp, a popular city-owned family camp near the town of Quincy in the Sierra Nevada,
has been evacuated because of a large wildfire
, reports George Kelly of the Bay Area News Group$.
6. Prosecutors charged a San Jose man with murder and attempted murder for shooting off-duty Oakland firefighters during an event in San Jose last week, the Bay Area News Group$ reports. Authorities say Oliver Juinio, 27,
walked up and opened fire on the Oakland firefighters for no apparent reason
.
7.
Nearly 60 groups, including cities, counties, and environmental organizations, have now sued to block Gov. Jerry Brown's plan to build two giant water tunnels
under the fragile Sacramento-San Joaquin River Delta, the
Sacramento Bee
$ reports.
8. And every year
more than 70 whales—blue, humpbacks, and fin whales, all endangered species—are struck and killed off the West Coast by giant ships
, reports Paul Rogers of the
Mercury News
$, citing a new study. Scientists say shipping lanes and traffic should be altered in order to protect the whales.
$ = news stories that may require payment to read.