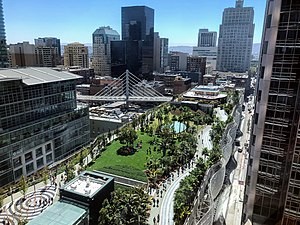 Stories you shouldn't miss for Oct. 2, 2018:
1. The new $2.2 billion Transbay Terminal in San Francisco
will remain closed indefinitely
as officials attempt to determine what caused two large steel beams in the center to crack, reports Erin Baldassari of the
East Bay Times
$. In addition, Fremont Street, along the terminal, will be closed until at least Oct. 12.
2. Gov. Jerry Brown
signed gun control legislation
banning so-called bump stocks, which allow for rapid firing, reports Bob Egelko of the
San Francisco Chronicle
. Brown also signed bills that prohibit the sale of rifles and shotguns to people under age 21 and ban anyone convicted of domestic violence from owning a gun.
3.
A $240 million project at the former Alameda Naval Air Station
, which would include a new veteran's clinic and a national cemetery and was approved in 2012, is stalled, reports Peter Hegarty of the
East Bay Times
$. The Alameda City Council is preparing to pressure the U.S. Department of Veteran's Affairs to jumpstart the project.
4. The U.S. Supreme Court r
efused to hear an appeal from a Silicon Valley billionaire who wants to block public access to Martin's Beach
near Half Moon Bay, reports Paul Rogers of the
Mercury News
$. The high court's decision means that Vinod Khosla must keep a private road to the beach open — at least for now.
5. And Gov. Brown signed legislation, SB 828, authored by state Sen. Scott Wiener, D-San Francisco,
that seeks to increase affordable housing construction by requiring cities to zone more land for housing
if they fail to reach their regional housing goals, Streetsblog reports.
$ = news stories that may require payment to read.