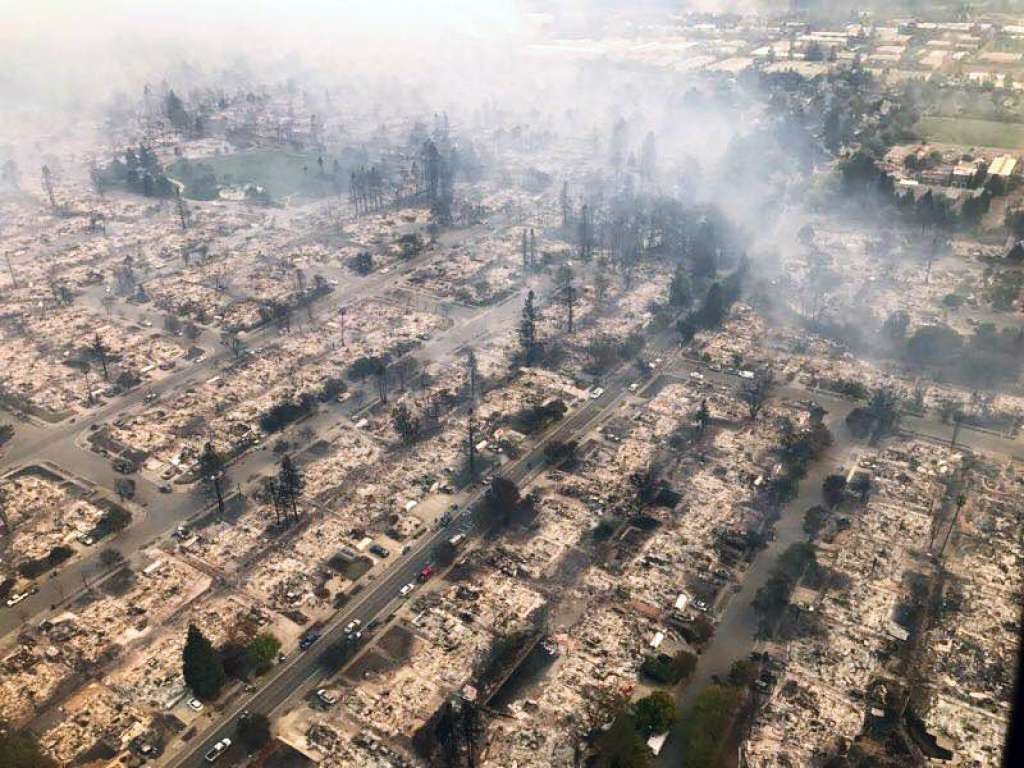 Stories you shouldn't miss for Oct. 17, 2017:
1. Emergency crews
are combing through the devastation left by the Tubbs Fire in Santa Rosa in search of more victims
, the
Sacramento Bee
$ reports. The death toll from the fast-moving Tubbs Fire is 22, but officials expect that number to climb because there are still 88 people reported missing. "I would expect to find some of the missing in their burned homes," said Sonoma County Sheriff Rob Giordano. "We are still working on targeted searches." In all, the NorCal fires, which are expected to be fully contained by week's end, killed at least 41 people.
2. Five firefighters have been injured
in a new blaze that broke out last night in the Santa Cruz Mountains
, the
San Francisco Chronicle
reports. The Bear Fire, burning in rugged terrain not far from the town of Boulder Creek, also has prompted evacuations in the area. The wildfire has been difficult to access because of road closures from last winter's heavy rains and mudslides.
3. Alameda City Attorney Janet Kern said she plans to hire
an independent investigator to probe allegations that city councilmembers improperly interfered in the hiring of the Island's new fire chief
, reports Peter Hegarty of the
East Bay Times
$. City Manager Jill Keimach has said she was pressured to hire a longtime Alameda firefighter but decided to tab Edmond Rodriguez, chief of the Salinas Fire Department.
4. The Oakland A's
will have to clean up toxic soil if the team goes forward with its plan to build a new ballpark on Peralta Community College District land
next to the Laney campus, reports David DeBolt of the
East Bay Times
$. The Alameda County District Attorney's Office has been investigating whether Peralta failed to deal with the toxic soil as required by law.
5. Three former Tesla employees who are all African American
say they were subjected to racial epithets and racist graffiti
at the electric-car company's Fremont auto plant, reports Louis Hanson of the
Mercury News
$. The ex-employees suit was the second one alleging racism and a hostile work environment at Tesla.
6. Former San Francisco 49ers quarterback Colin Kaepernick, who launched the take-a-knee movement during the National Anthem to protest racial injustice,
contends that NFL owners and President Trump have colluded to keep him out of football
, reports Bob Egelko of the
San Francisco Chronicle
$. However, legal experts say Kaepernick, who has received no offers to play in the NFL this year despite being better than many quarterbacks, will have a tough time proving his grievance case against the league.
7. And the Wooden Duck furniture business in Berkeley
is closing after 24 years in operation
, reports Frances Dinkelspiel of Berkeleyside. The owners of Wooden Duck say their landlord doubled their rent, and they have still not yet recovered financially from a fire that ripped through their warehouse and store in 2014.
$ = news stories that may require payment to read.