Stories you shouldn't miss: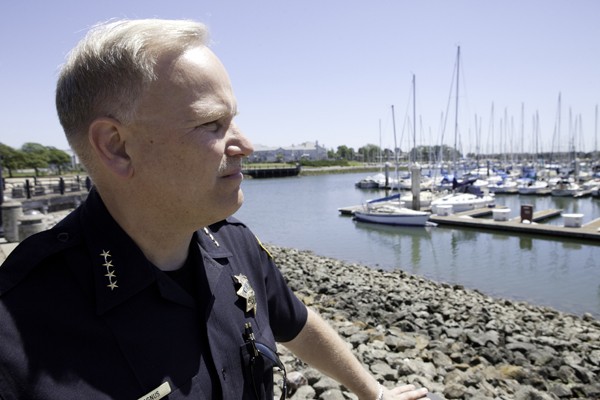 1. Chris Magnus, the Bay Area's most progressive police chief — and its most successful —
has decided to become the police chief of Tucson, Arizona
, the
CoCo Times
$ reports. In Richmond, Magnus eschewed tough-on-crime policies like stop-and-frisk in favor of community policing and improving relations between cops and residents, and the results were dramatic: The city experienced huge drops in crime in the past several years. Magnus, the first openly gay chief in the region's history, also made headlines last year when he publicly embraced Black Lives Matter. Magnus said he's looking forward to a new challenge in Tucson.
2. Governor Jerry Brown said he plans
to attend the historic UN climate talks in Paris next month — despite the recent terrorist attacks there
, the
LA Times
$ reports. Brown also broke with the hard line taken by other governors in the wake of the Paris attacks, and said that the United States
should continue to accept Syrian refugees
— as long as they undergo a thorough vetting process, the
SacBee
$ reports.
[jump] 3. The massive El Niño weather pattern forming in the western Pacific Ocean
produced the highest temperatures on record
, indicating that it's stronger than the monster El Niño that rocked California in the winter of 1997–98, the
LA Times
$ reports. The temperature of a key area of the Pacific was 5.4 degrees Fahrenheit higher last week than this historic average, breaking the previous record of 5 degrees.
4. The governing board of California's community college system
voted to oust the accrediting agency that has been threatening to shut down City College of San Francisco
, the
Chron
reports. A task force concluded that the Accrediting Commission for Community and Junior Colleges was too punitive.
5. And Oakland-based Pandora announced that it
purchased online music service Rdio for $75 million
, the
Chron
$ reports. Pandora recently bought TicketFly for $450 million and the company hopes that the acquisitions will stem the company's stock decline and help it compete more effectively with Spotify.