Stories you shouldn't miss: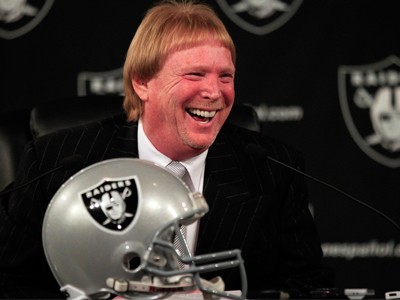 1. Oakland Raiders' owner Mark Davis
is demanding that the City of Oakland give the team 169 acres of public land for free
at the Coliseum site and the surrounding area, the
Chron
$ reports. Davis said former Mayor Jean Quan offered the land to the team in 2013, even though giving away public property is illegal in California. Current Mayor Libby Schaaf is refusing Davis' demands. Davis also said he has no interest in Schaaf's idea for a bond deal in which the bonds would be repaid by revenues generated by the new stadium. Davis said he needs those revenues to repay a separate loan from the NFL.
2. Up to
58 million trees in California are at serious risk of dying
because they've experienced significant water loss due to the drought, the
Chron
$ reports, citing a new study by the Carnegie Institution of Science. Earlier this year, the US Forest Service estimated that 12 million trees in California had already died because of the drought.
3. A controversial plan by the Metropolitan Water District, which represents Southern California, to buy large swaths of land in the Sacramento-San Joaquin River Delta
has run into a snag — legal restrictions that are designed to protect the fragile land
, the
SacBee
$ reports. The move by Metropolitan to buy the land was widely viewed as an attempt to speed up Governor Jerry Brown's plan to build two giant water tunnels in the delta in order to send more Northern California water to the San Joaquin Valley and Southern California.
[jump] 4. A Sikh man in Fresno
was struck by a truck and beaten by two men in an apparent hate crime
, the
LA Times
$ reports. Sikhs are often mistakenly targeted for being Muslim.
5. And Governor Brown told
The New York Times
$
that he might retire to his family's sprawling ranch in the Sacramento Valley
after he finishes his term in 2018. The 77-year-old Brown, who also still owns a home in the Oakland hills, has been spending an increasing amount of time at the desolate ranch and came under fire earlier this year for demanding information from state employees about whether the land was suitable for oil drilling.