Stories you shouldn't miss:
1. Mayor Tom Bates is pushing a plan that is designed to protect the downtown Berkeley Post Office and other historic buildings, Berkeleyside reports. Under the mayor's proposal, thirteen historic structures around City Hall, including the post office, could not be used for commercial purposes. The proposal is meant to dissuade developers from purchasing the post office. The US Postal Service has been selling historic buildings around the country to raise funds. The language of Bates' plan comes directly from a citywide ballot measure pushed by Councilmember Jesse Arreguin. But Bates opposes other aspects of that measure, because they would make it tougher to build housing in the downtown area.
[jump]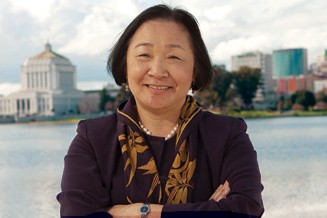 2. Oakland Mayor Jean Quan has been in the media spotlight for the past two days, concerning a minor traffic accident that she was involved in on Sunday, but details of what happened in the crash remain murky. Some witnesses said Quan ran a red light and was talking on her cellphone at the time, but the mayor and at least one other witness say they other driver was at fault and that Quan was not on her phone, the Trib$ reports. Quan said she gave police access to her phone records to determine whether she was using it at the time of the crash. KRON-TV ran a photo last week of a previous incident in which the mayor was talking on her phone while driving. In addition, the mayor was convicted earlier this year of running a red light.
3. A landmark trial began in Oakland yesterday that could change the shape of collegiate athletics. A former UCLA basketball player, Ed O'Bannon, is suing the NCAA in an attempt to strip the organization from its ability to block student athletes from sharing in the huge amount of money that college sports generate from TV and other outlets, the Mercury News$ reports.
4. The state Senate passed ethics reform legislation that prohibits lawmakers from accepting campaign donations during the weeks in which they make final votes on legislation, the SacBee$ reports.
5. And gasoline prices are expected to increase by about 12 cents per gallon in January when tailpipe emissions come under the state's cap-and-trade system, the Chron reports. Governor Jerry Brown wants to use some of the revenue to help pay for his high-speed rail project proposal.
$ = news stories that may require payment to read.