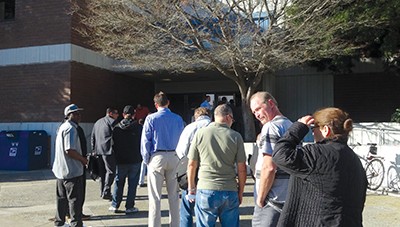 This week, the Oakland City Council will join City Attorney Barbara Parker in a campaign to convince the Alameda County Superior Court to reverse a decision to move all eviction cases from Oakland's courthouses to Hayward. The council is also being asked to spend $3.8 million for new police and fire radios. The final vote to decide who will take control of the E. 12th Remainder Parcel is also on the agenda for Tuesday night. And the city will release detailed financial numbers that reflect Oakland's booming economy.
Keeping Eviction Cases in Oakland:
Oakland City Attorney Barbara Parker wants the Oakland City Council to join her in a campaign to convince the Alameda County Superior Court to keep eviction cases in Oakland. As the
Express
reported last month
, the court is proposing to move all eviction cases to the Hayward Hall of Justice, even though that courthouse is not easily accessible by public transportation. Tenant advocates say the plan will create additional hardships for renters who live in the northern part of the county, don't drive, can't afford to hire their own attorney, and are facing eviction proceedings, also known as "unlawful detainer" cases.
On Tuesday night, 
the council will vote on a resolution
urging the court to keep hearing eviction cases in Oakland, and to also keep open the self help center located in the Rene C. Davidson Courthouse in Oakland that assists mostly low-income people with navigating the court system.
[jump]
$3.8 Million for Emergency Radios:
For years, Oakland cops and firefighters have mostly used radios manufactured by Harris Corporation to communicate with dispatchers and with one another while responding to emergencies in the field. But according to
a staff report
, these radios are incompatible with the regional emergency radio network, which is maintained by Motorola Solutions, a competitor of Harris Corporation. Motorola has therefore advised the city that it should replace its Harris Radios with its own brand. On Tuesday night, the Oakland City Council
will consider a no-bid $3.8 million contract
to purchase nine hundred Motorola radios.
E. 12th Parcel Vote:
UrbanCore and the East Bay Asian Local Development Corporation (EBALDC) are poised to win control of the E. 12th Street Remainder Parcel at tomorrow night's council meeting. But activists who derailed UrbanCore's previous bid last year are mobilizing yet another protest, because they feel that the UrbanCore/EBALDC plan still does not add enough affordable housing to the neighborhood.
Oakland's Finances:
Oakland will release its
Comprehensive Annual Financial Report
(CAFR) for the fiscal year that ended on June 30, 2015. The report, a detailed description of Oakland's revenues, expenditures, assets, and liabilities, shows that the city's financial situation has dramatically improved over the past several years. Revenues from property taxes, hotel taxes, parking fees, and various licenses and permits are up by double-digit percentages. Real estate transfer taxes were up 6.1 percent over last year, reflecting high home prices and brisk sales.
Oakland's top expenditures were for police ($242 million); debt ($198 million); fire protection ($130 million); and roads, infrastructure, buildings, and other "capital outlays" ($123 million).