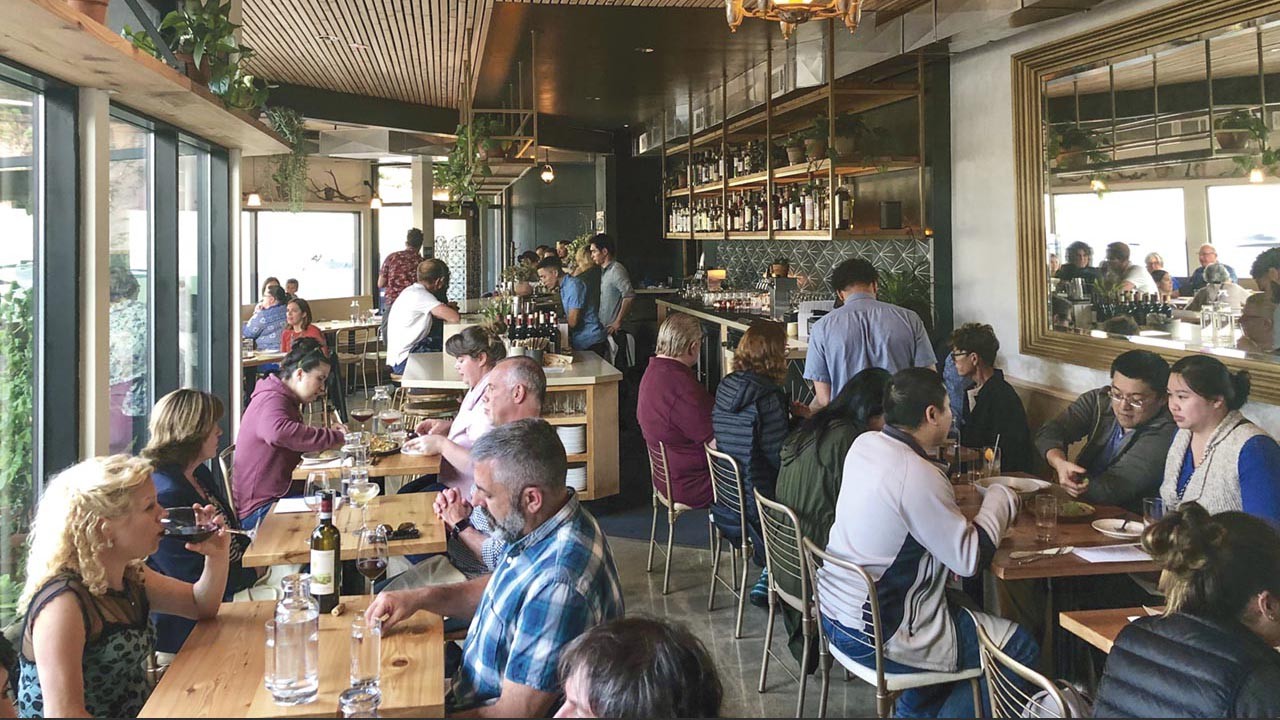 After a few years in the works, plenty of renovations, and a brief soft opening period, Top Hatters Kitchen celebrated its grand opening on April 24.
Chef DanVy Vu, who owns the restaurant along with her husband, Matthew Beavers, has wanted to open her own restaurant for years. But that wasn't always the case. Growing up, Vu's family rarely dined in restaurants; she recalled feeling uneasy and unsure what to do in a restaurant environment. As a college student at UC Berkeley, she went on a date at a fancy restaurant. Vu ordered pasta with toasted pine nuts, and she loved it. Back in her Berkeley student co-op, she recreated the dish for her peers — and received rave reviews.
"I realized, 'Oh, my gosh; this is what cooking's about. It's really about pleasing others,'" Vu said. She started cooking all the time and experimenting with different ingredients from Berkeley Bowl. And from then on, Vu loved everything about restaurants.
"I loved the atmosphere, the experience of a restaurant. This is where love happens. This is where relationships begin."
In 2011, Vu opened a food truck called Go Streatery, which billed its style of cuisine as "peasant food." It's a "way of life," she said, that she learned from her father growing up. As the daughter of Vietnamese refugees living in Orange County, Vu said her parents sometimes boarded up to 18 people in their four-bedroom house to make ends meet. Vu's father taught her to cook, and from then on, it was Vu's job to cook for everyone.
"We didn't ever have fancy cuts or anything, but food was just so good, regardless of ingredients," Vu said. "I always refer to my dad as a modern-day peasant; he was able to create really delicious dishes under limitations, and everything was made from scratch."
While Top Hatter's Kitchen doesn't limit itself to a single ethnic cuisine, the concept of peasant food continues to drive the menu. One dish on the menu is Vietnamese-style cabbage rolls, stuffed with pork, wood ear mushrooms, glass noodles, bone broth, and country wild rice. It's a dish Vu's father made for her growing up, though customers of various backgrounds have told Vu that they ate something similar growing up. You'll also find oxtail and grits, a holdover from the Go Streatery days that customers across many cultures might have eaten some variation of as a kid. Even the zeppole, or Italian doughnuts, are essentially fried dough — something a lot of different cultures have in common.
The menu also includes family-style platters for sharing. Plus, Vu uses San Leandro products whenever possible — bread from As Kneaded Bakery, beer from Cleophus Quealy and Drake's Brewing, and many vegetables from her own garden. There's even a list of cocktails named after hats.
Vu hopes that her eclectic menu will appeal to a diverse customer base. After all, Vu said, she's aiming to be a true neighborhood restaurant that reflects not only San Leandro, where she and her husband live, but also neighboring Oakland. "Both of our cities are in the top 10 most diverse cities in America … so I think the menu has to reflect that," Vu said. Vu also hires staff members from San Leandro and Oakland. Her staff members even include high school students from San Leandro High School, and she plans to hire students from Oakland.
Vu hopes that everyone feels at home at Top Hatters Kitchen — even those who may not be accustomed to upscale dining. "In our cultural training, I tell our staff, 'Listen, just remember young DanVy. …. Our menu may look and sound elevated, but we cannot act like that.' … I want people to feel comfortable here."
Top Hatters Kitchen is at 855 MacArthur Blvd., San Leandro. Hours are Tue.-Thu. 5-10 p.m., Fri.-Sat. 5-11 p.m., and Sun. 5-10 p.m., with plans to add lunch and brunch service. For more information, visit TopHattersKitchen.com.