This Saturday, millions of people will take to the streets in cities across the country, in concert with the Women's March on Washington. Here in Oakland and San Francisco, more than 140,000 people have RSVP'd on Facebook for local marches, to "stand together, recognizing that defending the most marginalized among us is defending all of us," according to organizers.
In response to this unprecedented gathering, KALW and the East Bay Express invited women from all over the Bay Area to send us their "Letters to Trump." The reaction to this project was enthusiastic, as we received several dozen thoughtful, moving, personal essays from women throughout the Bay.
A selection of these letters appear below. KALW will also broadcast radio-essay versions of the letters at 91.7 FM, and at KALW.org, beginning January 17 and continuing through the week. And you also can read more letters at EastBayExpress.com.
Our hope is to celebrate the voices of local women of all backgrounds and beliefs — oh, and we're going to mail these letters to the White House next week, too.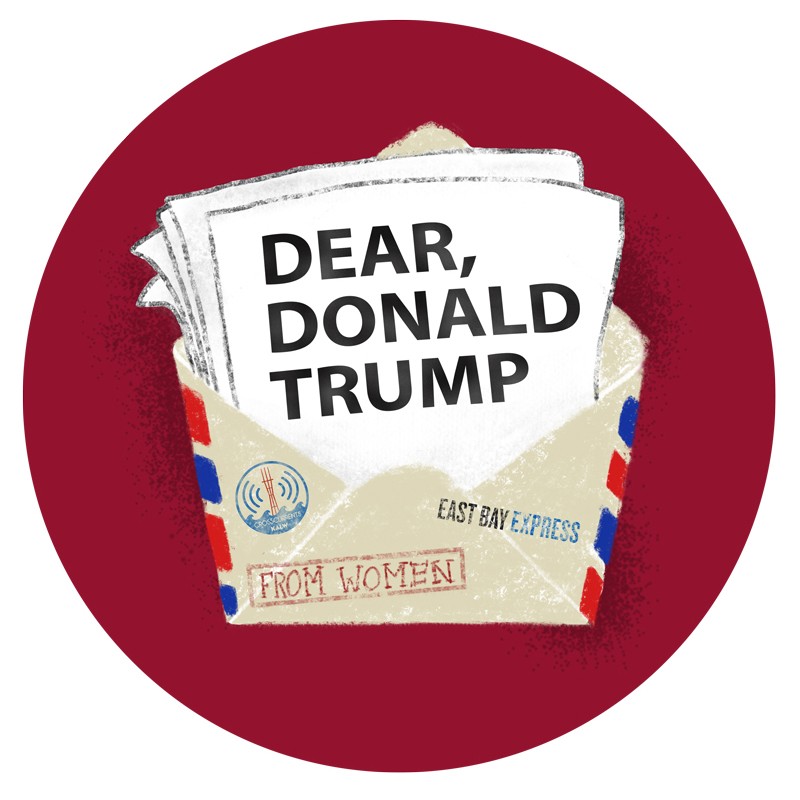 'I Have A Voice'
Richa Pokhrel, 30
Oakland
You think of me a sore loser, because I will never accept your presidency. I will not normalize your antics, nor will I ever wish you success. You belittle me with your degrading words, lies, and threats. You will continue to try to silence me. I am a woman of color who is also an immigrant, the type of person you dismiss the most. I have a weapon; it's something you will never be able to take from me, no matter how much you try. Can you guess what it is?
I have power and I have a voice.
You may think you have all the power now that you are the President-elect, but you are wrong. No matter what you do, you will not scare me into silence or complacency. In fact, all those threats you throw around have only motivated me. Throw all your punches. No matter how much they hurt, I won't go away. I never thought a future president would affect me this deeply, a person I have never met nor will ever meet. I've always been an obedient Nepali girl, one who follows the rules and doesn't want to stir up any trouble.
But the thing is, I want to thank you for awakening something in me that was hidden. I want to thank you for bringing out the warrior that has been dormant for the last thirty years. This warrior is ready to fight for her rights, to defend her community, and to protect our earth. There are many of us, millions and millions. I just want to wish you luck as we organize, as we shout, and as we reclaim our power. You will never be my president.

Listen to Richa Pokhrel's radio essay at KALW.org, or click here.
'Feminismo Sin Fronteras'
G. Billie Quijano, 63
Oakland
2017 will be the year of La Chingona … the world will know we give a fuck, that I give a fuck. We will continue to protest, to confront, to make history, to move history. I hold these women in high esteem: La Soldera, who fought alongside Zapata. La Zoot Suiter, who worked in American factories for the war effort. La Trabajadora, who refused to give up her seat on the bus. La Pintura, a Mujerista who painted her own reality, because it was her voice and her voice only. The first African-American Congresswoman who ran for the presidency in 1972. The female war correspondents who gave their lives to bring us the truth. A young Pakistani woman who survived the Taliban's attempted assassination, only to continue the fight for a girl's right to education. A Russian all-women punk band, who were incarcerated because they exposed their country's oppressive government. The ex-senator who, in 2016, won the popular vote for president (we may have lost the presidency, but we didn't our asses kicked).
They are our mothers, daughters, sisters, Mujeres to be revered, not to be assaulted, verbally or physically, not to be objectified. On January 21, millions of Mujeres will be present en masse in major cities nationwide. President Cheeto may be in the White House, but we will have the power to make change, to maintain our rights. I have survived Nixon and Reagan, I survived the Bushes, and I will survive the Orange Scourge.
'We Haven't Forgotten'
Judy Wells, 72
Berkeley
Although you won the presidency, you have done little to gain my respect. Your campaign brought to the fore America's dark side — particularly its entrenched misogyny, and its distrust, even hatred, of women, especially powerful women. You encouraged your supporters at your rallies to scream "Lock her up! Lock her up!" about Hillary Clinton, whose public service to America for over thirty years puts yours to shame.
Mr. Trump, when Alice Paul and Lucy Burns, suffragists in the early 20th century, campaigned for "Votes for Women," they were locked up, simply because they sought to give women the privilege male citizens had: the right to vote. Even while imprisoned, the suffragists did not back down. President Woodrow Wilson eventually caved in, and the 19th Amendment came into effect in 1920, giving women a new power as citizens.
Now, in an election nearly 100 years later, Clinton garnered 3 million more votes than you did, Mr. Trump. I and many of my women friends my age, in our 70s, were among this majority who voted for Clinton. We hoped to see the first woman president of the United States.
We older feminists will not be silenced. We take heart from the courage of our foremothers. We will not be "locked up." We will speak out against your misogynist behavior, and that of your supporters who condone sexism and racism. Though we had the right to vote in our lifetime, we feminists fought to gain equality for women in all areas in the 1970s and onward. We haven't forgotten how to speak out!

'You Are My President'

Aneka K. Bean, 33

Pleasant Hill

I am happy with your victory. I do not think you are the next Hitler, or believe you have any aspirations to ruin the lives of, kill, or ship off marginal groups of people. I am troubled by how many Americans believe they have the ability to read minds or intentions based on sensationalized news articles and out-of-context comments. I believe you to be a man who changes his mind based on new information, and is willing to admit he has done so. I wish that more people in official positions were willing to do this. I appreciate that you speak your mind, even when I don't agree with you, and I admire your candor in situations where you will not have a purely positive response. Thank you for talking directly to the people and for not filtering yourself through the media like previous administrations. Thank you for being a person and not a position or a martyr or an ideal. I imagine we have some very different political ideals on some fronts, but I believe you are a good person with a desire to do the right thing, whatever that may end up being for you. You are my president and I hope that you, and those working with and against you, do a good job.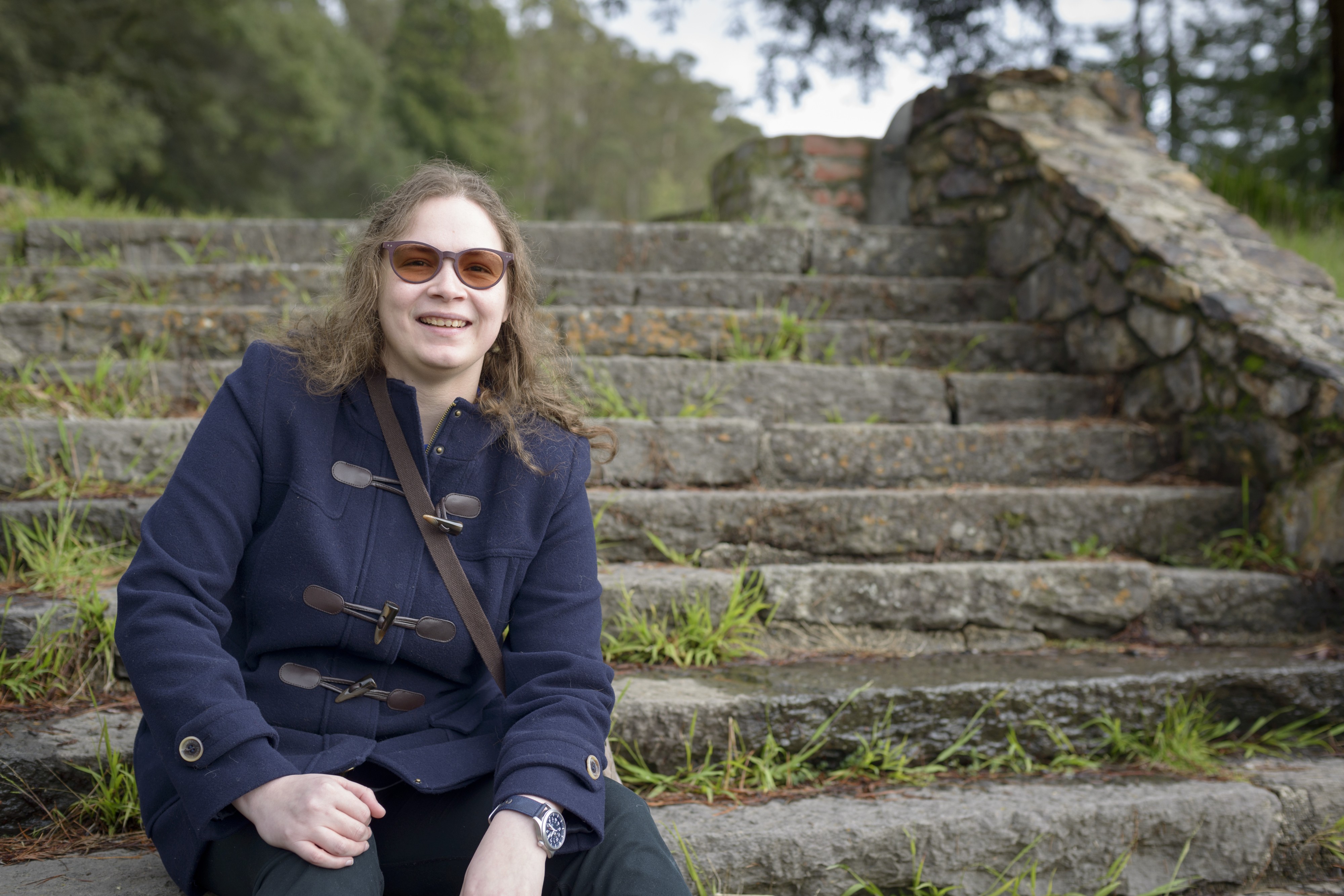 'My Voice Matters'
Regina Shipman, 58
Oakland
I Am the Essence of Love
(Ode to Mr. Captain of the ships of fools)
I am not your convenient vagina, not your booty call, not your punching bag, or the brunt of your jokes, your sick excuse of a reason! On the contrary, I am the opposite of hate, the complement and birth of the nation — me and my nature, my ovaries, my uterus, my determination. My voice matters. Respect my body (collective) or forever feast on the famine, the rotting flesh of war.
Regina Shipman is outreach coordinator at the Oakland Women's Center, which is helping coordinate this Saturday's march. These words are her own.
'You Never Apologized'
Marcy Fraser, 64
San Francisco
You will be president by the time you read this. I was not a supporter of yours, and your treatment of women is a large reason why. I believe you never apologized for the behaviors, statements, and insults you made toward other women, Republicans and Democrats. I believe you don't know how to apologize, or to take responsibility, for actions that hurt or harm others.
I will be marching on January 21. It won't be my first rodeo. I've been marching and resisting people like you, and your policies, for many decades. I think you will galvanize the left, women, LGBT people, people of color, and eventually working-class folks.
Nothing I can say will change you or the current situation we are in. But know this: We see you, we know you, and you will not get away with bullying us and ripping us off.
The new swamp may have moved into the White House with you, but the healthy waters of the world are right outside the door.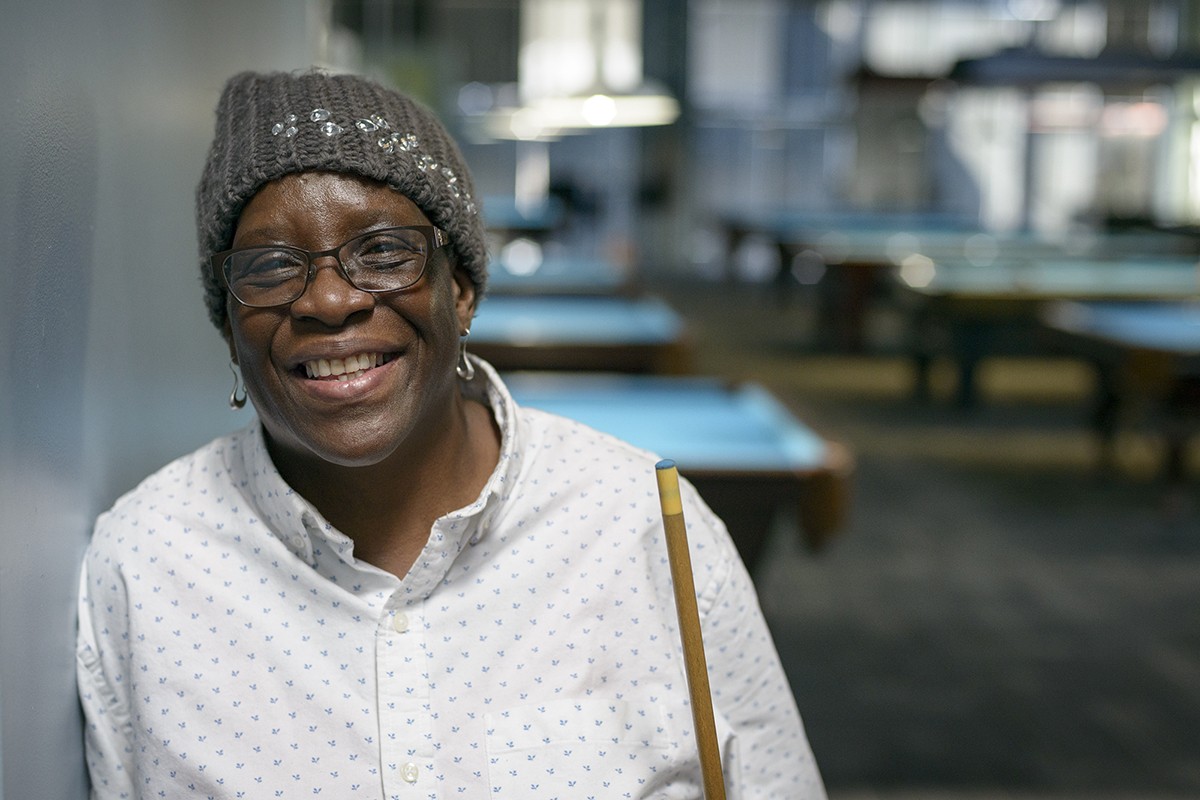 'My Mother Took Me To Protest'
Madelyn Weiss, 54
Berkeley
The night you won, you said you'd be president for everyone. So I ask, will you respect my Constitutional right, and the right of all Americans, to speak and assemble freely, even when we criticize you, your policies, and values?
When I was seven, my mother took me to a protest against the Vietnam War, at the annual White House Christmas tree lighting ceremony in Washington, D.C. We joined the crowd of people waiting to see the ceremony and hear then President Richard Nixon, who was scheduled to speak. There were hundreds of us standing in the snow, waiting to show our opposition to the war. When Nixon started speaking, we raised our hands in peace signs. A few yards away, some young people shouted "Stop the war!" Suddenly, police with batons pushed their way through the crowd, grabbed the young protesters, wrestled them to the ground, and dragged them away. This was the first real violence I experienced in my sheltered middle-class life, and that very frightening moment is indelibly printed on my memory.
I began learning two important lessons that day: that there can be serious consequences for publicly speaking out against power, and that you can't take your Constitutional rights to freedom of speech and assembly for granted.
The most frightening aspect of your presidency is your lack of respect toward the First Amendment. You've encouraged violence against protesters at your rallies. You angrily tweet against reporters and other critics, inspiring your followers to harass and intimidate people. You demonize the press. You admire Vladimir Putin, who jailed members of a girl band for two years for the "crime" of playing an insulting song about him.
Maybe you feel threatened, since history shows that principled protest and refusal to be silent, even in the face of institutional violence, can affect profound and positive social and political change. No one, not even a president, should have the right to silence another's voice. Therefore, I will exercise my First Amendment rights during your administration, starting with the Women's March on January 21.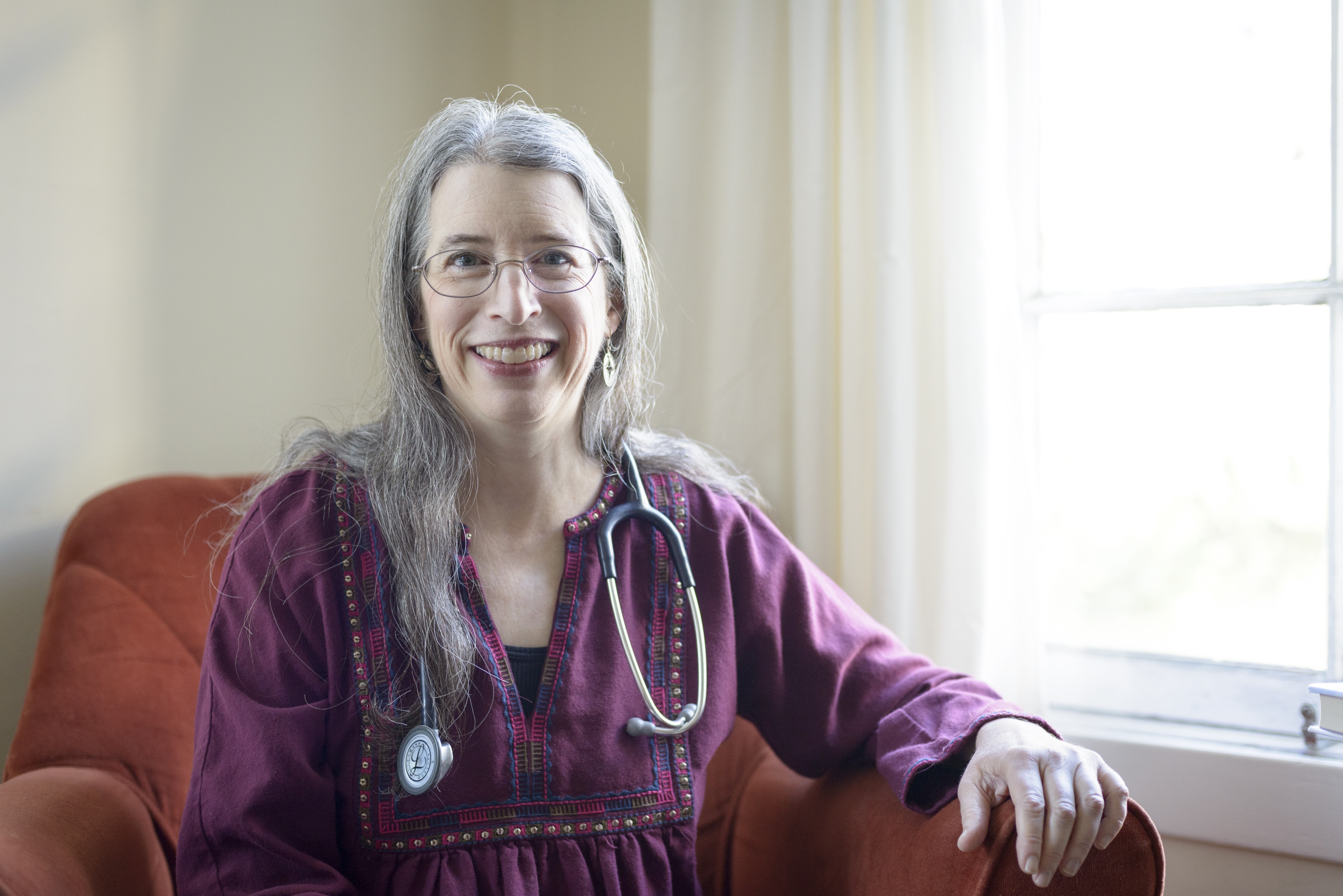 'I'm Scared'
Lucia, 12
San Francisco
I am a 12 year-old girl with two moms. I live without fear. But since you got elected, I'm scared.
I live in California, a democratic state. But what will it become? Will I be able to walk around with my moms and not have anyone be mean? Or will they say something about me or the people I love?
My mom was very involved in the election. So much that we went to Reno to get people to vote for Hillary Clinton. It worked!
Once you got elected, she cried. I cried. We all cried. We loved Hillary so much. We are scared of what will happen. In my school, I only know two people who were for you. It's tough to be around them.
But America? America is for you. That is what scares me most. You lie, cheat, and bully. You are just plain mean. Being a girl, I feel seriously offended by you.
Me and my family are going to Washington for the march. We will do whatever it takes to show that we won't let you treat women or the American people the way you do. So please, resign. I ask you respectfully. It is so scary. It's like this, how would you feel if an ogre became president? Scared, right? It's basically the same (no offense). Please, either be our president or let it go. Because we need a president who represents everyone, and we are willing to fight.
'You Need Us'
Eva Des Lauriers, 32
Oakland
You don't care about me. I'm a woman, a social worker and writer, a mother, and a Californian whose grandparents immigrated from Mexico. You've made it clear from day one that everything that I am and that I stand for does not matter to you. To you, I am an object to be used and disregarded. With every neo-Nazi you employ, you disregard and oppose the very tenets of my profession, which call me to be a voice for the marginalized, the vulnerable, those at-risk and long oppressed. The deeply important work of motherhood is undercut by your blatant disinterest in raising a generation of loving, compassionate, sensitive, and empathic individuals.
With every promise, interview, and tweet, you keep telling me over and over again that I don't matter, that you won't take care of me, that you don't see me, my heritage, my experience, myself, as someone of worth. That I, an educated and loving young woman trying to make a nice life for myself and my family on a sunny hill in Oakland, somehow embodies everything the president stands against, both politically and personally, in my inherent existence.
This could all have me quite depressed, anxious, and cynical. Believe me, I've had my moments since November 8.
However, I live in the diverse, inclusive, endlessly fascinating and enriching city of Oakland. The Bay Area is the type of place that beckons and holds those our world needs most: optimists, healers, artists, activists, innovators — joyous, loving, creative, sensitive hearts. You may not care about us, but you need us. You may do everything in your power to subjugate and silence us, but we will carry on with kind words and open arms to spread joy, love, and warmth in your dark and shadowed world. Our corner of it will always remain bright. Our homes will always be havens.
But never forget that we are also warriors who aren't afraid of a challenge. We held hands around our local Lake Merritt to show you that we will stand against oppression, and we will do so with arms linked in solidarity and purpose. And we've only just begun.
You may not like us, you may not be interested in what we have to say, but get used to hearing from us, because the way you feel is the only thing that actually doesn't matter. So stop tweeting and start working. For all of us.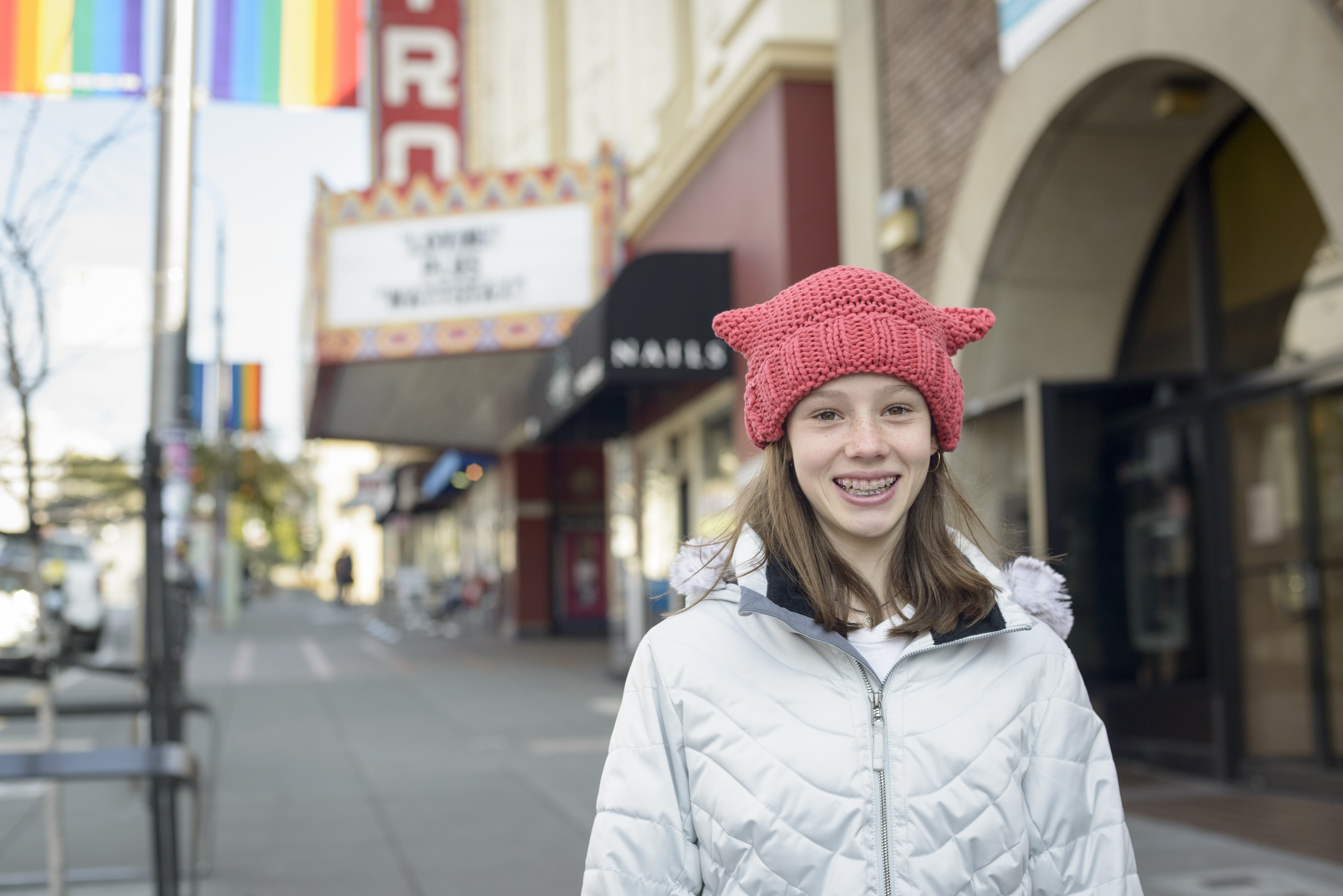 'Part of the Human Family'
Lucille Hammes, 89
Davis
I'm 89 years old, and was not impressed with your words or actions during the campaign. In fact, I fear where you are leading our great nation.
On the international level, you are acting like a bully. Your statements about increasing our nuclear power, and your appointment for ambassador to Israel, really cause me grave concern. At this critical time, it is imperative to be thinking "we" instead of "us versus them," if our world is going to survive. Everyone living on this planet is part of the human family. Don't forget that!
'I Will Resist Your Ugliness'
Navdeep K. Jassal, 46
Oakland
My heart hurts every day, because sexism, misogyny, racism, xenophobia, and hate won. This is not the world I choose to be a part of, and I will resist your ugliness. You goddamnmotherfuckingasshole, I hate you so much. I'm in the fight to hear the words "You're fired!" because justice prevailed.
'Please Listen'
Judy Brown, 76
Albany
This woman is 76, white, and, to quote a president I greatly admire, "coastal, liberal, latte-sipping, and politically correct." I wish you and your advisers well as you assume governance of our country and a most powerful position in the world. I hope you prove me wrong. Please listen well, and thoughtfully, to those who find your messages and policies and behaviors intolerable. You too could be wrong about many complex situations. There is much at stake for those who believe you and for those who do not.
'Golden Hours'
Felicity Blau
Berkeley
I am a registered nurse living in Berkeley. I attended Laney College in Oakland, where I obtained an LVN license, followed by an RN license from Merritt College. My first job was in 1984 at Highland Hospital, in the emergency room. This was before it was officially designated as a trauma center, when the concept of "the golden hour" was being studied heavily by emergency-room physicians. The golden hour refers to the period of time after someone is exposed to an insult, e.g. a shooting or stabbing, and the idea that the hour following the insult is the time when if the proper interventions are initiated, lives can be saved.
As I listen to KPFA, KALW, and NPR every day, I have the opportunity to listen to many very articulate and intelligent people concerned about our future, not only as a country, but as a planet. As a nurse, I know that if Planned Parenthood is de-funded, many women will die. If Obamacare is repealed without replacement, many people will die. Mr. Trump and his entourage are not affected personally in any way by what happens to the millions of people who will be hurt by the laws that they are threatening to pass once in office. Mr. Trump has revealed himself to be, as least to me, a man of simple intentions. He wants to accumulate wealth and continue to build his empire, any way he can, regardless of the millions of people whose lives will be affected in a negative way, both directly and indirectly.
It is as if our lives hang in the balance, at the mercy of men with nicknames such as "Mad Dog," who are still stuck in a time when they were little boys, playing complicated games of Battleship. Only now they have control over our lives, with their fingers poised over buttons that could wipe out the entire planet, if they so desired. We will need many golden hours ahead of us.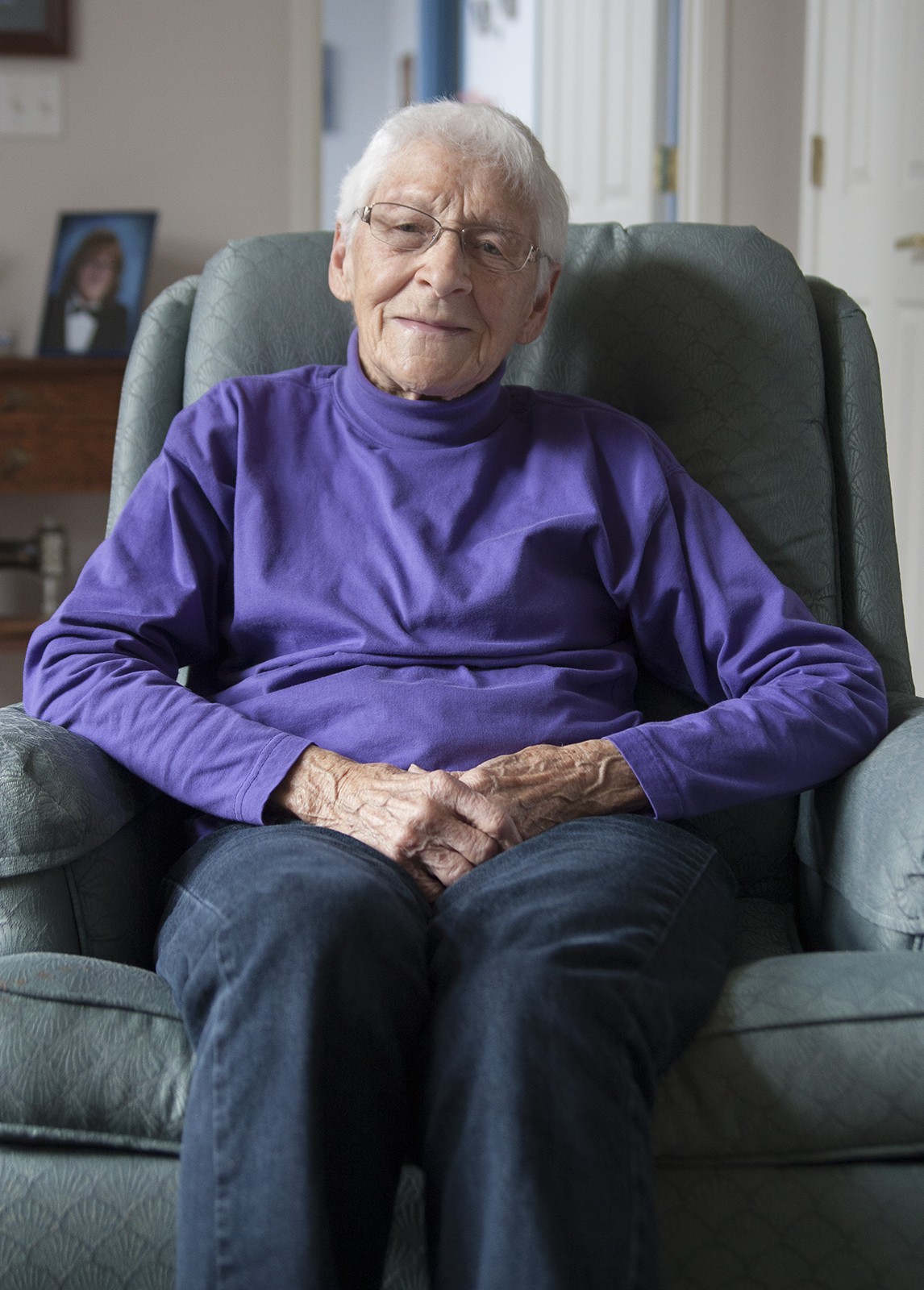 'I Am A Student'
Ella Holton-McCoy, 19
Oakland
I am a student at San Diego State University. I am writing you to express my concerns about many comments and decisions that you have made during this election campaign. I firstly want you to understand that I am not attacking you, sir. I simply wish to explain to you my perspective, as a young woman and aspiring teacher, in an attempt to gain your empathy regarding harassment and understanding public education.
I grew up playing basketball and I never once was mistreated in the ways that you mistreat women. I am referring to your "locker room talk." Every boy I ever played basketball with or against was respectful, and most certainly did not discuss women in the way that you do.
You are now the leader of this great country, which means you need to understand that you are an icon and people are looking to you to make a difference and lead the country, not to tear it apart. When you say things like "grab them by the pussy," and countless other remarks about hurting, sexualizing, and dominating women, you are setting a very scary and disgusting example for young men.
I hope that I have opened your eyes, and your heart, to the issues that I face as a woman and as an aspiring teacher. You, sir, are the next president of the United States of America. You can set an example, contribute to making America great, and do the right thing.'

Listen to Ella Holton-McCoy's radio essay at KALW.org or click here.
'Care, Unify, Peace, Secure'
Anna-Marie Booth
San Francisco
As you assume the presidency of the United States of America, you take on the grave responsibility for many urgent and complex issues. So, I humbly offer an acronym to help guide your focus: CUPS.
Care for our planet.
Unify Americans.
Promote peace In the USA and world.
Secure equal rights, quality education, and economic growth for all.
Please know that I (a long-time Democrat, Obama fan, Hillary voter, homeowner, law school graduate, senior citizen, African American, female, parent) support you in the goal to make America greater while upholding our United States Constitutional rights.
Let us all raise our CUPS to a future with care, unity, peace, and security of our U.S. Constitutional rights, democratic principles, and values. May God guide our elected leaders, and bless the United States of America and our world community!
'America Would Be Great Again …'
Anonymous
I am a 16-year-old girl living in California. To be honest, I do not support you or your running for president. You say the most outrageous, insensitive, and highly inappropriate things, like when you said, "Grab them by the pussy." Did you even bother to apologize? Just because you are a wealthy, white, successful man does not give you the right to feel entitled and superior. I honestly do not know how people are ignorant and stupid enough to vote for you. Overall, I hope you don't shame or disgrace America further. I feel my safety is at risk with you in charge. America would be "great again" if you were out of the picture.
'Don't Be A Jerk'
Nicole Savickas, 38
Belmont
I do my best to teach my children the following in every word I say to them, and in every action I make:
Be kind.
Share.
Demonstrate your care for others by listening and acting thoughtfully.
Stand up for yourself and others when they are wronged.
Sounds fancy. But all of it can probably be summed up in what comes out in a pinch, like when they're both strapped into the back of the car kicking each other while I struggle through rainy day rush hour traffic:
Please, don't be a jerk.
As you enter the White House as the 45th president of the United States, I would give you the same advice.
I'm not trying to be glib, and I hope you receive my message with all the good will I intend it. There are a lot of people who are counting on you to impact their lives in a positive way. That is why you were elected. I might not agree with their decision, but I can understand their motivation. There are people in our country who are in pain, and they have elected you to help them.
But above all, Mr. Trump — and do your best, we're all guilty of it at different times, but you will be held to a higher standard than most. Mr. Trump, as our president, please don't be a jerk.
'400 Years From Now'
Flavia Franco, 60
Redwood City
I care very deeply about people, the planet, and this country. I and my siblings are the children of immigrants who came here legally. We are all taxpayers, college-educated, and contributing members to our communities.
I am very concerned about the increasing struggles with poverty, unaffordable education, and environmental damage. At the same time, I see our taxpayer dollars are being poured into that giant sinkhole known as the military.
I want a strong society with good, affordable education, decent jobs, and an opportunity for a purposeful life. I want women to be respected enough to govern their own bodies. I want a society that knows its finite natural resources have to be conserved for future generations. I want a society that uses restorative justice for people who make mistakes, not making a profit from them.
I want our generation to start acting like we care about the children that will be here 400 years from now.
Staffers at KALW's Crosscurrents contributed to this special project: engagement manager Olivia Henry, managing editor Jen Chien, managing producer Julie Caine, and sound engineer James Rowlands. Listen at 91.7 FM and learn more at KALW.org.