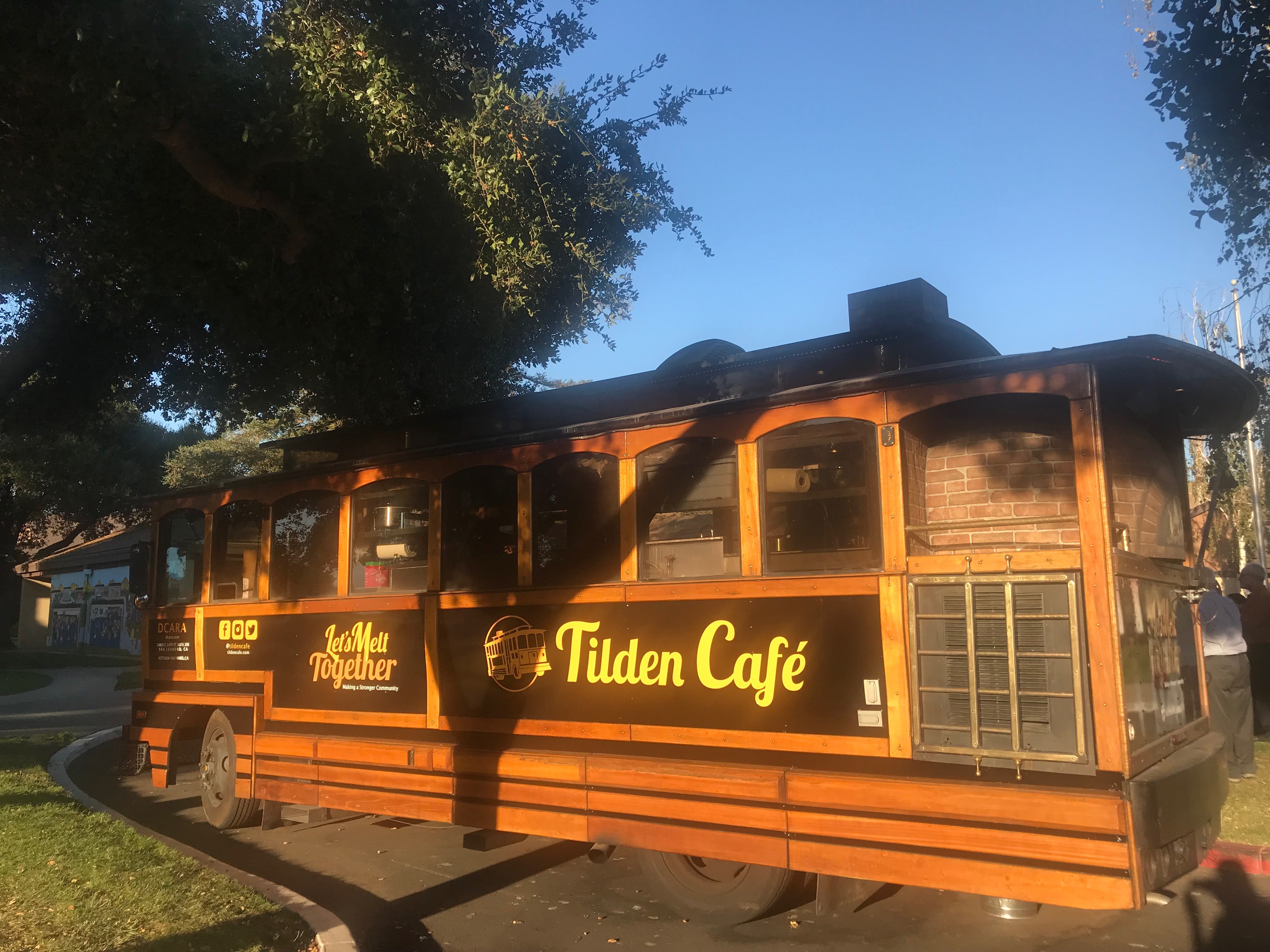 On Oct. 12, a crowd of more than 200 people gathered at California School for the Deaf in Fremont for the grand opening of a new food truck, Tilden Cafe. Little clouds of smoke billowed from the truck's wood-burning oven, which the staff used to bake loaves of bread and make their signature smoky grilled cheese sandwiches. Three options were available: a three-cheese grilled cheese, a caprese grilled cheese, and a grilled cheese and ham with onions. The side of the truck read "Say Cheese!" along with a picture of two hands making the sign for "cheese" in American Sign Language.
Tilden Cafe is the newest venture from Deaf Counseling Advocacy and Referral Agency (DCARA), founded in 1964 and headquartered in San Leandro, with offices throughout the Bay Area. The nonprofit provides deaf people with social, employment, and advocacy services, and more.
According to executive director Raymond Rodgers, DCARA is shifting its focus toward operating as a social enterprise, meaning that it'll operate other nonprofit businesses. "They get revenue and use it to support the services so they don't have to depend on grants, donations, or government assistance," Rodgers said through an interpreter. "And now Tilden Cafe is one of our businesses."
Rodgers said he came up with the idea to start a food truck last summer while talking with a member of the organization's development staff. Shortly after, while Rodgers was talking with one of the founders of San Francisco deaf-owned-and-operated pizzeria Mozzeria, they mentioned that they were thinking of selling one of their food trucks. So DCARA got a bank loan and did some online fundraising, and the next thing they knew, the truck, complete with a wood-burning pizza oven, was theirs. The staff named the truck after Douglas Tilden, a renowned deaf sculptor from the Bay Area whose work appears in Fremont, Berkeley, and San Francisco.
"It was an impulsive move because of the timing," Rodgers said. "It's like the universe [was] telling us to go ahead."
Tilden Cafe has two goals. The first is to raise money to support DCARA's services. "There's a high demand for more services within the deaf community," Rodgers said. "And the cost of living is rising here, and so we need new streams of funding." And the second is to provide much-needed vocational training to deaf people.
"The food industry, all over the nation, is really expanding, and deaf people need to be part of that," Rodgers said. In fact, an increasing number of deaf people are opening up their own businesses, like restaurants and breweries. "It became a hot trend for the deaf community to set up businesses, but the problem is, where's the training for that? …. You can't set it up without being taught or consulted."
Many deaf people looking to get involved in the food industry had to learn from hearing people who knew a little bit of sign language, or use an interpreter. "It's like a three-way conversation, so they miss out on a lot of stuff," Rodgers said. "I really identified the need to set up some kind of training program connected to the food industry."
So far, Tilden Cafe has hired three employees, all of whom are former Mozzeria employees. The manager, Mark Farr, worked at Mozzeria for four years using the same food truck that now belongs to Tilden Cafe. And the menu was designed by Debbie Call, a former culinary instructor at the California School for the Deaf. Tilden Cafe plans to eventually hire and train new employees, including referrals from the California Department of Rehabilitation and students from the California School for the Deaf.
But there have been some bumps in the road along the way. Tilden Cafe originally planned to park the truck on the site of the Deaf Community Center in San Leandro — a property that belongs to DCARA, conveniently located across the street from the San Leandro BART station. But San Leandro zoning laws didn't allow for more food businesses at that location. "We went back and forth, and we couldn't bend that rule," Rodgers said.
Now, Tilden Cafe is partnering with Food Truck Mafia and hopes to partner with Off the Grid. They'll soon apply for permits in different cities in the East Bay. Meanwhile, grilled cheese lovers can track Tilden Cafe's progress on Instagram (@tildencafe) or on DCARA's website (DCARA.org).
Rodgers is excited about Tilden Cafe's future. He hopes to open more trucks in different locations throughout the region. And beyond the Bay Area, Rodgers said, Tilden Cafe is in the "spotlight, nationally, for the deaf community. They're all kind of looking to see what happens."
… On Oct. 25, select Bay Area restaurants and bars will be participating in the Dine Out for Democracy fundraiser. A portion of the proceeds from participating restaurants and bars will be donated to two organizations: The National Voter Protection Action Fund, which combats voter suppression, and the Alliance for Youth Action, a network of organizations dedicated to encouraging young people to vote. Participating restaurants and bars in Oakland include Doña Tomás, Make Westing, Ramen Shop, Starline Social Club, Camino, Home of Chicken and Waffles, and Beauty's Bagel Shop. Participating Berkeley businesses include Saul's Deli, Gather, Tacubaya, and Homemade Cafe. For more information, visit DineOutForDemocracy.com.
Corrections: The original version of this story erroneously stated that Debbie Call is an instructor at California School for the Deaf. She is retired. The story also should have stated that Tilden Cafe is partnering with Food Truck Mafia and hopes to work with Off the Grid.