Stories you shouldn't miss for Jan. 18, 2018: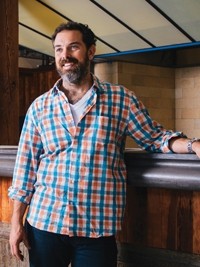 1. Seven managers and chefs at the popular Oakland restaurant Boot & Shoe Service
are threatening to resign unless embattled founder Charlie Hallowell, who is accused of pervasive sexual harassment, divests from the company
, reports Tara Duggan of the
San Francisco Chronicle
$. The high-level employees described Hallowell as "a symbol of what is toxic in the restaurant industry culture." Hallowell has resigned from the day-to-operations of Boot & Shoe, Pizzaiolo, and Penrose but continues to profit from them.
2. San Leandro City Manager Chris Zapata
is under investigation for allegedly sexually harassing
the CEO of a well-known nonprofit that sought a cannabis dispensary permit, reports Kimberly Veklerov of the
San Francisco Chronicle
$. Zapata has denied wrongdoing and claims that Rose Padilla Johnson of the Davis Street Family Resource Center and Gordon Galvan, who serves on the board of the center,
have leveled false charges against him
because the city demanded that Johnson's nonprofit repay an overdue loan of $1.5 million to the city, reports Steven Tavares of the East Bay Citizen. The city council has appointed an investigator to probe Zapata's actions.
3. Prosecutors have charged Alameda County Sheriff's Deputy Joseph Bailey, 28,
with a felony for allegedly instigating an attack on an inmate by a group of other inmates
at Santa Rita Jail in Dublin last fall, reports Rick Hurd of the
East Bay Times
$. "Bailey is the fifth deputy to be arrested for alleged mistreatment of inmates at Santa Rita Jail in recent months."
4. State regulators have given BART
the greenlight to put new train cars in service in the coming days
, reports Erin Baldassari of the
East Bay Times
$. The new test trains, which have been plagued by problems, were supposed to go into service last year.
5. UC Berkeley student Luis Mora, who was arrested by immigration officials in Southern California during the holidays,
has been released from custody on $1,500 bond
, reports Annie Ma of the
San Francisco Chronicle
. Mora's detainment sparked a backlash from East Bay immigrant rights' activists and from California political leaders.
6. Oakland Mayor Libby Schaaf said
she would be willing to be jailed to uphold Oakland's sanctuary city law
, reports Jeff Shuttleworth of Bay City News. Federal immigration officials have threatened to arrest mayors and councilmembers of cities that have enacted sanctuary city ordinances that protect undocumented people. Earlier this week, the Oakland City Council strengthened its law, banning OPD from any cooperation with ICE.
7. State lawmakers
are considering legislation that would establish an individual mandate to buy health insurance in California
in the wake of the Republican Congress' decision to eliminate the federal mandate, reports Elizabeth Aguilera of CalMatters (h/t Rough & Tumble). Legislators are concerned that the GOP's move could severely harm the state's insurance market.
8. Kamakura, a beloved restaurant in Alameda that burned down last year,
may not reopen for another six months
, reports Peter Hegarty of the
East Bay Times
$. The restaurant has faced several challenges, including the need to rewire the building, since it burned in January 2017.
9. And Tenants at an Alameda apartment complex
who challenged rent hikes of 133 percent, have reached a deal with the landlord
, reports Peter Hegarty of the
East Bay Times
$. Rent is increasing from 1,500 to $3,500 a month at 3315 Willis Lane, but tenants will be "credited with a $1,000 monthly discount retroactive from Dec. 18, 2017, which will continue through June 30. The agreement also calls for a $500 discount each month on the rent between July 1, 2018, through the end of the year."
$ = news stories that may require payment to read.