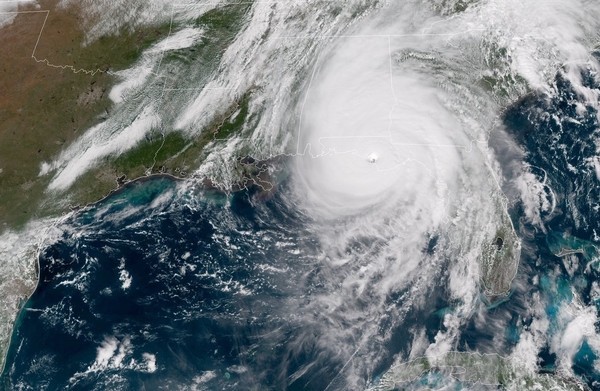 Stories you shouldn't miss for Oct. 11, 2018:
1. Hurricane Michael, a category 4 storm packing 155 mph winds,
lashed the Florida panhandle
on Wednesday, leveling homes and business and killing at least two people,
The New York Times$
reports. The massive storm, one of the largest to ever strike the United States, caused widespread damage, leaving much of coastline in Panama City and Mexico Beach in ruins.
2. It's looking increasingly likely that
California will experience an El Niño winter this year
as the Pacific Ocean continues to warm, reports Paul Rogers of the
Mercury News
$. The National Oceanic and Atmospheric Administration now estimates a 70 to 75 percent probability of an El Niño winter. El Niños are often accompanied by wetter than usual weather, although scientists cautioned that this one appears to be somewhat weak.
3. Oakland's biggest landlord, CIM Group,
is putting at least six buildings up for sale in the city
, hoping to cash in on The Town's red hot commercial property market, reports Hannah Norman of the
San Francisco Business Times
$. CIM Group is selling the commercial buildings 1 Kaiser Plaza (534,423 square feet); 2101 Webster St. (471,337 square feet); 1901 Harrison St. (280,610 square feet); 1333 Broadway (251,155 square feet); 2100 Franklin St. (216,828 square feet); and 2353 Webster St. Parking Garage.
4. A large warehouse in East Oakland that was occupied by a paint company
was destroyed by a massive fire
on Wednesday, the
East Bay Times
$ reports. The warehouse was to be torn down anyway to make room for an affordable housing project. No one was injured in the blaze.
5. ICYMI:
A former inmate at Santa Rita Jail sued Alameda County
and "four former sheriff's deputies for 'despicable' attacks that included a plot to repeatedly douse him with feces and urine," reports Megan Cassidy of the
San Francisco Chronicle
. "Fernando Miguel Soria accused the deputies of excessive force during his time in lockup, denial of medical attention, and a conspiracy to violate his civil rights."
6. And House Democratic Leader Nancy Pelosi of San Francisco said Democrats
would seek the release of President Trump's tax records
if they win back the House in November, reports John Wildermuth of the
San Francisco Chronicle
$. Trump has steadfastly refused to reveal his tax returns — unlike previous presidents — and is expected to mount a legal battle to keep them secret.
$ = news stories that may require payment to read.