Stories you shouldn't miss:
1. The state's political watchdog agency plans to fine a shadowy right-wing group $1 million for it actions during the 2012 election, the Mercury News reports. The Arizona-based group Americans for Responsible Leadership pumped $11 million into campaigns last year to defeat Governor Jerry Brown's tax measure plan and to strip organized labor of political influence in the state. The conservative group acted as a conduit for two other secretive right-wing organizations, one of which has ties to the billionaire Koch brothers. However, those groups have yet to reveal their actual donors, and it's unclear whether the California Political Practices Commission will do so when it makes its $1 million fine announcement today.
[jump]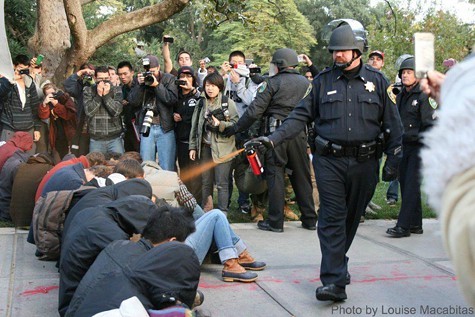 2. Lieutenant John Pike, the UC Davis cop who pepper sprayed Occupy protesters two years ago, will receive a $38,000 workers' compensation payout from the university, the Chron reports. The state's workers' compensation board ordered the payout on the grounds that Pike had suffered "psychiatric injury" from the public ridicule he received for his actions.
3. A judge ordered a sixty-day cooling off period in the AC Transit labor dispute, the CoCo Times reports. Governor Brown asked for the cooling-off period at the request of AC Transit management.
4. Federal investigators reenacted BART's fatal crash incident yesterday between the Walnut Creek and Pleasant Hill stations, the CoCo Times reports. Meanwhile, BART management has suspended a controversial policy that requires track inspectors to fend for themselves. Two BART workers were killed Saturday when struck by a train operated by a transit agency manager who was being trained to operate trains during the strike.
5. Richmond political leaders are calling for the ouster of a sewer district official who made racist remarks in an interview with Bay Area News Group.
6. And private contractors who built the troubled Obamacare website say they didn't have enough time to test it before it went live and then crashed, the Washington Post reports. The website has been plagued with problems since it launched on October 1.