Stories you shouldn't miss:
1. Oakland Mayor Jean Quan did an about-face on the proposed ten-year lease extension for the A's at the Coliseum, declaring at a press conference that she now thinks the city council should okay the pact, the Chron and Trib$ report. Last week, Quan expressed frustration about the deal, telling the Express that A's co-owner Lew Wolff and Major League Baseball had "bullied" the Coliseum Authority into approving it by threatening to move the A's out of Oakland. Quan also said she does not believe that the A's deal conflicts with a proposal by the developers of Coliseum City to demolish the Coliseum and build a new Raiders stadium in its place.
[jump]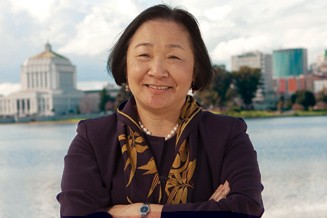 2. Wolff, meanwhile, shot down a report earlier this week in the Chron that he was considering moving the A's to San Antonio or Montreal if the Oakland City Council decided to reject the lease extension, the Chron reports. Wolff said his only back-up plan would be to temporarily move the team to a soccer stadium in San Jose — although the San Francisco Giants would likely try to block that plan.

3. The City of Berkeley is moving toward evicting a homeless encampment that sprouted up this spring at the Gilman Street underpass of I-80 after the City of Albany closed a homeless spot at the Albany bulb, the Trib$ reports.

4. A former Richmond police informant who was nearly killed when a dirty cop exposed his identity has filed a lawsuit against the city, the CoCo Times$ reports.

5. A jury found that the Los Angeles Dodgers were partly responsible for the brutal beating of Giants fan Bryan Snow at a Dodgers game in 2011, and ordered the team to pay $18 million in damages, the Associated Press reports.

6. And the Tilden Park merry-go-round and little farm have reopened after the little farm was closed for ten months for sewer line repairs and the merry-go-round underwent a management change, Berkeleyside reports.
$ = news stories that may require payment to read.