Stories you shouldn't miss: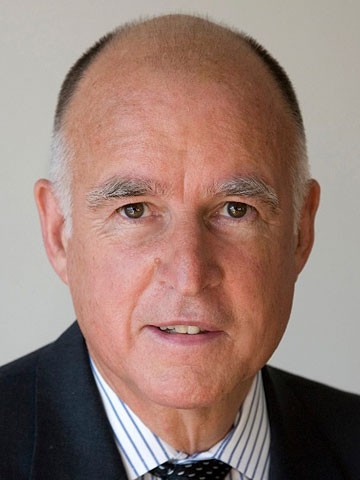 1. Jerry Brown
instructed state regulators in his administration to explore whether it was possible to drill for oil on his family's ranch
in Northern California, the Associated Press reports. The governor's actions, which took place last year, raise questions as to whether he violated California laws that prohibit public officials from directing staffers to do personal work for them. The governor's interest in drilling oil on his own property also runs counter to his well-crafted image as a leader in the fight against climate change. State regulators claimed that the extensive oil and mineral reserves analysis that they conducted on Brown's property in West Colusa County was not unusual and that they also have done it for private citizens. But oil and gas experts said they've never heard of such work being completed for private property owners in the state.
2. An Alameda renter
was bloodied after he was tackled by police
and pinned to the floor at City Hall last night, and was one of two tenant activists arrested by cops, East Bay Citizen reports. The tenants were on hand to advocate for rent control and a moratorium on rent hikes in the city — which the city council approved later in the evening. Landlords had packed City Hall early to keep renters out. The rent moratorium
bans rent increases of more than 8 percent for 65 days
, the Bay Area News Group$ reports.
3. State officials
postponed this year's Dungeness crab season for 180 days
— or until tests show that the shellfish are no longer tainted with a potentially deadly neurotoxin, the Bay Area News Group$ reports. The toxin, domoic acid, is being produced by a massive algae bloom along the West Coast, which is likely caused by extraordinarily warm ocean waters. The year's rock crab season was canceled because of the domoic acid outbreak.
[jump]
4. CSU faculty members — including those at CSU East Bay —
voted overwhelmingly to go on strike next spring
if they're still in a contract impasse over wages with the administration, the Bay Area News Group$ reports. A strike would be the first of its kind in the 23-campus system.
5. More than half (54 percent) of young Black adults age 18 to 34 — so-called Black millennials —
said they or someone they knew has been harassed or treated violently by police
, the
LA Times
$ reports, citing a new study from the University of Chicago.
6. And a ballot measure that would
require male porn actors in California to wear condoms has qualified for the November 2016 election
, the
SacBee
$ reports. The measure's supporters say it will help stop the spread of HIV, but porn actors note that they are already tested regularly and that there has been no case of HIV transmission in their industry since 2004.