Given how the third-wave coffee industry is dominated by white men, Bree Dezort and Cali Kamala might not be who you'd expect to see behind Hive, the Place to Bee (2139 MacArthur Blvd., Oakland). "We are queer, married, parents, Mexican, and raised in another country," Dezort said with a laugh.
Only one year after meeting — and constantly discussing the lack of quality coffee in their neighborhood, the Dimond district — they opened Hive's doors in 2013. The goal was to create a space for the community, not just another hip coffee shop.
"We want to create a whole warming experience," Kamala said. "We don't serve anything that we wouldn't feed our kids. Everything is organic, 90 percent of our vendors are local, high-quality. We didn't want to compromise and make what the district is used to, but we strove to allow the community to speak for itself and speak to us about what they want."
The space feels like a friend's living room, lacking the stark, minimalist aesthetic of many third-wave cafes. Outside, there is a parklet — the result of a successful crowdfunding campaign and the couple's own contributions. Inside, a play corner was built for kids, couches line the walls, and customers all seem to know each other as well as Dezort and Kamala. Rather than "for here or to-go," they ask customers, "Will you be enjoying that coffee with us or taking it with you?" Some customers are so comfortable, they forget to pay, Dezort said, laughing.
"There are two ways to experience craft coffee, as a science or an art," Kamala said. "We think of our baristas as artists, as family. At the end of the day, hiring someone is adding them to your family."
Dezort and Kamala maintain day jobs, as a sound engineer and economics professor, respectively. The cafe has been a labor of love and a constant embrace of their community. That means active involvement with their local business associations and improvement districts. They also talk of pursuing lofty goals, like fighting for more affordable housing.
"If all you care about is your own individual business, it will never grow into its potential," Dezort said. "Work as a team, have community events, so residents get a variety of experiences from this district, rather than being a single business destination."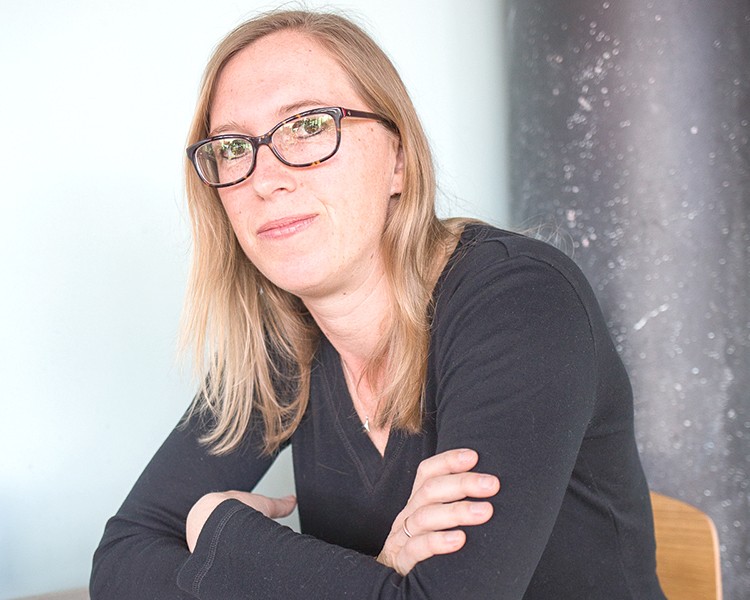 Erin Wade of Homeroom
Mac 'n' cheese was only part of Erin Wade's thought process behind her hit restaurant Homeroom (400 40th St., Oakland).
"I wanted to create a place where I really wanted to work," she said. "But that would be an empty dream if everyone else was miserable when they came to work."
Quickly, the former lawyer sought to hire women in leadership positions. That focus on gender changed, though, when an African American customer entered Homeroom and told the staff he didn't feel anyone at the restaurant represented him. Wade realized she was not receiving enough applications from people of color and went to work figuring out how to attract more.
Now, the company has a commitment to 70 percent of its leadership positions being held by women and people of color. "Any single group in a position of power, whether it's men or white women, creates norms that don't always translate," Wade said. "We want our table to look like Oakland, and have everyone represented."
To Wade, diversity means valuing different life experiences as well, so Homeroom works with partner agencies to hire formerly incarcerated people, refugees, and former foster children. And Wade keeps her staff happy with the authority to offer comped food, paid involvement in decision-making meetings, and weekly opportunities to comment, without repercussion, on service experiences internally. Homeroom also has a $500 monthly budget for staff happiness and allows the staff to choose how to spend it, rather than "forcing them to go to some company picnic no one wants to be at," Wade said. Recently, employees saved for four months to go to a Warriors game in true East Bay style.
Training begins on day one and never stops. Homeroom recently sent its whole staff to restorative justice training. They also receive financial literacy training, which complements Homeroom's transparent, open-book policy with its own finances. By the end of 2018, Wade said there will be profit sharing throughout the company. And part of the 10-year vision is to open trainings to the community through a "Homeroom University."
Meanwhile, women on Wade's team created a color-coding system to flag sexual harassment from customers. The yellow-to-red scale indicates the severity of an employee's discomfort and results in managerial intervention. Wade said it has enabled staff to feel more empowered and safe at work.
In Wade's view, any criticism she has received has helped Homeroom grow and get closer to her goals of diversity and inclusion.
"It's more than food. It's a space for community," she said. "I feel really passionately about changing the world through any kind of business, and if I can do it through an industry that has the highest failure rate, lowest paid employees, high turnover rate — if we can do it, anyone can do it."

Alexeis Filipello of Bar Dogwood and The Lodge
Alexeis Filipello grew up in the hospitality industry. Her family owned restaurants and bars until they went out of business due to her parents' "giving nature," she said. After opening four of her own bars and restaurants in Oakland, Filipello has learned that generosity doesn't necessarily clash with business interests.
When her employees have suffered hardships, Filipello said she always tried to help. With the housing crisis, she's let employees live with her while they hunt down a new place to stay. She also regularly offered her kitchens as an incubation space to develop future businesses. "It makes me feel like I'm helping my community of mutants," she said.
Filipello's love doesn't stop with staff. She regularly donates gift cards and services to local groups and events, but she also works to help the community without any attention. When neighboring Dax Lee's Barber & Apothecary, for example, gives free haircuts to the homeless, Filipello might drop by with grilled cheese sandwiches and lasagna.
And, of course, there's the food and drinks. Bar Dogwood (1644 Telegraph Ave., Oakland) and The Lodge (3758 Piedmont Ave., Oakland), as well as Darling's Elixirs and Stag's Lunchette, which are now closed, all earned strong reputations. But her choice in products also tell a story. Filipello stopped selling Bulleit at all of her establishments after the distillery founder's daughter alleged she got fired for being a lesbian. "We have such a dynamic, diverse staff of male, female, trans, gay — just treat each other with respect," she said. As Oakland continues to change, she hopes it can maintain its diversity. "It's one of the things I love about Oakland."