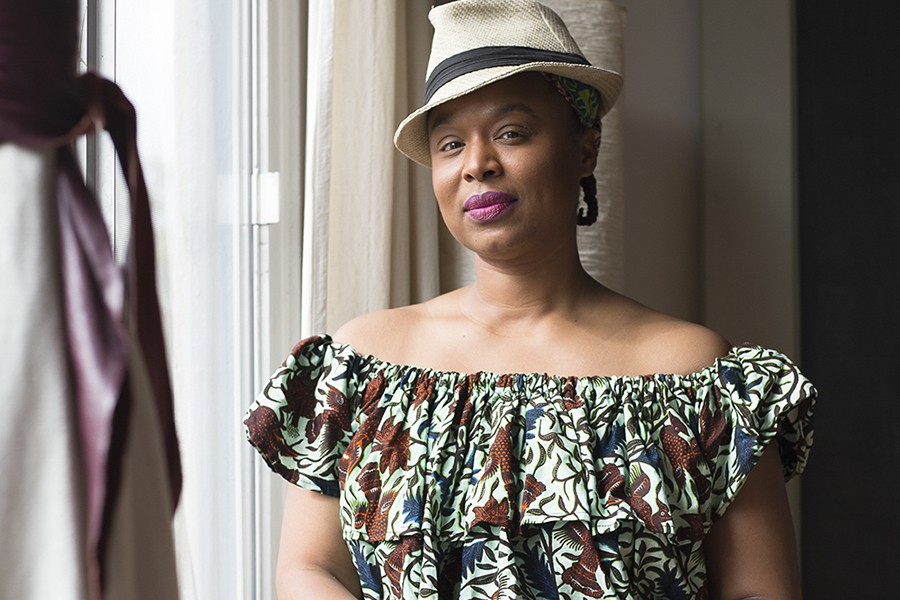 In several professional kitchens, Monifa Dayo felt endangered. As the only Black woman in largely white and male environments, Dayo said she constantly navigated belittling, dismissive, and insulting remarks from coworkers and bosses. After a year of working for a particularly frustrating chef, she quit.
"I left because I had just had enough of him telling me I would never make it, that I wasn't good enough, that I was beneath him," she said.
Instead of finding another restaurant job, Dayo opted to start a supper club out of her one-bedroom apartment in Oakland. It was her very own act of resistance against the restaurant industry, which, in her experience, had only gotten more and more hostile as she climbed toward more upscale establishments with higher stakes.
"There are investors that are really like the slave owners. And the chefs and sous chefs are the overseers," she said, pausing to reflect on the analogy. "You see the need for me to feel like I have to have freedom from that."
A number of East Bay restaurants and cafes are well-known for incorporating social justice into their business models, but there's also an emerging group of Black women who are deliberately removing themselves from restaurant environments to create meals as forms of resistance.
For Dayo, that looks like gorgeous, multi-course affairs served in a colorful, vibrant dining room brimming with vintage accents. It's common for guests to walk in, hug each other, and gush about the aromas in fervent excitement before Dayo brings out the plates — and potentially tells a story with a serious topic, like racism or sexism.
"My whole life is about the honoring of the struggle and looking at the beauty that comes out of it," she said. "You have this opportunity with food to get people open, and then they're more inclined to entertain a different position or at least hear a different position."
Last year, Carrie Y.T. Kholi debuted Hella Black Brunch, a quarterly gathering that centers the experience and food of the African diaspora. It's been a huge success. This year, she's taking Hella Black Brunch on the road to Los Angeles and Atlanta before bringing it back to Oakland in October.
"When we started Hella Black Brunch, we knew communal dining was one of the oldest forms of organizing," she said. "Food allows us to create the space where folks come in with their guards down. We're not here to take their intellectual capital. We're not here to exploit their labor. We're here to provide them with more resources — sometimes it's tangible resources of a meal, safe space, and comfort."
Through fostering connections, these brunches help build capacity for future action and also create more moments to restore — an idea echoed by Binta Ayofemi, the artist and creator of Soul Oakland. Her wide-ranging project is all about Black urban sustenance. She teaches kids to cook at the East Oakland Youth Development Center, creates communal meals for multi-generational families, plans to launch a Jack London Square farmers' market stand next month, and is working to build a small grocery store in a shipping container on an empty plot of land in deep East Oakland. She's already dreaming up a Black Panther-inspired garden, too, which she'd build on an open West Oakland lot where the activists used to organize.
"To me, a Black Panther garden would be a place where you restore yourself, so that you can be in the struggle but also envision what an activated presence can look like when you really have the sustenance and resources you need," she said.
Ayofemi was inspired by the Panthers' free breakfast program to create a version after school, which became one aspect of Soul Oakland. Again, it gets back to restoration.
"How can you continue to go forward and move walls and really just dream bigger if you don't get to restore? As Black Lives Matter has been growing, this idea of restoration is becoming more and more urgent because people need to replenish when they're giving out so much," she said.
When Ayofemi orchestrates group gatherings, conversations over dark, leafy greens tend to go to the same places: restoration, family memories, and hopes for the future. She argues the whole ritual behind cooking and eating together activates such thoughts. "Food can be a really good ground for other transformations to happen because you're creating something you can all share in that moment — like a song everyone has access to — and then against that you can introduce a lot of new information," she said. "You can make some leaps because you've gotten somewhere together."
Ayofemi appreciates restaurants, but said they create a lot of walls that don't always feel welcoming. They're paid spaces. That's why Kholi migrated Hella Black Brunch to private homes after its first event at a Black-owned restaurant.
"I love Black-owned businesses. I love queer-owned businesses. But there's something about commodification," Kholi said, pausing. "OK, this might be Black-owned, but is it queer-friendly? OK, this might be queer-friendly, but is it only white-queer-friendly? I think there's a lot of conflict that comes up with business and identity."
With the Bay Area's housing crisis, finding a space to live has become an increasing challenge for many people of color and queer folks. "We wanted to show that home can still exist, and it can still exist owned by folks who are POC, who are POC allies, who believe in building an equitable future," Kholi said. "Having it at a house reminds us of family, which helps create a sense of ease, but it's also for us politically to say we deserve this space. We deserve a space outside of discomfort. We deserve a space where it's OK to be our full selves."
In a sense, every brunch or dinner provides an opportunity to create more of what you want to see in the world. "It's not coming from policy yet, but it can come from how we deal with this one meal, this one gathering," Ayofemi said. "And then, how can we go forward with that?"
For Dayo, it comes back to love.
"Food is all about love. That's how food becomes an act of resistance for me. No matter what you say or what you try to do to me, I'm not going to allow you to turn me into this nasty thing. I'm going to use this thing I love as my weapon," she said. "That's the only way we're going to get over Trumpism and all that. It's loving ourselves more and then having the capacity to love others more."