[image-13]On Saturday, an estimated eight thousand protesters gathered in Oakland to march against hydraulic fracturing – possibly the largest-ever anti-fracking demonstration in the nation. 
Hydraulic Fracturing — fracking — is a process that uses highly-pressured streams of water and chemicals to break up rock, releasing oil and natural gas. Fracking causes earthquakes, taints groundwater, and pollutes the air. The goal of the march was to ban fracking statewide, as New York did in December. Some protesters carried signs thanking New York Governor Andrew M. Cuomo for the ban, and urging Jerry Brown to follow his example. 
Many protesters also expressed frustration and anger over Brown's decision to support fracking in California. "He lives right over there in the Oakland Hills. Let's send Jerry Brown a message!" one speaker said. Speakers acknowledged Brown's role in upcoming climate talks in Paris and hoped that he would take a stand against fracking in his own state before attending the talks as a supposed climate leader. 
[jump]
Carrying signs like "Keep the Oil in the Soil" and "Would you Frack Your Mother?" thousands of adults, children, and young people took to the streets of downtown Oakland, marching 1.8 miles to Lake Merritt, where they gathered to listen to California's climate leaders. Despite intermittent rain fall later in the day, the mood of the march remained hopeful. Some people brought their dogs ("Dig for Bones not for Oil") and others carried large circle banners for children to run under. There were drums and tubas and a small troupe of dancers. Protesters marched to the chant of "Ban Fracking Now" and borrowed New York's song "Stop the Frack Attack."
[image-11]
The protesters included medical professionals, labor unions, faith-oriented groups, student organizations, environmental groups, and indigenous and minority groups. With California's ongoing drought, the potential of fracking operations to pollute aquifers was on everyone's mind. Protesters lamented the recent discovery by the Center for Biological Diversity that toxic fracking fluid had been illegally dumped into clean drinking water in the Central Valley. California's unique agricultural status makes fracking an especially controversial issue – many marchers had travelled from the Central Valley to protest fracking that occurs in often poor communities that provide food to the rest of the state.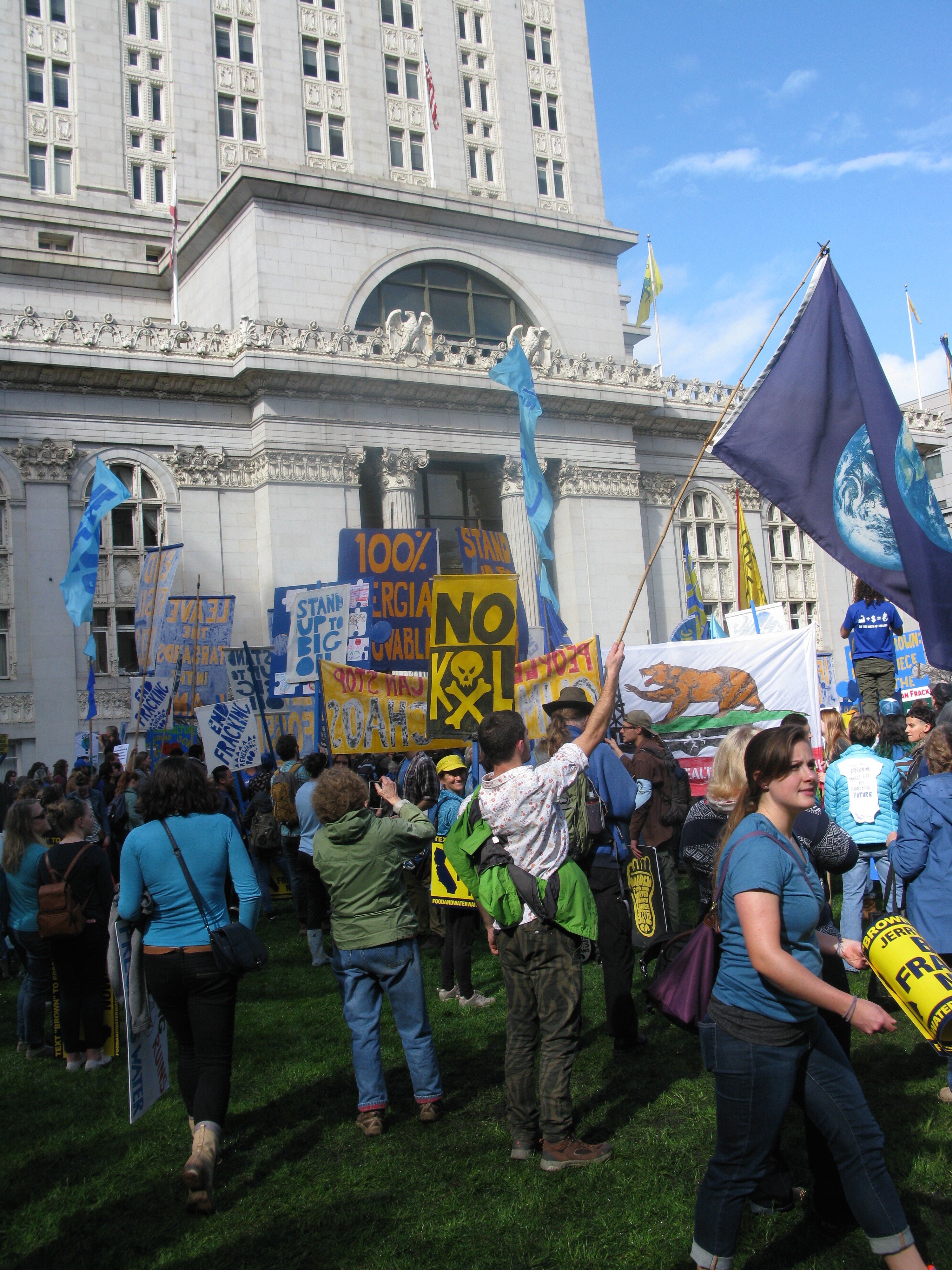 Dianne Thomas from Carson gave a hopeful speech about her community's recent victory against Occidental Petroleum, in which a small group fracktivists worked to delay the re-opening of an oil field by several years, causing Occidental to pull out of the deal. "We beat Oxy!" she cried triumphantly.
To close out the march, the crowd sang "De Colores," and swayed with arms around each other.